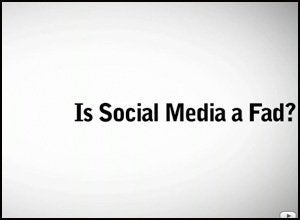 "Is Social Media a fad or the biggest shift since the industrial revolution?" asks this new video based on Erik Qualman's book Socialnomics.
Although the short clip is not without an agenda--it wants to prove that we're on the brink of a social media "revolution" from which there's no turning back--the statistics presented in the animated short are hard to ignore.
Here are just a few of the notable social media stats:
- 96% of millennials have joined a social network.
- Social media has overtaken porn as the number one activity on the web.
- 1 out of 8 couples married in US met via social media.
- The fastest growing segment on Facebook is females 55 to 65 years old
- It took radio 38 years, TV 13 years, the Internet 4 years, and the iPod 3 years to reach 50 million users--while Facebook reportedly added 200 million users in under a year.
The Socialnomics video seems intended to convince businesses to invest in their social media strategy--"25% of search results for the world's top 20 largest brands are links to user generated content and 34% of bloggers post opinions about products and brands," the YouTube clip warns, asking "Do you like what they are saying about your brand?"
Here's another caveat: The video fails to cite its statistics, so take them with a grain of salt.
Tell us what you think of the clip.
WATCH:
Related
Popular in the Community