@JoeTheatreFan: Premium ticket prices to @GlengarryBway are how much?!?

@GlengarryBway: @JoeTheatreFan What's the problem, pal?

@JoeTheatreFan: At $377 a seat, you're the problem.

@GlengarryBway: @JoeTheatreFan I made $1.2M last week. How much you make? You see pal, that's who I am, and you're nothing. Nice guy? I don't give a s--t.
File that fabricated Twitter conversation away under the category of things a social media brand manager would never allow to take place, at least not unless that digital guru is playwright David Mamet. Yet that brash dialogue is almost entirely lifted from the script of Glengarry Glen Ross, currently running on Broadway. If @GlengarryBway did Tweet with profanity-filled messages, it would be adhering to the perceived voice of its brand.
In the world of Twitter and Facebook, a brand's "voice" is a key bullet point in social strategy documents. "Brands are not humans. But people do project human qualities onto brands," Ric Dragon, CEO and co-founder of DragonSearch, professes. "There may be no place more important to the development of your brand voice than social media."
At mediabistro.com's AllFacebook Marketing Conference last week in New York City, digital marketers spoke to social representatives from across the country, emphasizing the importance of strategy and tactics in handling the ever-changing digital landscape. A highlight came from Dragon by way of his talk, Brand Voice and Personality: Cultivating Better Conversations on Facebook.
Dragon highlighted the connection between brand voice and public perception, pinpointing a study that asked people to identify major brands with particular personalities. This resulted in people connecting Starbucks to the voice of a soccer mom, Google a hip young Asian guy, and BP a grumpy middle-aged businessman.
How does that translate to the live entertainment industry, more specifically Broadway plays and musicals? If a Broadway brand took Dragon's lessons verbatim, Twitter and Facebook accounts would be talking with patrons in character, through the voice of a signature role in the production. After all, when I think of a David Mamet play, the first thing that comes to mind is four-letter words and anger.
Of course, it would be ludicrous to imagine the mouthpiece of any business treating customers in a negative manner, especially in such a public forum as the social media universe. But, the point of harnessing a brand's voice remains relevant. After all, every person commenting on a Broadway show's Facebook wall or mentioning a play on Twitter are potential customers. Should their perception of a particular brand determine how that show's social media account responds?
"The danger with entertainment is when you think about a literal brand voice--sometimes there is a thought of spilling over from one of the characters. One thought is that, if the show is very funny, social media should be very funny," Damian Bazadona, president of Situation Interactive, recently told me. "If it is a serious play, you're never going to write in a depression tone on Facebook. It's very rare where we actually post 'in character.' The brand voice is about matching key messaging points: customer service or accessibility."
While many individuals use Twitter or Facebook to catch up with friends, post photos of family vacations, or brag about a new purchase, businesses use those same accounts for promotional purposes. Marketing and customer service strategies guide Tweets and Facebook posts from brands. After all, those personal accounts take to their social networks and complain when they are disappointed by a brand-related experience. That's where community managers and clear strategies come into play.
"On family oriented shows, a lot of times customer service will be a bigger issue," said Bazadona. "Not just family oriented, but if people say they want to buy tickets to the show but the price is too high -- not even to us but to their friends -- we will chime in and let them know there are more affordable prices."
For Broadway, it isn't so much about a specific voice -- let's call it the Marketing Mamet Effect -- rather it's a tone that drives social strategy. Surveying a handful of Broadway shows and their respective social tones, the following characterizations surfaced: Annie is nostalgic; A Christmas Story, the Musical is playful and silly; The Anarchist is straightforward and informative; The Book of Mormon is casual, playful, and youthful; and The Lion King is excitable and celebratory.
Why pay so much attention to a brand's tone on social media channels? Beyond brand integrity and customer service, what was once a fast and free platform for establishing a brand's following has become a game of EdgeRank scores and monetization, thanks to Facebook's shift in its business page model.
Earlier this year, Facebook began allowing brand pages to pay for impressions on a status update. Promoted posts became a hot topic, with many crying foul at the social network's shift in policy. Dallas Mavericks owner Mark Cuban found Facebook's move towards monetization outrageous, tweeting that he was considering moving the basketball team's social presence to a rival network.
According to a new report from Facebook, two percent of the network's brand pages have paid to promote a post, totaling approximately 300,000 pages. With every impression counting, paid or otherwise, crafting effective updates has never been more important.
"For us, it's a big education curve with clients as we try to explain that to them," said Bazadona. "The good thing about the paid model is that it makes you really think before you post something. Facebook now penalizes bad posts. The old model was like a dumping ground. My general sense is that if the content is relevant to the person reading it, the difference between paid versus free doesn't matter as much."
To keep Broadway from becoming the next coffee drinking soccer mom -- sorry Scandalous -- a clearly defined brand voice has now become part of the social media strategy around Times Square. For soon-to-open productions, consider asking audiences what persona they would attach to your show. If it's David Mamet and you're Annie, you might want to consider getting a new agency.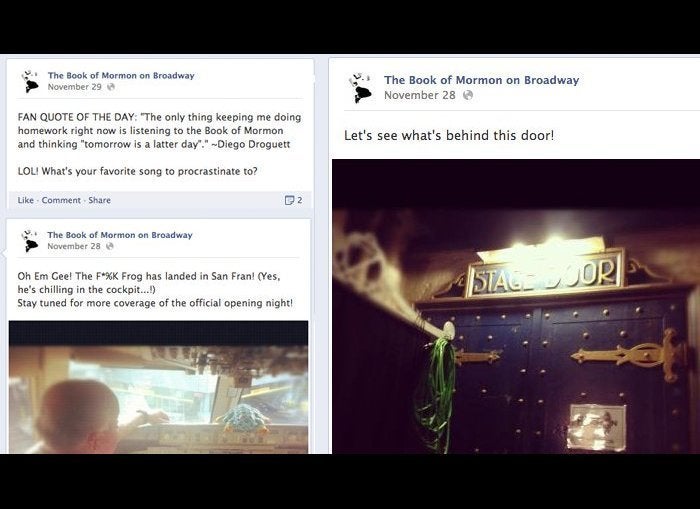 Broadway's Social Media Brand Voice
Popular in the Community