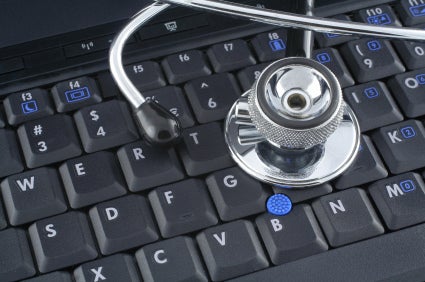 The age of social media and Internet information has affected the area of medicine and healthcare as much as it has affected all domains of life. It seems that the first reaction is negative. An uncle of mine, a medical doctor, is put off by patients who visit him with preconceived notions and ideas procured from (in his words) "Dr. Google", which makes it very difficult for him to convince them that what ails them is only minor (or worse, serious); cyberchondria, he claims, is very real and dangerous. Another doctor friend of mine wonders if the Internet, by its spread of over-information, has reduced trust between the patient and doctor in that the patient googles, right at the clinic, the side effects and grills the doctor about them. "Hippocratic oath or not, would I prescribe a course of treatment that would kill the patient?", my friend asks. My own doctor, who knows my medical history like the back of her hand, despite being my "friend" on FB, does not, as a rule, dispense medical advice online and requires me to see her in person for every sniffle, cough and wheeze.
Is the Internet antagonistic to healthcare outcomes and do healthcare professionals avoid all forms of Internet and social media for their professional activities? The extensive presence of both healthcare professionals and patients in social media, at a personal level, suggests that social media could well be part of the landscape of modern healthcare. However, the essential features of the healthcare field such as privacy, confidentiality and need for face-to-face interactions make the integration of social media and medicine tricky, especially under the umbrella of patient protection laws such as the Health Insurance Portability and Accountability Act (HIPAA). Concerns of litigation, privacy, liability, and time commitment vis-à-vis compensation balance make healthcare professionals exceedingly cautious about using social media for professional purposes. The naysayers are further driven away by sensationalistic tales and news of social media's potential to violate the sanctity of the patient-physician relationship by facilitating online "friendships" and reducing privacy. It is indeed true that there is potential for social media to be used recklessly, and the boundary between professional and unprofessional behaviour can be blurred. Little wonder then that a 2014 survey of 4,000 physicians found that although more than 90% of physicians used some form of social media for personal activities, only 65% used them for professional reasons.
Beyond the real and imagined pitfalls of social media in healthcare, there are also convincing arguments about how social media can help "improve patient-physician interactions, enhance patient motivation, drive awareness, provide accurate information, raise timely issues, facilitate exchange of ideas, frame and reframe health-related questions, engage a larger community, and ultimately produce improved outcomes across health systems". Indeed, a recent survey of 1,060 U.S. adults by PricewaterhouseCoopers on healthcare and social media showed that 42% of consumers have used social media to access health-related consumer reviews (e.g. of treatments or physicians). Nearly 25% have posted about their health experience, and 20% have joined a health forum or community. The survey also showed that more than 70% claimed to appreciate receiving assistance from healthcare providers via social media with referrals and appointment scheduling. What is most impressive is the fact that information found via social media could affect their decisions to seek a second opinion among 45% of consumers.
From the perspective of the healthcare provider, the Internet and social media provide the professional with a platform to share information, discuss healthcare policies and practice issues with colleagues, engage with the general public in promoting health behavior, and educate and interact with patients and caregivers. Such activities can potentially improve health outcomes, maintain a functional professional network, provided updated knowledge and awareness of developments and discoveries, and bring the healthcare professional into closer contact with the community. This is particularly true of epidemiological research in the area of healthcare; Mayo Clinic's recent clinical trial patient recruitment using social media and online networks helped researchers assemble large and demographically diverse patient groups easier than through offline methods.
The use of social media in healthcare is undoubtedly increasing, considering the amount of social networking applications that are being developed specifically for the healthcare community. For example, Sermo is a "physician-only" social networking community, that houses, among other features, a large message board on which physicians create topics for discussion. Another physician-only site is Doximity, which complies with the Health Insurance Portability and Accountability Act (HIPAA), uses a national database of demographic and contact information for all U.S. physicians. QuantiaMD, Doctors' Hangout, and Doc2Doc are other sites that create a virtual "physicians' lounge" in which bona-fide doctors and other healthcare providers can discuss professional issues. Blogs are used by some physicians to disseminate information to not only their peers, but to the general public as well. The Clinical Cases blog, for instance, features case studies in a wide range of medical specialties. Health institutions, both practicing and educational, also use blogs to share reflective thoughts from both patients and healthcare professionals, and disseminate on new practices.
A potential pitfall of social media and Internet in healthcare domains is the reliability of information shared. It is disturbing to know that despite the "general" nature of information and propensity for errors, Wikipedia is the widely used as a reference tool, especially by pharmacists and junior physicians. Social media tends to stress on anecdotal information rather than evidence-based reports, which could be dangerous when used as a primary source of information. Such issues are being slowly addressed by building credible peer-reviewed online sites where the information is subject to strict quality control. For example, Medpedia, an initiative by Harvard, Stanford, University of Michigan, and UC Berkley, ensures quality by careful scrutiny and verification of authors' credentials before allowing them to generate content. New healthcare domain suffix are also being developed to host validated health information that can be trusted and the WHO has lead a request to the Internet Corporation for Assigned Names and Numbers (ICANN), which manages all domain names on the Internet, for a new specific .health domain, for strict quality control of information.
There continue to be varied and evolving opinions on the use of social media in healthcare. Such opinions are driven by personal, regional and institutional ethics and policies; the Canadian Medical Association, for instance, supports judicious use of social media while the British Medical Association and American Medical Association are hesitant. The greatest impediment to the widespread use of social media in healthcare domains arises from the lack of understanding of the true risks and liabilities of the medium and the conservative nature of the healthcare industry itself. The interplay of ethics, confidentiality, privacy, and information quality within social media must be understood completely in order to induce greater interaction between social media and the health sector.
Writing credit: Co-authored by Lakshmi, a Mobicip writer & researcher on a constant lookout for where normal life ends and the world wide web begins.
Mobicip is the creator of the most powerful and extensive internet safety software for tablets, smartphones and computers in households today. Learn more at www.mobicip.com.
Popular in the Community