Summer is starting to heat up and so is the buzz surrounding the Rio 2016 Olympics. In Brazil, some athletes will be breaking world records during the Summer Games. On the flip side, Rio 2016 is expected to break to break records too. Many are dubbing it the "largest social media event ever."
According to Global Web Index, 85 percent of viewers are expected to use a second-screen during the Olympics. Out of 3.6 billion global viewers that are expected to watch the Olympic Games on television, 3.06 billion will do so while holding a mobile device in their hands. The use of these devices, which include smartphones and tablets, provides one essential benefit for marketers: an extra dose of impressions, probably billions. There's a huge potential for engagement with audiences across the globe.
Marketers are not the only ones expected to gain something from these statistics. Organizers of Rio 2016 already have social media accounts with huge numbers of followers on Facebook, Twitter and Instagram with 1.4 million, 293,000 and 163,000 fans, respectively. They also have an engaging Snapchat account, which will be incredibly important during the games, considering Snapchat's audience and daily video views growth in the last couple of months. In Asia, the organization is also using live video platforms, like Periscope to give users access to special events and using platforms specific to the Asian market.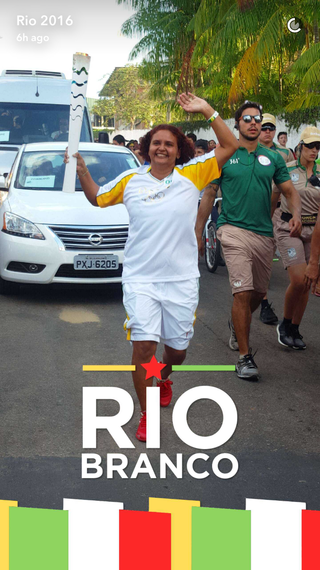 Ana Carolina Addobbati, Coordinator of International Relations with Asian National Olympic Committees with RIO 2016, talks about the importance of social media platforms during this year's Olympic Games:
Q: How important will social media be to Rio 2016?
A: Social media is the key in transmitting Rio 2016's main message, as a synchronized and sustainable flow of information with different channels of media around the globe. Social media is our main avenue for engaging diverse audiences. What we are visualizing for Rio 2016's social media includes engagement with all publics, including volunteers, as well as the local crowds and the Brazilian and global media. In order to reach a wider audience, with different backgrounds, some accounts use different languages.
Brazil is also known as the kingdom of Facebook. According to surveys, it is the country with the highest rate of new users entering the platform. Also, Brazilian media use it as a source of information. In order to capitalize on this, while expanding our message to international influencers, Rio 2016 also uses Twitter. There 3 different accounts: Portuguese, Spanish, and English. Each one makes use of third-party endorsements and content, in the form of retweets of links, posts of media sources and Olympic Committees from other countries.
Finally, Instagram is the social media channel used for engaging with the internal public: the Rio 2016 staff, which is a genuine source of endorsement. There are several efforts to engage with Rio 2016 staff, like push activations, quizzes, and prizes.
Q: Are you using any platforms, in particular, to engage audiences in Asia?A: The Asian audience is particularly special and important for Rio 2016, given the relevance of the event for their local audiences. However, it requires special investments and efforts in order to distribute the message properly. For example, Rio 2016 has
A: The Asian audience is particularly special and important for Rio 2016, given the relevance of the event for their local audiences. However, it requires special investments and efforts in order to distribute the message properly. For example, Rio 2016 has opened a profile at Weibo, a Chinese microblogging website, used by 30% of global web users.
For other Asian audiences, from Singapore, Hong Kong, and Malaysia, there are efforts on other social media accounts in English in order to keep them updated with relevant contents that resonates with them.
Q: Will Rio 2016 use live video on Facebook Live & Periscope?
A: We are already using Facebook Live. Initially, it was used to broadcast part of the daily processes of the organization, as well key facts about Rio 2016 headquarters, but then it also became a key tool for broadcasting and engaging with the audience during the Torch Relay. Periscope is currently being used by the Olympic and Paralympic Brazilian Committees to broadcast events. The intention of Rio 2016 is to mostly use Facebook Live because of its relevance to the Brazilian audience.
The second-screen phenomenon during the Olympics will result in a boost in reach, impressions, and engagement for Rio 2016 and brands that align themselves with the sporting event. Those who only rely on social media to keep updated about the games will also be engaging with one another. This means that the potential for conversation on social media about Rio 2016 is limitless.
Rio 2016 has a huge advantage, as it has been able to build a huge audience prior to the Olympics. The organization is already giving its audience valuable content on Facebook, including a day-by-day account of the Torch Relay, destination information for those traveling to Rio, profiles of participating athletes, videos of inspirational moments, and schedules of the games. On Twitter, they are posting about the #OlympicFlame traveling around the world, but they are also using the platform's poll tool to see which team people are rooting for in different sports. A great way to get input from the audience and to increase interaction.
Rio 2016 is using social media effectively to build anticipation while creating excitement. People no longer have to be at the stadium to be part of the event. Social media gives them a virtual pass to the games and gives them a chance to not only be fans, but also as referees and commentators. Only the summer will tell if Rio 2016 will bring the heat and break all social media records.
Support HuffPost
The Stakes Have Never Been Higher
Related
Popular in the Community