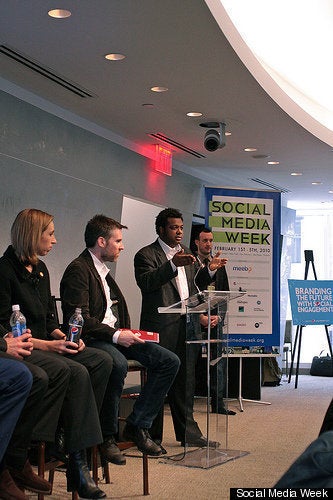 It's Social Media Week worldwide, and Angelenos can get in on the fun with a roster of (mostly) free, week-long activities. Marketing and media wunderkind (she was named one of Billboard Magazine's "30 Under 30 to Watch") Jamie Kantrowitz explains:
Its events are free to anyone who registered, and its mission is to expose as much best practice and breadth of information on people's work in this space around the world and to inspire more understanding and use this explosive medium of communication and connection.
For Families: Whole Foods Market twEAT Up
When: Monday, Sept. 20 (3pm)
Where: Whole Foods, 7871 Santa Monica Blvd, West Hollywood, CA 90046
What: "At twEATups, Whole Foods Market will serve a healthy after school snack and lead a scavenger hunt and coloring activity for young children. A Healthy Eating Specialist will share tips for how parents can support the creation of a healthy lifestyle by making kid-friendly nutritious meals and snacks."
How: Register for the event.
For Foodies: LA Foodie Beach Bash
When: Tuesday, Sept. 21 (7-9pm)
Where: Shutters On The Beach, 1 Pico Blvd., Santa Monica, CA 90401
What: "The event is hosted by BakeSpace.com, FIJI Water and POM Wonderful and will feature delicious POM cocktails and giveaway prizes. The event is is free, but space is limited... so what are you waiting for?"
How: RSVP for the event.
For Start-Ups: Social Entertainment With FunnyOrDie.com
When: Wednesday, Sept. 22: (7-9pm)
Where: Paley Center, 465 North Beverly Drive, Beverly Hills, CA 90210
What: "Funny-or-Die CEO Dick Glover will lead this evening event that will explore the creative, monetization and audience building strategies required to build successful social entertainment platforms. In what will be a highly charged, fun and creatively fueled debate, Dick and five other speakers will participate in a head-to-head debate over the course of three 15-minute rounds. Each speaker will have a chance to ask their counterpart three pre-prepared questions. A moderator will be on hand to judge the fairness of the questions and directness of each speakers responses."
How: RSVP for the event.
For Singles: Date and Skate Night
When: Thursday, Sept. 23 (9pm-2am)
Where: The Echoplex, 1154 Glendale Blvd., Los Angeles, 90026
What: "Join Cyber-Dating Expert Julie Spira and Down & Derby for a fun evening of skating and dating during Social Media Week. Bring your iPhone, Droid, and BlackBerry and download the latest dating apps. Join in on the fun as you roll your way to into love. Receive dating advice from bestselling author Julie Spira and come to the coolest roller skating party since roller skating was cool. (21+).
How: Cost is $10 admission ($5 in advance online) $5 for skate rental will be collected at the door with proof of registration.
Calling all HuffPost superfans!
Sign up for membership to become a founding member and help shape HuffPost's next chapter