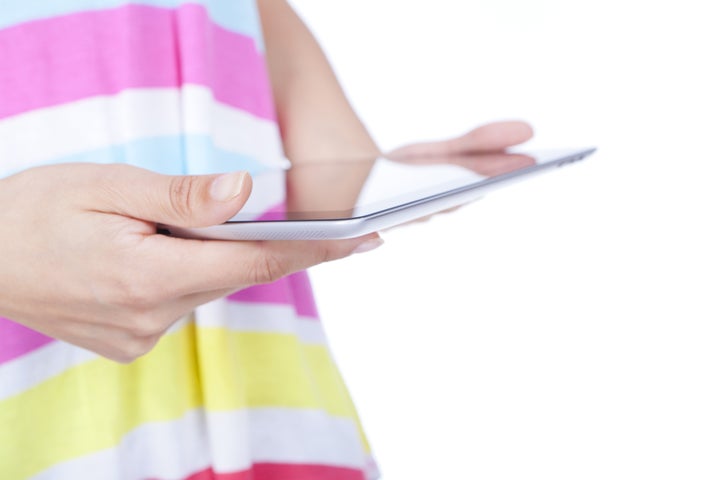 It started with a simple message from Facebook: "Shawn Hayes has sent you a friend request. Click Confirm or Not Now." Definitely now, I thought as I clicked to accept. Shawn Hayes was the one who got away in high school; the cute older boyfriend of a friend. The unwritten laws of friendship prevented me from anything more than a crush, but I never forgot about Shawn. I would often hear about him through mutual friends post-graduation, his job, his marriage, the birth of his son and his divorce.
Like many Facebook romances, we moved quickly. According to StatisticsBrain.com, the average length of a courtship started online is 18.5 months. I moved in with Shawn and his son after a year. But counter to the other well-known statistics -- the ones that predict social media and screen time will be the downfall of most marriages -- social media got us to "I do."
Life together was busy. Shawn works long hours and I soon learned that an 8-year-old's social life can be pretty hectic. Even though we lived under the same roof, we still used Facebook to chat and flirt. And then I was accepted to grad school in Boston, 60 miles south of our home. It made sense for me to live on campus while I focused on my degree.
Enter texting. Texts are casual, private and immediate. And it's true what they say -- texting can add a little spice to a relationship when you just can't be together. They say screen time is the downfall of relationships. I say, it's the glue of a modern romance. How else would Shawn and I find anytime to talk in between work, family and school?
Occasionally, Shawn and I talked about getting married, but it just didn't seem to be the right time; I wanted to finish graduate school, he was busy with work and our free time was consumed with family activities. Then, last December, we found out I had a baby on the way. The subject of marriage came up again, not so much as must-do, but as a nice-to-do. Wouldn't it be wonderful to make our family "official?"
But I went back to Boston to finish my last semester before graduation and we never made a formal plan. Once again, our screen time became our connection time, the way some couples might check in over morning coffee or family dinners. We were back to texts, Facebook updates and even sharing the occasional Instagrams and Tweets to close the gap of distance and time.
One day last month, I received what looked like an email from Shawn. The subject line was a little strange; it read "Shawn Hayes tickled you with something special". I clicked to find the surprise of my life. It wasn't an email, it was a gift from Ticlr.com, a social media gifting site that lets people send conditional gifts, and it said, "Hope: I love the life we've created for ourselves and couldn't imagine it without you a part of it. After three and a half years I cannot wait to see what's next! I love you and hope you'll agree to marry me! Love, Shawn"
Shawn's gift to me was a romantic weekend on the coast of Maine. The condition, I had to marry him. "Yes!" I replied, and we were married last month.
So let the naysayers talk all they want about technology and social media as a deterrent to true love. I say, the quickest path to the altar is via Tweets, texts and Tickles.