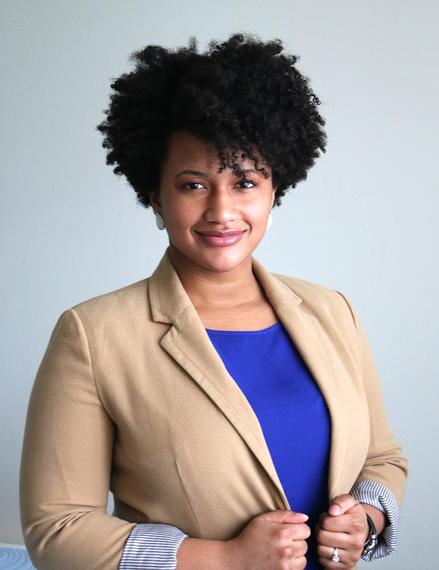 Natural hair is back! After decades of ends-splitting, scalp-drying, shaft-burning, edge-ripping jheri curls, chemical relaxers, flat irons, lace fronts and weaves, today's "naturals" are returning full circle to the styles of the '60s and '70s, but with a twist.
Back in the day, afros were blown out to smooth perfection. Think young Michael Jackson and BernNadette Stanis (Thelma in Good Times). A radical departure from straightened hair, fros were a power statement, a fist-pumping rejection of the dominant culture. Today's natural hair styles -- locks, braids, fros and those that defy categorization -- seem wilder and freer, a symbol of our deepening self-acceptance within the context of white beauty standards, and that's a healthy shift in the right direction.
We haven't seen the last of butt-long weaves and chemicals, but we now have natural hairstyles in our collective beauty arsenal to add variety and to give our scalps and hair much needed respite. Heralding the natural trend with education and community, Kimberly Lewis unveiled The Natural Hair Care Academy, a social networking site for naturals, at a recent launch event in Chicago.
The Academy's online platform "unites natural and transitioning women of every hair texture through one virtual community," says Kim. "We offer educational tools and tips, customized courses, and a community where natural women can find support throughout their hair journey."
This intellectual and communal approach to hair was intriguing, so I asked Kim to share her thoughts on natural beauty and the movement in general.
DONNA MARIE: This is very basic, but define natural hair. Are you completely against flat ironing, weaves, relaxers, etc.?
KIMBERLY LEWIS: We define "natural" as hair that is not texturally altered by means of a chemical treatment, such as a relaxer, but not including hair dying products. We recognize that women who choose weaves, wigs, hair extensions and extended braid styling can also be considered natural if the hair being concealed or enhanced is not texturally altered by means of a chemical treatment. The Natural Hair Academy does not discriminate against, nor does it advocate for the exclusion of women with chemically enhanced styling from the natural community.
DMW: Why did you feel there was a need for a social networking site for naturals?
KL: Just like me, many other women experience the negative reactions to wearing their hair natural, and I wanted to build a place where we could build each other up. YouTube was great but there was a lot of one-way communication, one vlogger talking to several hundred thousand people. We needed a platform where people could be both leaders and members.
At The Natural Hair Academy, you can sign up, build your profile, join the group/class with your texture to share styles and tips, write a post on our community news feed, check out the latest in natural hair through our natural news section, enter to win weekly hair challenge giveaways, and access weekly Groupon-type deals. Some features that we are currently building are a salon directory, product library and grading system, and classroom leaders to help educate about the different hair textures.
DMW: Why is education needed? Can't we just wash and condition our hair?
KL: For so long African Americans have experienced oppression and discrimination because of our hair. We rejected the exploration of caring for our hair in its natural state and instead developed ways to chemically alter our hair to make it acceptable. We didn't have the opportunity to explore our hair and find out what works best. As a result, naturals need to be educated on how to moisturize, style, shampoo, condition, etc. because many of us have used straightening agents our whole lives and don't know how to manage our own texture.
DMW: What was your own journey to natural like?
KL: I've been natural since summer of 2010. Since I was a little girl, I had a relaxer, and after 11 years of heat and chemicals, I had no idea what my real hair texture actually looked like. As the years of damage piled up, my hair began breaking off, getting shorter and shorter each year. After years of abuse, I was fed up with the breakage and hair loss (alopecia) and physical damage to my scalp, and I decided I was going natural. I received a lot of negativity that summer like, "Are you crazy? Why do you want nappy hair?" Someone even told me, "Girl, you need a perm." I felt so ashamed of how I looked I spent the summer wearing hats and scarves to hide my hair. I got so fed up and told my boyfriend to just chop it all OFF! The only thing I had at the time was a pair of crafts scissors and he told me to make the first chop. I did and he did the rest. I had officially begun my natural journey, but I had no clue what to do with my hair. Then one of my friends introduced me to YouTube. I started subscribing to vloggers like Naptural85, NikkiMae2003, MyNaturalSistas, and BeautifulBrwnBabyDol, just to name a few. I spent several hours a day watching their videos and posts for product reviews, styles, tips, and techniques which really helped me a lot. I was able to do so much with my hair.
DMW: Lately I've been hearing about racist incidents in schools and in the workplace connected to natural hair styles.
KL: Right! Recently a friend was insulted in front of the entire administration at her job for wearing her hair in twist out. Her boss told her that her hair was unkempt, unprofessional, and should not be worn like that to work again. I told her that in her follow-up meeting with him to educate him about black hair. "Let him know how your hair grows and that it isn't naturally straight and that you aren't wearing it curly as a way to stand out but rather to embrace who you are. Everyone else at your workplace is allowed to do so. Why aren't you?"
DMW: Can you suggest some basic steps to keeping natural hair beautiful and healthy?
KL:
The four essentials are:
Cleansing - In order for your hair to react to products the way they are intended, you need to cleanse the cuticle layer of your hair thoroughly and regularly so that it can absorb the products.
Moisturizing - Water is excellent for adding moisture to your hair. After cleansing, add a leave-in conditioner or simply add steam or water to the hair to moisturize.
Sealing - Seal in moisture with a light oil like an argan or jojoba oil. I use light oils because they absorb into hair more easily than a coconut or shea butter oil. Heavy creams and oils tend to sit on top of the cuticle layer.
Styling - Many naturals think that creams moisturize the hair, but they really don't. They are meant to give you that "slippage" needed for styling. Generally oil and water do not mix, so once the oil is in your hair, it will keep the moisture from leaving the cuticle layer of the strand while providing a protective barrier around the strand.
REAL LIFE. REAL NEWS. REAL VOICES.
Help us tell more of the stories that matter from voices that too often remain unheard.