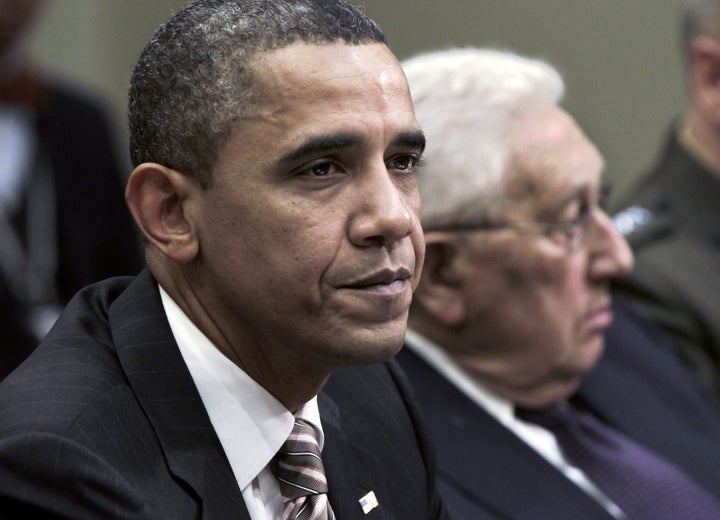 WASHINGTON -- President Obama's cautious response to the fiscal commission co-chairs' proposal was "quite frankly, a disappointment," according to Terry O'Neill, president of the National Organization for Women. The draft report would slash Social Security benefits for millions of Americans, hurting poor people and minorities in particular.
"These proposals to cut social security really push hundreds of thousands of middle class women into poverty," said O'Neill on a conference call with reporters Thursday afternoon. "Women are far more likely than men to head into their retirement years without savings and why is that? Well, when you work a lifetime with unequal pay, you have a hard time socking away money for your own retirement."
Indeed, a new report issued by the Government Accountability Office found that raising the retirement age for Social Security would have a disproportionate impact on low-income workers and minorities.
Women today are paid 77 cents for every dollar earned by men, and for minority women, the pay is considerably worse.
The president earned the ire of Social Security advocates around the country when he told reporters last week that the commission's proposal deserved review rather than the dismissive response it received from leading Democrats like House Speaker Nancy Pelosi (D-Calif.).
"President Obama did not come out clearly and forcefully in opposition to the co-chairs' proposal and quite frankly, that was a disappointment," said O'Neill.
It's not clear that Obama's caution is politically strategic.
A new poll unveiled Thursday by Lake Research Partners found eight out of ten voters remain strongly opposed to the recommendations put forth by co-chairs Alan Simpson and Erskine Bowles, suggesting that were the president and members of Congress from either party to follow those recommendations, they would suffer at the polls in 2012.
Of the 1,200 likely voters surveyed, 82 percent opposed cutting Social Security to reduce the deficit, with 83 percent of Democrats and 82 percent of Republicans opposed.
Similarly, when it came to raising the retirement age to 69, as suggested by the Simpson-Bowles proposal, every partisan group surveyed was opposed -- 76 percent of Democrats, 57 percent of Republicans, and 62 percent of Tea Partiers.
"The reason we've come together is to send a very clear message to the White House which is a message the American people are quite clear about," said Eric Kingson, co-chair of the Strengthen Social Security Campaign. "They don't want Social Security cut today or tomorrow."
In a statement Thursday, Rep. Raul Grijalva piled on.
"The Democratic-controlled Congress and White House are now pondering cuts to one of the most important, successful and popular programs in American history," said Grijalva. "Unfortunately, the architects of this scheme have still never been pushed to answer the fundamental question: Why? Social Security keeps millions of Americans out of poverty and living the decent lifestyle they earned through decades of contributing to the economy. The whole debate has been off topic from the beginning and seems motivated by an agenda that has nothing to do with the real needs of working and retired families. We cannot throw the future of the American retirement system under the bus to put more money in the country's wealthiest pocket or further slash taxes for the richest two percent. Proponents of cutting Social Security are right that this is about fiscal responsibility, and the fiscally responsible thing to do is strengthen rather than weaken the most fundamental economic support program this country has ever had."
California Democrat Rep. Barbara Lee offered similar sentiments.
"Safeguarding Social Security is more imperative now than ever," said Lee. "Social Security keeps 20 million Americans out of poverty - many of whom are people of color. As we move into the 112th Congress, I am committed to defending Social Security from all those who wish to dismantle it. We must work together to ensure that Social Security remains intact and solvent for generations to come."
AFL-CIO President Richard Trumka, meanwhile, argued political leaders should be less obsessed with the deficit and more worried about pulling the country's economy out of the ditch.
"Proposals to cut Social Security benefits and give the wealthiest Americans over $700 billion in wasteful tax breaks won't help the economy," he said in a statement Thursday. "Let's be clear. We have a jobs crisis, not a short-term deficit crisis."
Popular in the Community