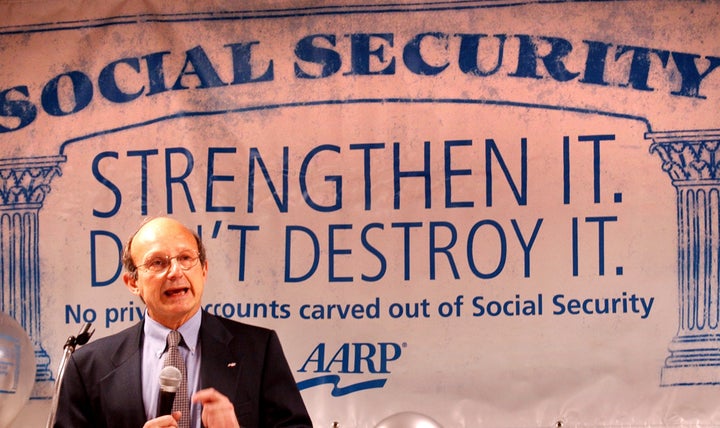 WASHINGTON -- Social Security advocates are furious with AARP for signaling it might support reducing benefits as part of a deal to maintain the solvency of the Social Security trust fund.
In response to a Friday Wall Street Journal article detailing openness to considering benefit cuts by the seniors' lobbying powerhouse, spokespeople for other elderly advocacy groups pointed out that polls show AARP's apparently new stance on the issue does not reflect the views of most seniors, or the majority of Americans.
"Americans are overwhelmingly united on their position on Social Security," said Nancy Altman, co-director of the Strengthen Social Security Campaign during a conference call with reporters. "They do not want to see benefits cut. They do not want to see the retirement age increased. They want to see the manageable deficit still decades away resolved on the revenue side."
Altman and other Social Security advocates worry about the political implications of AARP's pivot.
"What AARP has done is giving comfort to those policymakers that want to cut Social Security benefits," said Max Richtman of the National Committee to Preserve Social Security.

"It's a terrible negotiation strategy to signal a willingness to compromise before negotiations are joined," echoed Eric Kingston, co-chair of the Strengthen Social Security Campaign.
National Organization of Women President Terry O'Neill described AARP's move as a political calculation aimed at placing it at the center of future Social Security negotiations, saying the organization "cares more about positioning itself as an insider than supporting seniors."
The advocates said the timing of AARP's shift would inappropriately thrust Social Security into a debate about the federal budget deficit, where they say Social Security doesn't belong. Vice President Joe Biden is participating in a series of negotiations with Democratic and Republican members of Congress about a deal to trim the budget in return for their support of legislation to avert a U.S. default by raising the debt ceiling.

"The timing is very destructive," Altman said. "We all know the news is full of the Biden group meetings, and even though they say they don't want [Social Security] to be part of the deficit discussions and raising the debt limit, that's the impact it will have."
Though AARP claimed in a Friday press release that the Wall Street Journal story was "misleading" and that its position on Social Security benefits has not changed, their statement did not deny that the group is open to benefit cuts.
Alliance for Retired Americans Executive Director Ed Coyle said if AARP had been open to cuts all along, "to me, that's news."
"We hope that AARP will not be in the position as the story characterized them as being the captains of a ship that really you could call the Titanic, filled with seniors," Richtman said, "seniors that will go down with that ship."
Popular in the Community