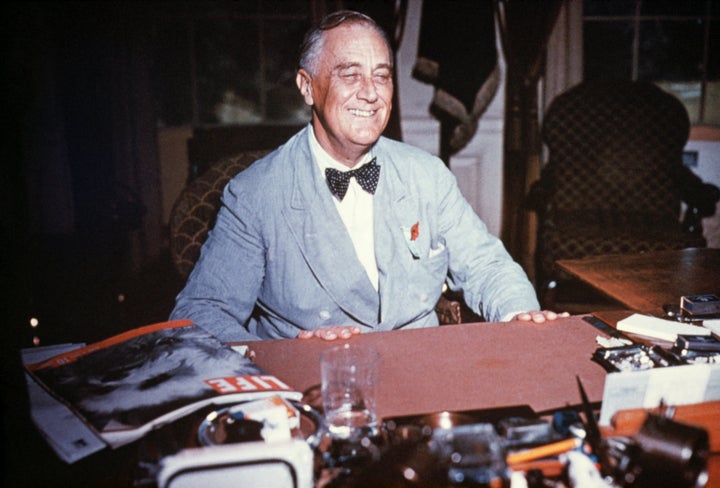 Exactly 81 years ago on Sunday, President Franklin Delano Roosevelt signed the Social Security Act into law, creating the country's first national pension program.
In subsequent decades, the program evolved to cover all on-the-books workers and provide benefits to severely disabled workers and their dependents, as well as the spouses and dependent children of deceased workers.
Social Security is credited with reducing elderly poverty from 50 percent prior to its creation in 1935 to roughly 10 percent today. The program enjoys the rare distinction of enormous popularity with both Republicans and Democrats.
While most headlines about Social Security nowadays typically focus on the program's long-term shortfall, two reports released last week in honor of Social Security's anniversary chronicle the extent of its successes.
The Democratic staff of Congress' Joint Economic Committee published a report on Social Security's increasingly important role as a source of retirement income.
Social Security lifts 14.5 million people out of poverty, according to the JEC. In 2014, the analysis found, 41.5 percent of Americans aged 65 or older would be living in poverty without Social Security, compared to the current 10 percent.
Due to the decline of defined-benefit pensions once commonly provided by employers and the challenge of amassing personal savings amid stagnant wage growth, Social Security will only become more significant as a source of retirement income, the analysis argues.
Another series of reports by Social Security Works, a progressive group fighting for the expansion of benefits, documents Social Security's impact across the country. The organization has produced individual reports showing how the program works in each state, plus the District of Columbia and Puerto Rico.
Social Security provided benefits to nearly 60 million Americans in 2015, according to Social Security Works ― nearly 1 in 5 total residents.
The median benefit for retired workers was just under $15,000 in 2015, the report notes. Yet these modest sums constituted the majority of income for over 60 percent of beneficiaries aged 65 or older in 2014, according to Social Security Works.
West Virginia is the state with the highest percentage of residents who depend on Social Security. More than one-quarter of state residents received the program's benefits in 2015, according to Social Security Works.
Social Security Works also highlights Social Security's lesser-known role as an anti-poverty program for children. It provided benefits to some 4.3 million children in 2015, many of whom receive the program's survivors insurance benefits for a deceased working parent. In total, the program lifted 1.1 million children out of poverty in 2014.
Social Security has become a prominent issue in this year's presidential race. Hillary Clinton, the Democratic presidential nominee, has promised not to cut the program's benefits and has said she would increase benefits for vulnerable groups.
Donald Trump, casting himself as an economic populist, has bucked conventional Republican orthodoxy on Social Security, assuring voters he would shield them from benefit cuts. In a 2011 interview, however, Trump claimed he supported cutting the program, but said Republicans should not discuss their plans to do so to avoid the political fallout.
Popular in the Community