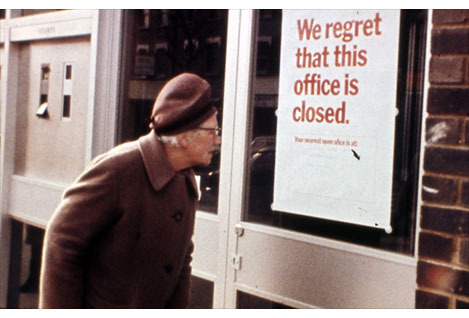 There's been lots of debate and discussion lately about how to shore up Social Security for future generations. But already there are dramatic changes underway that threaten to end Social Security as we know it -- yet almost no one has even heard of it.
The plan is called Vision 2025, and every working American has a stake in it.
To explain the significance of what's going on, let me paint a picture. Say you're the CEO of a major corporation doing $850 billion in business annually out of 1,200 locations across the country. More than 43 million clients walked through your doors in the past year, seeking one-on-one appointments with your experienced customer service representatives on matters affecting their financial security.
But there's a storm brewing. You've lost 12 percent of your employees in just the past three years, and another third of the workforce is projected to retire in the next decade. Customer demand is breaking records, yet failure to fill vacancies means longer waits for appointments. Customers are waiting three times longer than last year for assistance on your 1-800 phone line, while the website that was set up to take pressure off your field offices can't meet demand either.
So what do you do? If you're the head of the Social Security Administration, you lay out a plan to close most of your 1,200 field offices, not replace the 30,000 employees about to walk out the door, and force your customers to conduct nearly all of their business using a phone line and website that already are overwhelmed.
This is the real-life scenario playing out at SSA right now, and the ramifications of decisions made today will affect every working man and woman in this country for generations.
This fall, SSA will unveil its long-range strategic plan for the next 10 years, the so-called Vision 2025 plan. A draft of the plan, being developed for SSA by the National Academy of Public Administration, is frightening:
The bulk of SSA's field offices would be shut down, leaving the agency with a "significantly smaller and more virtual workforce."
Many of the employees left behind would be "generalists" who lack the technical skills and expertise to address benefits questions.
Customers could reach an actual claims representative only in "very limited circumstances," either through in-person visits, phone calls, online chats or video conferences. In the vast majority of cases, the only way to interact with SSA would be through "online self-service delivery."
Self-service checkout may work at grocery stores, but it's not the right model for an agency tasked with determining complex retirement and disability benefits for tens of millions of Americans each year. Do they really expect grandpa to hop on his iPad Mini to apply for benefits and get all his questions answered?
Most of the individuals contacting SSA for help are elderly, disabled or indigent. Many others are active seniors who simply are overwhelmed by the complicated maze of laws, regulations and policies pertaining to retirement benefits. They deserve and expect face-to-face interaction with skilled employees who can ensure they receive all the benefits they are owed.
Unfortunately, SSA seems determined to cannibalize itself. In addition to leaving thousands of positions vacant, management already has shuttered 80 field offices and dramatically reduced hours at remaining offices -- even before its strategic plan is finalized.
As the representative for the bulk of SSA's workforce, our union is working hard to save Social Security for current and future generations. This week, we plan to submit testimony at a congressional hearing on SSA's plan to dismantle the program. AFGE will not let it die without a fight.
I urge you to join the discussion about a program that all of us will ultimately depend on. Your retirement security is at stake.
J. David Cox Sr. is national president of the American Federation of Government Employees, which represents more than 670,000 federal and D.C. government employees nationwide, including more than 28,000 SSA field office employees across the country
Support HuffPost
The Stakes Have Never Been Higher
Popular in the Community