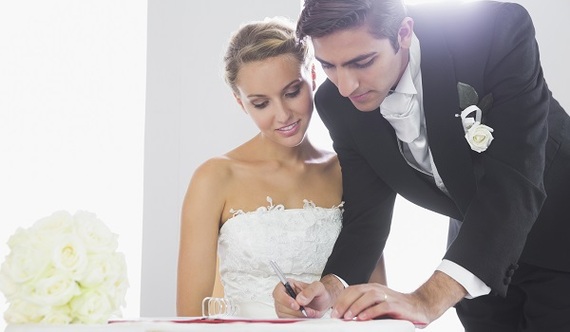 Congratulations! You are getting married soon, and you are caught up in a whirlwind of planning activities. There are so many details to consider that you may forget one important detail that applies if you are changing your name -- applying for a new Social Security card.
Social Security uses your earnings history to calculate your benefits. The 35 years in which you earned the most (adjusted to account for wage changes over time) are used in the benefit calculation. If you forget to notify your employer and the Social Security Administration (SSA) about your name change, any W-2 forms received after the name change may be incorrectly recorded and your Social Security benefits may be incorrectly calculated.
You may not even be aware of the problem until you retire and find your benefits to be lower than you expected. It could take some time to straighten out years of earnings filed under the wrong name. Your benefits may be delayed as a result, or even reduced if the correct earnings cannot be established.
How do you apply for a new Social Security card after a name change? The SSA does have an online service, but unfortunately, you cannot use it to apply for a new card. You will have to either send an application in by mail or bring it in to your local Social Security office, along with the necessary supporting documents.
To receive a new Social Security card, documents are required to prove identity, citizenship, and the legal basis for the name change. For a name change, your new card will be issued with the same number as your old card.
In the case of a name change, you will not need to establish citizenship unless citizenship was never established in the first place. If you do need to establish citizenship, the most common documents to use are either a passport or a birth certificate showing U.S. origin.
Suitable identification documents include a U.S. passport, U.S. driver's license, or a non-driver ID card issued by a state agency. All documents must be originals or copies certified by the issuing agency -- no notarized copies or photocopies are allowed. Driver's licenses or non-driver ID cards must be current. While passports or state issued IDs are preferred, you may be able to use other ID cards such as employee, school, or military ID cards that contain relevant information. Contact your local Social Security office if you are not sure that a particular ID is suitable.
To prove that your name change is legal, you will need to provide the documented proof of your marriage. Note that proof of name change status is necessary for any name change reason (decree of divorce, Naturalization Certificate, etc.).
Check here for further details on the required documentation for your new card. Under the "Type of Card" category, select "Corrected."
If you are part of a same-sex couple and planning to change your name, the same rules apply. Thanks to the recent Supreme Court decision legalizing same-sex marriage, same-sex couples have the same options as opposite-sex couples in determination of Social Security benefits.
Be sure to include the SSA in your wedding plans to avoid problems when you retire. They may not send you a gift for your reception, but you will receive your "gift" down the road with a smooth transition into your retirement benefits. That is much better than an engraved gravy boat.
Photo ©iStock.com/Wavebreakmedia
Related