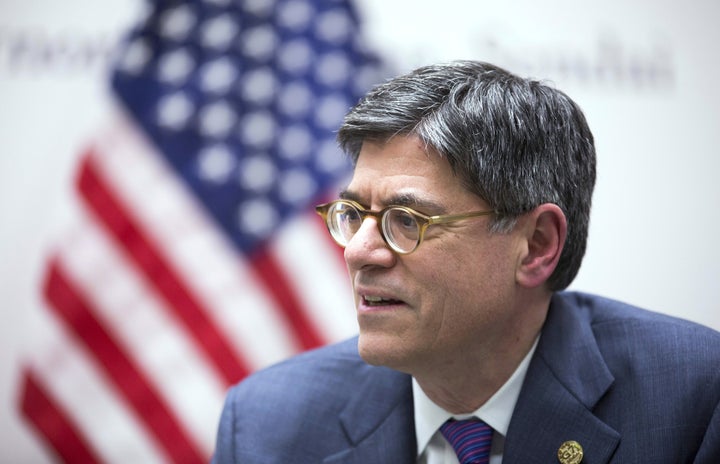 WASHINGTON -- Social Security will be able to pay full benefits until 2034, when it will face a modest gap in funding, the social insurance program's trustees reported on Wednesday.
Although the findings of the annual report on Social Security's finances are not surprising, the Obama administration and progressive groups are already seizing on it to support their claims that Social Security's shortfall is infinitely manageable. In fact, they argue, the distinctly non-apocalyptic assessment from Social Security's nonpartisan actuaries shows that the country can easily afford to both restore the program's solvency and expand benefits.
The report's release isn't normally an occasion for policy pronouncements. But in a sign of how much attention the White House is giving the issue, Treasury Secretary Jack Lew, a trustee of Social Security's trust funds, reiterated President Barack Obama's call for increasing Social Security benefits at a press conference announcing the release of the trustees report.
"The first challenge is to ensure solvency for future generations of Americans," Lew said. "At the same time, we should expand and finance improved Social Security benefits, particularly for the most vulnerable."
Carolyn Colvin, acting Social Security Administration commissioner and another one of the Social Security trust funds' trustees, also spoke at the press conference, where she quoted from an Obama speech earlier this month in which the president revealed his support for increasing benefits.
Social Security is under some financial strain from the retirement of the large "baby boomer" generation. Starting in 2034, Social Security will only be able to pay 79 percent of promised benefits, unless Congress acts to increase the program's revenues or reduce spending. (Congress has never failed to address the program's funding gaps in the past.)
That shortfall will likely be a cause for concern in the coming years, but it is hardly the crisis that many prominent Republicans have made it out to be.
For example, former GOP presidential candidate Sen. Marco Rubio (R-Fla.) said in March that "Social Security will go bankrupt and it will bankrupt the country with it."
"That one percentage point increase to sustain Social Security is surely manageable."
In reality, Social Security's costs are currently equal to 5 percent of the country's gross domestic product -- or the total value of goods and services produced -- and is expected to peak at about 6 percent of GDP.
Colvin drew attention to those figures at Wednesday's press conference.
"That one-percentage-point increase to sustain Social Security is surely manageable," Colvin said.
Colvin also noted that the cost bump for the baby boomers' retirement is significantly less as a share of the economy than the increase in public spending it took to provide the baby boomers with public education in their childhoods.
Closing the funding gap alone can be achieved without cutting benefits. A popular proposal to raise revenue for the program would involve lifting the cap on earnings subject to Social Security taxes above its current level of $118,500 -- or eliminating the cap altogether.
It's a solution that would close the vast majority of the program's shortfall, and Obama has indicated he is supportive of the idea.
Progressives argue that Social Security's main problem is not its solvency, but the adequacy of its benefits. Obama and presumptive Democratic presidential nominee Hillary Clinton have both come out in favor of expanding benefits.
There are already signs that benefits expansion will be an issue in the presidential race as Clinton seeks to distinguish herself from presumptive Republican nominee Donald Trump, who has broken from Republican orthodoxy with his vows to protect the program from cuts. In her speech on the economy on Tuesday, Clinton said Trump has "no ideas how to... expand Social Security."
Advocates for benefits expansion point to mounting evidence that Social Security is at once more modest than analogous programs in other countries, and yet an increasingly vital source of retirement income for U.S. seniors.
Social Security replaces a smaller percentage of Americans' pre-retirement earnings than do comparable programs in all but a few other wealthy nations.
The average Social Security retirement benefit was $15,943 a year in 2014. It's a small sum, but Social Security is now the main source of retirement income for some two-thirds of seniors, according to the Center on Budget and Policy Priorities' analysis of official data.
And with the decline of traditional pensions, the inadequacy of 401(k) accounts and erosion of other savings vehicles like home equity, that figure is likely to grow in the coming years.
In addition to Lew and Colvin, progressive groups and elected officials piled onto the news of the trustees report to tout their plans to expand the program.
"It is time to expand Social Security, not cut it," Sanders said in a statement. "Millions of seniors, disabled veterans and people with disabilities are falling further and further behind on $10,000 or $11,000 a year [in] Social Security."
Popular in the Community