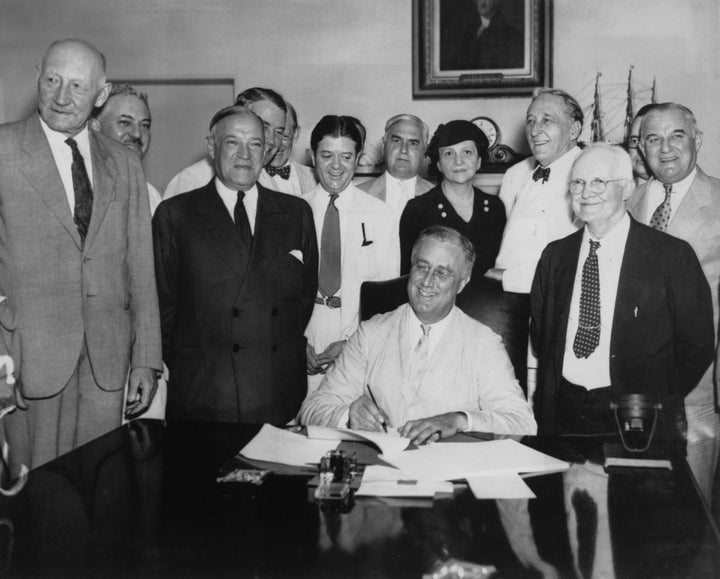 The new analysis from the Center on Budget and Policy Priorities, a liberal think tank, is the annual update of a recurring study using official data on the non-Social Security income of some 60 million beneficiaries of the program. Assuming beneficiaries had to rely exclusively on this non-Social Security income, over 22 million of them would have incomes below the federal poverty level.
The paper's co-authors, Kathleen Romig and Arloc Sherman, admit that the analysis assumes non-Social Security income would remain static in Social Security's absence. In reality, seniors and disabled workers might save more if they knew they could not rely on the program's benefits.
They nonetheless believe their findings demonstrate the vitality of Social Security's benefits ― and should give caution to politicians considering cutting the program.
"Depending on their design, reductions in Social Security benefits could significantly increase poverty, particularly among the elderly," Romig and Sherman write.
Social Security reduces poverty most dramatically among Americans aged 65 or older, who make up the bulk of beneficiaries, according to the report.
Currently, 8.8 percent of Americans aged 65 or older liver in poverty. Without Social Security, however, 40.5 percent of those seniors would be impoverished, CBPP found.
The think tank also analyzed Social Security's impact on elderly poverty in each state.
The program lifts the most elderly people out of poverty in Florida.
But it reduces the percentage of elderly state residents in poverty by the largest margin in Mississippi. Presently, 14.5 percent of Mississippi residents aged 65 or older live in poverty. Without Social Security, 56.9 percent of those seniors would be in poverty.
Of course, Social Security is not just for seniors: the program lifted over 1 million children out of poverty in 2015 as well, according to the report.
Social Security plays a lesser-known, but increasingly crucial role in the lives of children, who receive benefits if they have retired, deceased or severely disabled parent.
Over 60 million Americans receive Social Security benefits. As of August, the average benefit was $1,238 a month, or $14,857 a year. Beneficiaries will get a 0.3 percent cost-of-living adjustment in 2017 to allow benefits to keep pace with inflation.
Originally conceived as a pension benefit for retired workers, it later expanded to include the survivors of deceased workers, as well as severely disabled workers and their dependents.
Due to the retirement of the Baby Boomers, Social Security faces a financial shortfall that will prevent it from fully paying all promised benefits starting in 2034 if Congress fails to take action to reform the program. Conservatives favor reforms focused on reducing benefits, while progressives favor revenue increases, like lifting the cap on earnings subject to Social Security payroll taxes. (Americans only pay into Social Security on the first $118,500 they earn.)
Donald Trump, her Republican opponent, has said he would not cut benefits, but offered only vague plans for how he would avoid doing so. He has suggested the program could be made solvent by cracking down on fraud, which is far too uncommon to be a source of major savings, or growing the economy by cutting taxes and repealing Obamacare, which would also fall short of saving Social Security enough money to continue paying out promised benefits in full.
Popular in the Community