Ask any person with disabilities or any retiree you know whether the cost of his or her medical care, prescription drugs, food and housing have increased in the last year. You would be hard-pressed to find anyone who would answer that those expenses haven't gone up. Yet they will receive no Social Security cost of living adjustment ("COLA") in January to offset those increased costs because the mechanism for measuring the inflation they experience is inadequate. It was created to measure the cost of living of workers, not seniors and people with disabilities, who have very different costs and spending patterns.
The lack of an adequate adjustment is no small matter. The COLA is intended to ensure that Social Security's modest benefits do not lose value over time. Its purpose is to keep seniors and other beneficiaries afloat, to allow them to tread water. But instead they are sinking.
Fortunately, Senator Elizabeth Warren (D-MA) and eighteen of her colleagues recognize the problem and have introduced stopgap legislation to address the lack of an adjustment in 2016, thereby providing time for Congress to enact a permanent solution. Her proposal appropriately requires that the nation's wealthiest among us start paying a bit more -- though still much less than their fair share.
At the same time that the economic foundation under most of us is stagnating or even eroding, the wealthiest among us continue to grow wealthier. This has resulted in increasing income and wealth inequality. The growing inequality didn't just happen by accident. It is the result of federal policies which have resulted in a perilous and immoral upward redistribution of wealth. We are a productive nation but the fruit of all that productivity has gone to those at the top, as the following chart shows: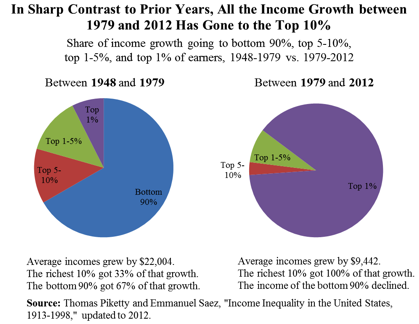 Consistent with this upward redistribution, CEOs at the 350 top firms in the United States make more than 300 times what the average American worker makes. In addition to this huge gap in current compensation, there is a gigantic retirement divide as well, according to a newly released Institute for Policy Studies and Center for Effective Government report, A Tale of Two Retirements. The top 100 CEOs' retirement funds total a combined $4.9 billion, which is more than the retirement savings of 41 percent of American families, combined -- more than the entire retirement savings of 50 million families, more than 116 million people! Indeed, as the report reveals, just one individual, David Novak of YUMS brands, has $234 million in retirement savings, enough to generate a retirement check of $1.3 million each and every month, while hundreds of thousands of his firm's employees have no supplement to Social Security whatsoever.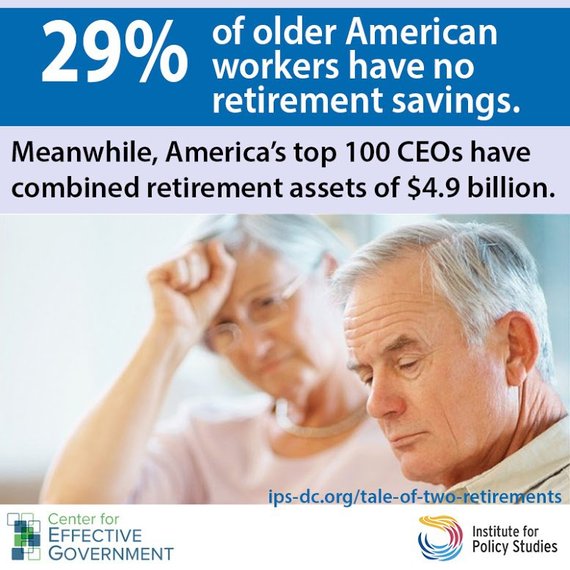 Senator Warren, a fighter for Social Security and for all of us, discovered that, on top of their already great wealth, the top 350 CEOs in the nation received a 3.9 percent raise in their pay last year. And she thought that if 3.9 percent was good enough for our CEOs, it is good enough for our seniors, people with disabilities, and veterans. Acting on her insight, she, together with 18 Senate co-sponsors, has introduced S.2251, the Seniors and Veterans Emergency Benefits Act.
The bill would provide seniors, veterans, people with disabilities, SSI recipients and others a one-time payment equal to 3.9 percent of Social Security's average benefit, or about $580. The bill would fund the one-time benefit payment to Social Security beneficiaries and others by closing the "performance pay" loophole, which allows CEOs to escape the $1 million cap on their compensation, and their companies to deduct the excess compensation, at a cost to taxpayers of around $9.7 billion a year. In theory, the excess pay must be performance based - but research shows that it rises even when CEOs drive their companies into the ground. Another report by the Institute for Policy Studies and the Center for Effective Government reveals, for example, that Gary Loveman, CEO of Caesar's Entertainment, received in 2010 and 2011 "performance-based" and other fully deductible bonuses totaling $10 million for those two years, the same years the company experienced $1.5 billion in losses.
By closing the "performance pay" loophole, Senator Warren's proposal would end a giveaway to the wealthiest in order to provide an extremely well-justified payment to tens of millions who have seen the value of their benefits slowly deteriorate for years. The additional revenue from closing the loophole will represent a significant step toward restoring Social Security to long-range actuarial balance. This bill is a sound move in the effort to slow rising inequality and help seniors, veterans, and people with disabilities achieve a better quality of life.
As a visionary leader, Senator Warren recognizes that Social Security is a solution. Expanding its modest benefits will solve a number of challenges facing the nation. She recognizes the nation's upward redistribution of wealth and takes a small step, through this bill, to address that. She recognizes that the overwhelming majority of today's seniors and people with disabilities are economically vulnerable, in or near poverty. Her one-time payment will ease their burden just a bit.
It is important to recognize that this bill does not expand Social Security. It corrects the failure to ensure that benefits keep pace with inflation. The next step is to expand Social Security's modest, but vital benefits.
The American people overwhelmingly support expanding Social Security's modest benefits by requiring millionaires and billionaires to pay their fair share. Forty-three Senators, over 100 U.S. Representatives, and three out of three Democratic Presidential candidates have pledged to support expanding or enhancing benefits, not cutting them. In light of this resounding support, it's time for Congress to act. While the Warren bill does not expand Social Security, it is an important first step along the road to making retirement secure and achievable for every one of us. I urge Congress to take that first step.
Calling all HuffPost superfans!
Sign up for membership to become a founding member and help shape HuffPost's next chapter