When someone says "social sharing app", names like Foursquare or GetGlue come to mind, as geolocative and entertainment check-in apps have recently exploded in popularity. The fashion world is a natural extension for social sharing -- especially when it comes to shopping. Take the free iPhone app Pose, for example -- the app serves as a way to share an individual shopping experience with other "Posers" in a Pose community, and similar to the way an app like GetGlue replicates the social experience of watching TV with other people, Pose replicates the social experience of shopping. Whether it's for feedback, suggestions or general sharing, Pose takes the notion of the online look book and builds a community devoted to sharing and discussing fashion finds, all from a mobile phone.
Recently I had the pleasure of chatting with trendsetter, fashion expert, media maven and all-around badass chick Alisa Gould-Simon. Alisa is a name to know in the world of fashion and style; both thanks to her impressive background (she's been published in the New York Times and Style.com, among others) and her latest endeavor as a part of the Pose team. Over email Alisa graciously answered my many questions about Pose and the current trends on the fashion scene. In the first portion of our interview we specifically discussed the app; how it's used, who's using it, the new partnership with LA-based retailer Metropark, etc. Oh and did I mention there's a chance to win a $200 gift certificate?
What's your involvement with the Pose app? How did that come to be?
I'm the Director of Marketing & Communications, but, as it's a start-up, I cover ground ranging from social media and selecting our Posers to retailer partnerships and user experience. I met Dustin Rosen, Pose's CEO, last fall and upon learning about the project (then a few months in) I knew I had to be a part of it.
How's the app been doing since launch? What's your target audience?
We've had a phenomenal response from our users, the media and the iTunes App Store (which has featured us in 'new and noteworthy' and 'staff favorites'). Our target audience is anyone who loves to shop and share their finds.
Who is using Pose? How are people using Pose?
Pose is being used by an international audience of both men and women (although, not surprisingly, women outweigh the men). People are using Pose to document their style discoveries, to procure feedback while shopping, or, simply, to show off things they've purchased or found while browsing. Users are also looking to other users and the Poser style feed (which features handpicked contributors) for fashion inspiration.
Which "Poses" are most successful, and how are they successful?
Poses that truly show off the product tend to be the most successful. This may mean someone showcasing a garment by wearing it (to truly give the impression of fit and silhouette), or someone snapping a shoe and emphasizing its vibrant color with a filter. Accessories (particularly shoes) and poses featuring a full outfit tend to score a lot of loves too.
Which "Poses" are the most popular? Any idea why some are when others aren't?
The most popular Poses range from shoes to full ensembles, from product shots to self portraits in the dressing room. The Pose audience definitely seems to be trend and style savvy; they appreciate strong images and products that are on trend.
Are there any famous Posers out there?
Our top Posers are all respected trendsetters: for instance, Leandra Medine (aka: The Man Repeller), Geri Hirsch of the blog, Because I'm Addicted, and stylist Melis Kuris.
What do you see as the future of Pose?
I think that Pose will evolve and expand significantly in the future. That said, we are relying heavily on our users to help shape the platform according to what they want. There will be increasing opportunities for discovery and connecting with other users and products. The underlining mission, however, will remain exactly what it is today: to capture and enhance the in-store shopping experience.
Are there any other apps you see as a big competitor? Why should people choose Pose over others?
Pose offers a truly unique mobile experience. There are other fashion apps out there and social shopping is becoming an increasingly recognizable buzz phrase in fashion. But, as I see it, Pose does not have any direct competitors. Pose is amplifying the in-store shopping experience and encouraging style discovery in a fresh way.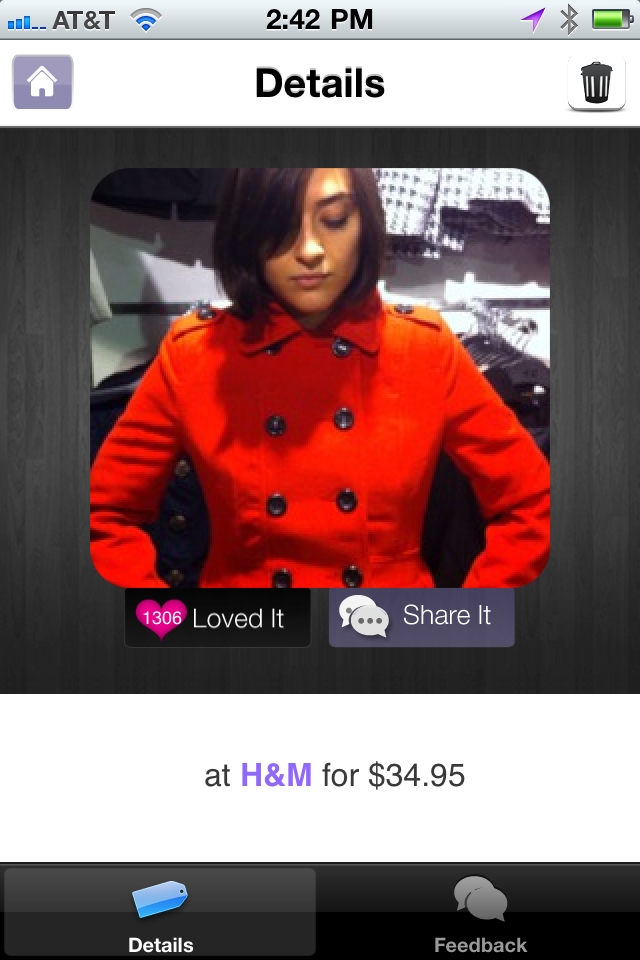 What's next for Pose?
Pose is working with LA-based retailer Metropark to launch an innovative in-store contest. Starting Friday, April 22nd (and running until May 8th), Metropark is encouraging its shoppers to Pose their favorite Metropark styles and share them across social networks to be automatically entered to win a $200 gift certificate to Metropark. Using Pose's API, Metropark will then display the Poses generated by the contest on its existing in-store TV screens, showcasing shoppers' finds in real-time. We're incredibly excited to get this contest off the ground and to continue to redefine the role of mobile in the brick and mortar environment.
Check back in for the second part of this interview, when Alisa gives me the lowdown on the fashion scene, including musts for every girl's closet, the hottest trends this spring and summer, and some suggestions for good first-date outfits!