The political leanings of first-time voters have traditionally been molded by a myriad of factors such as economic status, education, the media and one particularly prominent influencer - their parents. However, new technology is changing how both first time and established voters receive and interpret information. This transition may be creating a nation of swing voters.
Services such as Facebook and Twitter provide new forums to debate issues and topics in real-time, and at any time. Rather than assuming their parents' beliefs, today's youth use social media to question, internalize, and form their own opinions. The result is a growing intolerance for spin. Through readily available online tools, anyone can ensure that truth, track record, references and other factors are accurately represented.
Last month, social media became the star of the debates, allowing us to fact-check the candidate's talking points in real time. Every statistic, proclamation and rebuttal made by either candidate was immediately verified for truth or misinterpretation, not only by media outlets but general viewers. For example, Governor Romney stated, "I'm a son of Detroit. I was born in Detroit. And I would do nothing to hurt the U.S. auto industry." Two minutes later, his New York Times op-ed piece from 1998 entitled "Let Detroit Go Bankrupt" began trending on Twitter. When President Barack Obama claimed Mitt Romney was planning to raise taxes by $2,000 on middle-income taxpayers and/or cut taxes by $5 trillion, online fact-checking sites instantly exposed that this was misconstrued.
Digital and social tools allow for faster fact-checking and also enable information to be easily shared both inside and out of the classroom. In the past, students' exposure to the election was limited to their class, standard materials, or dinner table discussions with family. Today, students have continual access to information and to each other, allowing them to discuss and share with peers in any geographic location. Resources for teaching real-time election coverage that were once limited and time-consuming to locate, are now easily accessible and sharable. Teachers can bring elections to life with shared teaching aids, age-appropriate activities, and immediate access to online media outlets.
As the largest social learning platform for teachers and students, we at Edmodo have been lucky to see how the future voters of our country are evolving. Mr. Waller, an 8th grade history teacher at Friends Academy in Locust Valley, NY, saw more than 500 online posts from his students during the first presidential debate on Edmodo. In the two years he has been using technology in the classroom, Mr. Waller has seen his students' interest in politics intensify as they researched the debates, shared interesting articles and completed post-debate fact-checks, all online.
One day prior to the election, online polling of Edmodo students shows 60% of votes in favor of Obama and 40% of votes in favor of Romney. Whether or not students' opinions will match the results of the election will pan out tomorrow. To give this data some color, the below infographic displays how classroom discussion and candidate mentions correlate to student voting.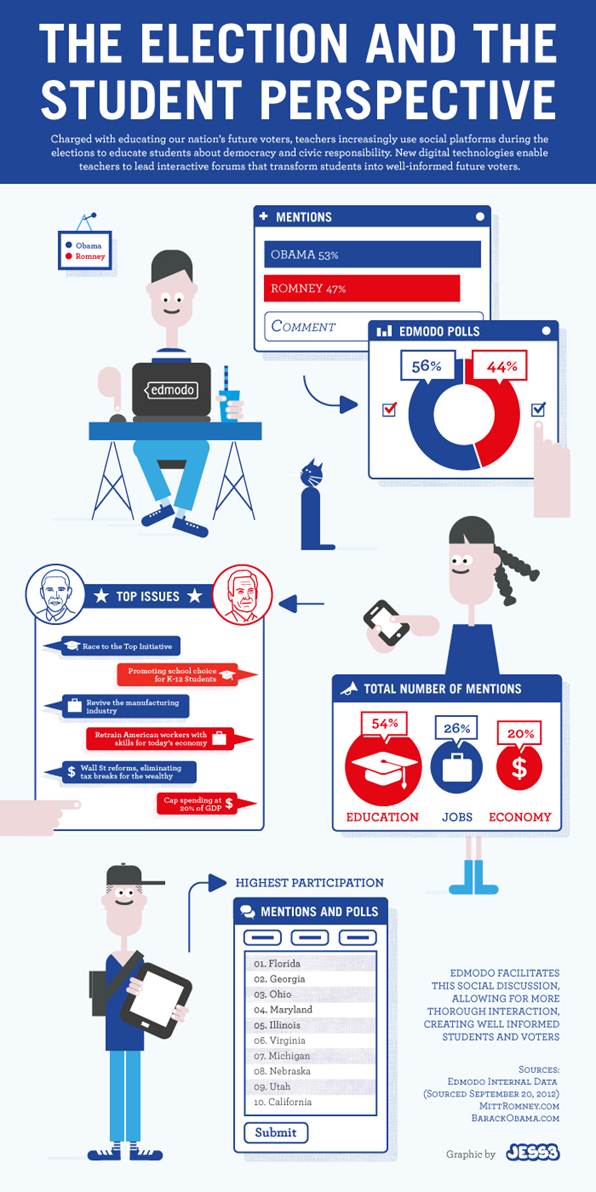 By engaging youth in important political discussions, we are cultivating a generation of more informed voters. Students learn to discuss issues in a safe and respectful manner and thoughtfully assess candidate performance. They become more active in conversations and more interested, not only in the state of our country and its leaders, but also the effects this will have on their own personal lives in years to come.
Popular in the Community