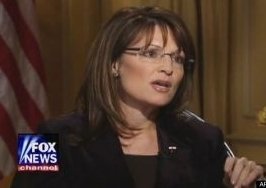 I lived in Alaska for 13 years. Alaska is more dependent upon government spending and subsidies than any state in the Union. This includes the vast federal government subsidies, as well as the state government spending. According to the State of Alaska Legislative Finance Division's own "Fiscal Summary," Palin's state budget request for fiscal year 2009 was $12,680 per person. As detailed recently by the Los Angles Times, the AP and others, this includes a plethora of state subsidies to well connected businesses, from politically active Dairy farmers and strip mall speculators to foreign owned pipeline companies. One of the reasons for Palin's high approval ratings in Alaska was her support for hiking taxes on the oil companies and distributing some of the money to citizens. Palin is a serial supporter of bridges to nowhere. Good policies or bad policies aside, how can Sarah Palin with a straight face talk about socialism?
If it took a democrat to bring about welfare reform, it apparently took a republican to nationalize the banking and insurance sector, supported by John McCain. McCain and Palin, in the same stump speech, boost McCain's $300 billion mortgage subsidy program with attacks on socialism?
How stupid are the voters supposed to be?
Calling all HuffPost superfans!
Sign up for membership to become a founding member and help shape HuffPost's next chapter