Jason Atherton has dedicated himself to making fine dining more accessible, and a more enjoyable experience. With this concept in mind, he founded his restaurant group The Social Company, and has opened 17 restaurants worldwide in the span of just 5 years. A former protégé of Gordon Ramsay, Chef Atherton has taken London by storm and made a major impact on the East Asian dining scene as well. He's currently in Dubai to launch his 18th restaurant, Marina Social.
Dubai is very familiar territory for him. He worked there for three years as the Executive Chef for Gordon Ramsay's Verre, which is also where he met his wife. Despite returning to England in 2004, his love affair with the city has continued. "Dubai's become a hub for me. Over the past few years, I have been known to pop by for a 1-night stay. Even if I hadn't opened this restaurant I'd still be using Dubai as a hub."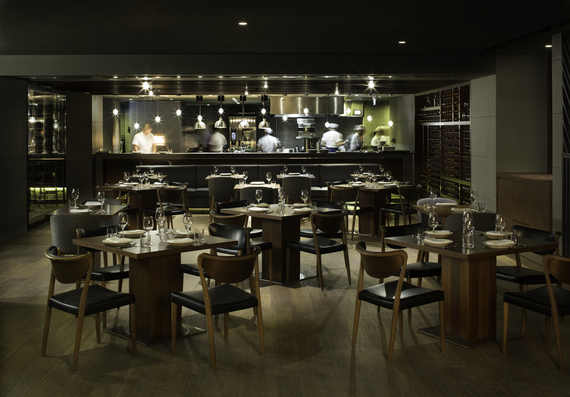 Image courtesy of Marina Social Dubai

The conversation also touched upon the fact that Chef Atherton's restaurants are quite vegetarian-friendly; some of them even have separate vegetarian menus, including the upcoming Marina Social. He's embraced the increased focus on vegetarian and vegetable-forward cuisine over the past decade, and believes it has endured because it makes sense. "I think it's great," he said. "When you eat meat-heavy meals at great restaurants on a regular basis, you tend to put on weight. If I have a 5-course tasting menu, I'm very happy for 3 of them to be vegetarian. I want to feel light and not have a food coma at the end of the meal."
However, good food is just one component of a great restaurant, according to Chef Atherton. The ultimate aim is to deliver a complete social experience. "I had to do something completely unique," he said when talking about his first solo venture. "So when I put my mortgage on the line and opened my first independent restaurant, I de-formalized fine dining to make it more accessible." This was the idea behind The Social Company, and is why many of his restaurants have the word 'social' in the name.
Using Marina Social as an example, the chef said he wanted his restaurants to be really flexible. Customers can treat the place as a regular hangout, or a bar, instead of feeling obligated to order a 5-course meal just because they're at a high-end restaurant. "It was really important to me that the restaurant delivered that social lifestyle option." He believes this sort of flexibility has been a key ingredient in his success.
With a keen attention to detail and a knack for creating a relaxed dining environment, Chef Atherton has established a vast global presence that's still growing. After Marina Social, he's got two more restaurants in the pipeline. But in spite of his success, he still keeps his feet firmly on the ground. "Honestly, I try not to think about that too much. I just sort of get on with what I have to do, and take things one day at a time."