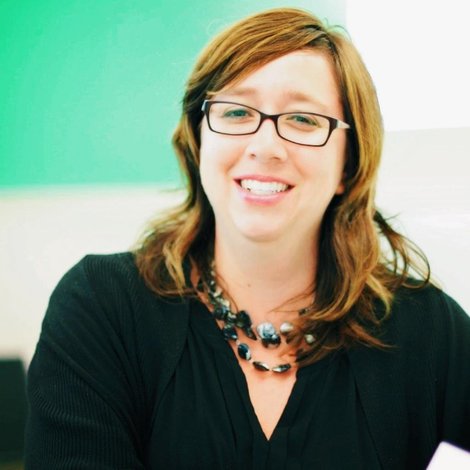 The job of UN Social Media Team leader is as complex as you can imagine. From overseeing global social media campaigns to explaining complex diplomatic concepts and ideas in 140 characters all day-all year in all time zones, Nancy and the social media team go through a lot to keep us all engaged with the work of the United Nations around the world.
In course of this stroll, Nancy, who has worked for over a decade at the UN, takes us into the daily routine of the United Nations Social Media team and also shares some advice for young people hoping to work in the International Development sector.
UN Social Media Team's Daily To-Do List
Nancy: Every day is busy. In trying to cover global events in all time zones, we have to do a lot of planning. So, as I wake up in the morning the first thing that I do is to check to make sure that something huge hasn't happened overnight because we might need to change our plans for the day.
We're lucky because the UN is a global organization, so I do have colleagues that help out overnight. While I'm sleeping here in New York, I have a colleague in Geneva who can also access our account and update it if necessary. Most of the work is done here in New York, but we've reach out to colleagues in Geneva to help, we also get some help from colleagues in Australia as well to keep an eye on things. They have their own work, but we take advantage of the global workforce to make sure that we cover all angles, and of course you have to be prepared so that if something happens over-night and they call me, I might have to get up and work--luckily that doesn't happen too often.
Also, every morning there are communications meetings. So either I go, or my supervisors go, or my colleagues go to these various meetings at all levels. Some of them are at the highest level; some are at the working level to discuss what's happening and maybe any sensitivity in any of the events that might be happening.
Once we get to the office we revisit our schedules to make sure that we are covering the latest news otherwise, in addition to covering just the news items on social media we try to put in a variety of all of the work that the UN does. So we're not just posting what happens at headquarters, we're posting updates from the various peacekeeping missions, we're working on campaigns; this year we focussed more on the newly-adopted Sustainable Development Goals and other online campaigns to get people talking about sustainability, climate action and all of these UN issues. So it's basically a lot of planning, balancing, changing plans, moving things around to try to make sure that everyone is interested in the work of the UN. And then we're trying to cover all of the different kinds of projects.
Scope of UN Social Media Day and Plans for 2016...

Nancy: We're not sure we'll be able to do an official Social Media day next year, but what we'll likely do is a panel on various topics because, planning the first day was a lot of work for the team and our team is quite small. But we had a lot of support from different missions of the UN that were very active, I know that our colleagues in the Netherlands, New Zealand, Canada, and Switzerland were very instrumental in getting people talking about social media issues. The truth is social media affects all aspects of UN work it's not just communications, that's why we decided to plan a Social Media Day at the UN.
I went for a similar event that our friends at NATO organized, and I modelled it on what NATO had done and Social Media Week which friends been organizing at Columbia University. So I took ideas from these two events and we made our own one-day event.
So it was great, we had Ambassadors talking about how they use Social Media, we brought in people from the various social media platforms. We had Twitter, Linked In, Wikipedia to talk about some issues that were raised from their own stand point then we had some specialists who had been using social media for campaigns. I think we had someone from Red Cross.
All the panels are still online and they're also relevant if people want to watch them, but hopefully we'll start doing more regular sessions where we could talk about one specific topic, like, "Images on Social Media". We can talk about what kind of images works well, sometimes people don't think about the impact their image might make. Do they have the permission of that person sharing it? If they go to a school to take a photo, do they actually have the permission of the parents of the children to share that image? These are some ideas that we're having.
What was interesting for us is that we organized this more as a learning opportunity for the UN Staff but there was so much interest outside the UN, and it turned to be a great learning opportunity for everyone.
Growing up: Life before the UN
Nancy: Social Media wasn't even a thing when I started at the UN. When I started in 2004, I worked on the UN's intranet--which was actually part of the UN library--concerned basically with how to organize information internally.
Growing up, I didn't have any idea I was going to end up at the UN. I grew up in the Midwest, so I first thought it would be exciting to maybe live in New York City or to live somewhere else besides the Midwest. I thought I was going to be a journalist or perhaps go to law school. After I graduated, I majored in English and French, I worked at an NGO in Minnesota that volunteered around the world to work on development projects, and I think that's when I became interested in the international side of things.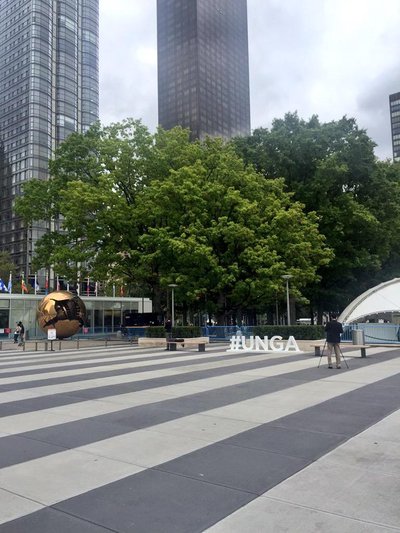 I started working on the website for that organization in 90s, and I had read about how librarians were actually filling a need in the online industry, so I actually went back to school to study information studies. I wanted to work on online databases and websites so that people can find the information that they need. Then I ended up doing an internship at National Public Radio in Washington DC, and I definitely liked the news side of things.
So in a way I combined my interest in organizing information and also the news. I also worked at CNN doing very similar things in the CNN library working on the intranet there, helping journalists find the information that they needed to put together their stories. And then I took an exam, which is quite different now, it's called the Young Professionals Programme--back then it was called something else--but basically it's a very similar programme; I passed the exam and that's how I started working at the UN.
Advice to Young Wannabe Diplomats
Nancy: The most important thing for an intern to think about or even a young person is, just to be open to all types of work because there are so many different types of work that you have to do when you work anywhere. It's not just all exactly the type of things that somebody will want to do. I do a lot of things that are not what I studied, and so you just have to be open and understand that the role you're playing is part of a much bigger organization.
Make sure that whatever task comes your way, you do it one hundred percent, and even though it's not something that interests you just give your best all the time.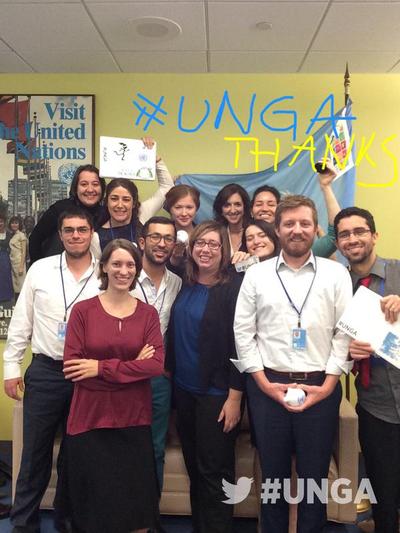 (In September 2015, several staff members from UN Information Centres around the world came to NYC to help the HQ team cover all the special events taking place at the opening of the General Assembly and the Sustainable Development Goals Summit)
In the UN context there's always a need for good writers; people that can write about complex issues in a very clear way. From the social media standpoint sometimes we have to take difficult content like maybe a treaty coming into force, and be able to explain to someone who doesn't know about international law or international relations. That's really a very important skill; to be able to understand something very complex and then be able to explain it in a very simple and engaging way.
Of course, any additional language skills that people have is always welcome. I studied both English and French, and sometimes there are delegates to the UN who may not be so comfortable with English, and at this point being able to speak in another language is always useful.
Doing an internship with a big organization is really great because it's great to understand how big organizations work, but people should not also underestimate the experience you gain from working with smaller organizations.
When you do apply for UN work, just make sure that you're very specific about how your skills and experience match these job openings. I get a lot of resumes and applications and I realize that people do not customize them for each job. Unfortunately if it's not very explicit how their skills match a specific job, we can't consider them.
Those are some of my biggest tips to them.
______________________
Food for the Soul: "Without the help of the Lord it is useless to build a home or to guard a city. It is useless to get up early and stay up late in order to earn a living. God takes care of his own, even while they sleep" (Psalm 127: 1-2, CEV)
To keep up with the stroll, just bookmark either bit.ly/Strolls or bit.ly/StrollPodcast. To make a suggestion or ask any question, do me a mail ebenezarwikina[at] gmail[dot]com
REAL LIFE. REAL NEWS. REAL VOICES.
Help us tell more of the stories that matter from voices that too often remain unheard.