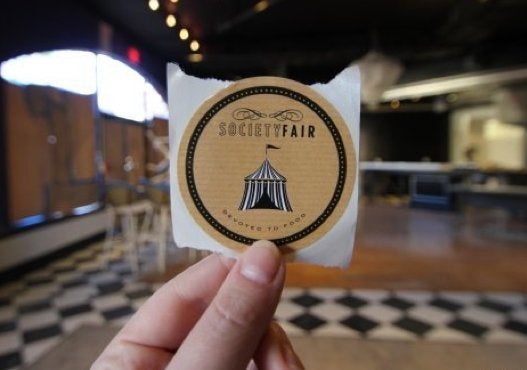 ALEXANDRIA, Va. -- Construction is in full swing at Society Fair, a forthcoming food market from restaurateurs Cathal and Meshelle Armstrong that was announced nearly a year ago.
The pair invited The Huffington Post to an exclusive behind-the-scenes look at the ambitious project, which, when complete, will roll a bakery, butchery, wine shop, bar, and demo kitchen into a one-stop gourmet shop in Old Town. The Armstrongs hope to open the market around Christmas.
"We've been working on this for a long time," Meshelle explained. The market will be composed of many moving parts that together, she says, will create an "epicurean emporium" featuring the ingredients and products behind the most celebrated dishes at the Armstrongs' eateries: Restaurant Eve, The Majestic, Eamonn's and Virtue Feed & Grain.
Society Fair will feature a bakery that will supply bread for all of the Armstrongs' restaurants, to be headed by Nathan Hatfield. It will churn out fresh bread baked several times daily and will use a system not unlike Krispy Kreme's "Hot Now" sign. In addition to everyday breads, customers can expect sweet treats like cinnamon buns and doughnuts, pictures of which are already popping up on Society Fair's Facebook page.
The butchery program, headed by Dan Fisher, will feature a rotating menu with items like spring lamb, whole goat, pates, and charcuterie. "We can get you things that you can't ever find [elsewhere]," Meshelle said.
There'll also be a wine bar and shop manned by skilled sommelier John Wabek, formerly of McLean's now-defunct Inox. The store will hold roughly 150 bottles, the most expensive of which will be housed in a large walk-in refrigerator. Between 25 and 40 wines will be offered by the glass.
"A lot of that is going to be sherries and Madieras, and things that we can provide the education," Wabek explained. "Most people don't drink sherry because they don't understand it." Wabek hopes to be declared a Master Sommelier in July, a prestigious distinction currently shared by only 180 people in the world. Wabek would be the second in the D.C. area.
Mixologist Todd Thrasher, the force behind nearly all of the Armstrongs' drink programs, will whip up six wine-based cocktails to be served at the wine bar. Some are unconventional, to say the least.
"One is called 'I Want to Eat an Onion Tart,'" revealed Thrasher. "It's onions that I've sweated out with sugar and Riesling, and then we're using white rum and Dolin Blanc Vermouth." There will also be a play on mulled wine using white wine, a Champagne cocktail, and a smattering of other drinks borrowed from his other menus.
On top of it all, a 12-seat test kitchen will serve a limited number of dinners each night using items from the market. A retail area will sell everything from the glassware and cheese plates at the bar to Restaurant Eve's sauces and marinades. Meshelle also hopes to host an indoor farmers' market in an adjoining atrium.
Inevitably, the concept has drawn comparisons to Eataly, a celebrated multi-floor Italian market in New York City. Yet Meshelle says Society Fair is different in several key ways. All products will be American-made, and its size is more neighborhood grocery than enormous food emporium.
"They're obviously on a bigger scale. We're a tiny small mom-and-pop," she said of the comparisons to Eataly. In the end, Society Fair will work to highlight the things that have made her restaurants famous. "This is the hub, this is the place. Everything here will supply Restaurant Eve, The Majestic, all our other restaurants."
That being said, she and Cathal have lofty goals for their little market. "In two years, we're going to open little Society Fairs everywhere."
Before You Go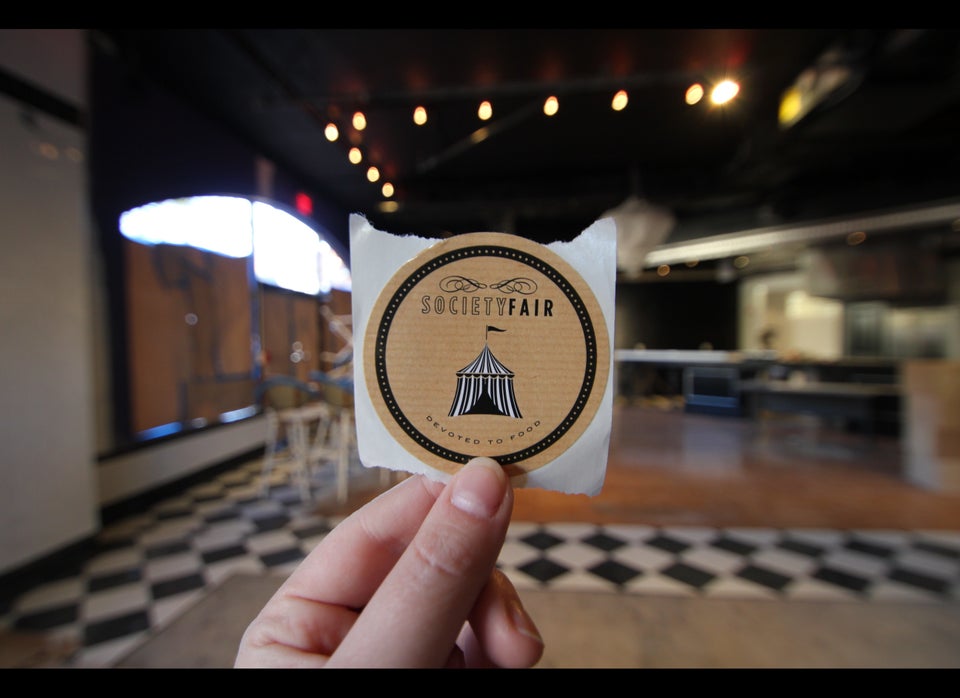 Society Fair
Popular in the Community