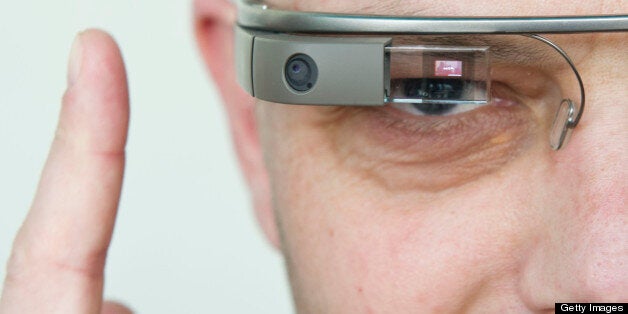 Dario Laverde, a developer evangelist at HTC, has been wearing Google Glass for just five days, and he's already concerned its melding of man and machine doesn't go far enough. Thanks to Glass, he now has a screen he can speak to suspended in front of his right eye. But he's already started plotting how he could pair Google's device with mind-reading sensors that would give it direct access to his thoughts. "I could control things with my mind without having to say anything, without having to reach up and look silly and tap this [Glass]. Because ideally, you want to look up information without it looking so obvious," explains Laverde, the small cube on his Glass pair glowing on and off, on and off, as he speaks. "Then we'll become the androids."
It's a Wednesday evening in late May and nine people -- mostly male, mostly in T-shirts -- have gathered for the first in-person meeting of the Society of Glass Enthusiasts, or SoGE, a loose affiliation of New York-area tech lovers who are self-proclaimed "explorers, pioneers and fans" of Google Glass. They are not, however, actual Glass users: Google's wearable computing device won't be publicly available until later this year, at the earliest, and only a few of the Glass "enthusiasts" assembled at this dark East Village bar have ever actually held Glass in their hands. Most are here for a chance to briefly try out the device and to snap a photo of the futuristic-looking headgear that they can show off to friends.
"This is your new avatar picture for all your social networks. Like, legit," Jennifer Levine, a freelance publicist and the leader of the New York/New Jersey chapter of the Society of Glass Enthusiasts, tells someone posing for a picture. The fan group, which is not affiliated with Google, boasts more than ten regional chapters around the world and over 800 online members who connect through the social network Google+.
These aficionados already have faith in Google's vision and are eagerly awaiting the world Glass aims to usher in, one that would tether technology even more seamlessly to everything humans do, all but fusing algorithms with our brains. It remains to be seen whether Google will convince large numbers of people to wear Glass -- a newfangled, expensive and strange-looking device -- but it already has generated so much intrigue that it's spawned communities, like this one, of people who've banded together for no other reason than to celebrate this unfinished, unreleased product.
"The community has taken it upon itself to defend Glass and be the Glass ambassadors," Levine says. "People were very against the television, the radio, the phonograph -- all those things. They had horrible press before they were widely accepted, so I'm not worried personally [about Glass]."
Over drinks, Levine and the other SoGE attendees trade stories about what they'll do with Glass when Google sees fit to give it to them. Levine, a "professional fangirl" involved with Harry Potter, Dr. Who, the "Hunger Games" and Steampunk groups, among others, hopes to broadcast her experience from fan conventions. A New York University sophomore plans to document his work on augmented reality. Tal, a lab technician who asked to be identified by his first name only, looks forward to being able to answer questions almost as quickly as he can think them up.
"As information becomes so readily available to you, what's the point of learning anything?" muses Tal, whose gray T-shirt is emblazoned with a picture of Pac-Man in the shape of the Star Wars Death Star.
As the SoGE members see it, the biggest unknown isn't whether Glass can transform life as we know it, but whether non-enthusiasts can be convinced to embrace the all-seeing, head-mounted cameras. A bar in Seattle recently banned Glass wearers, and Levine says she phoned this bar's manager ahead of time to be sure he'd allow people wearing recording devices. (He was cool with "the Google thing.")
Laverde, the only Glass owner in the group, offers a helpful tip: Clip the optional lenses, which come with Glass, onto Google's device, and it can pass for normal glasses. He's asked whether it makes him feel self-conscious to wear Glass in public.
"It is, it is," Laverde acknowledges. "In the subway, I started getting worried about someone -- " he reaches up and grabs at his face.
"You need ear loops on it or something," someone suggests. The awkwardness of wearing Glass could soon be remedied by even smaller, more camouflaged computers: The enthusiasts are sketching out a timeline of digitized contact lenses and pondering the possibility of implanting microchips in their skin. Levine and Tal sport wearable computers on their wrists -- a Nike FuelBand that tracks steps, and a Pebble watch that displays messages, respectively.
Some have even fantasized about life on "Google Island Beta," a techno-utopia where Google co-founders Larry Page and Sergey Brin would call all the shots and, presumably, no recording device would be unwelcome. "If Google became a country would you not join it?" John Lee, a mobile app developer, asks the group. "Would I have to move?" Tal wonders. "I'd move," someone volunteers. "I'd probably do that," another person chimes in, adding, in a robotic voice, "Google is my master."
"I'll tell you right now, for me, I'd sign away any citizenship I ever had," says Lee. "I'd be, like, 'Done.'"
Calling all HuffPost superfans!
Sign up for membership to become a founding member and help shape HuffPost's next chapter
BEFORE YOU GO
PHOTO GALLERY
9 Best Google Glass Parodies