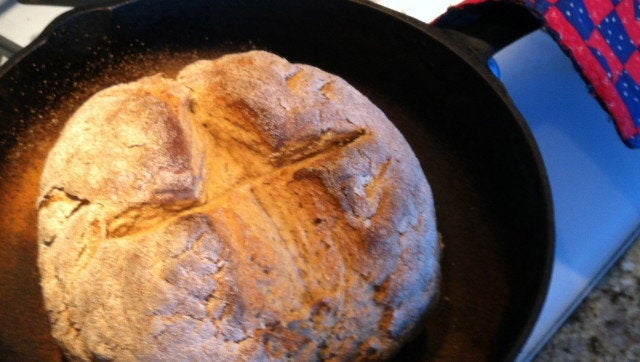 Buttermilk, I thought to myself, how will that taste in a bread recipe? I turned the postcard over and looked at the photograph on the front; a round domed loaf sat alongside a pot of jam and a few daffodils. I flipped the postcard over again and re-read the recipe.
There were four basic ingredients: flour, baking soda, salt and that unique one, buttermilk. Basic ingredients were important because Brosnan's Supermarket carried limited foodstuffs.
My husband, two children and I were living for three weeks in the village of Schull, Ireland, population 689. We were enjoying a home exchange in a holiday home owned by an Irish family. That family was living in our home in San Diego. As with all home swaps, only homes were exchanged, no money.
I loved everything about Schull (pronounced Skull) the rosy-cheeked residents, the colorful Main Street storefronts, the ruby red geraniums that hung from a window box at Hurley's Tool Hire, and the small fishing boats that bobbed nearby in Schull Harbor.
I purchased the postcard from the general store and marched straight to Brosnan's market. They had buttermilk.
A few days later, on Easter Sunday, my 8-year-old daughter, Michele, and I baked our first loaf of Irish Soda Bread. Dense and delicious, mildly nutty, all encased in a golden crust.
We've baked one almost every Easter since. Michele is now 21.
Here's the recipe from the postcard:
Irish Soda Bread

4 cups plain flour
1 tsp. baking soda
½ tsp. salt
2 cups buttermilk

Sift the dry ingredients together.
Make a well in the centre and add enough buttermilk to make a soft dough.
Knead lightly and flatten into a round. Cut a cross on top and bake at 425° for about 40 mins.
Now, when I come across Irish Soda Bread recipes, I notice additional ingredients are often included: sugar, baking powder, raisins. Confused, I turned to the Internet for answers and was thrilled to find the Society for the Preservation of Irish Soda Bread (SPISB).
In 2001 O'Dwyer overheard the winner of an Irish Soda Bread competition bragging that her soda bread secret was to soak raisins in whiskey overnight.
"That really annoyed me," O'Dwyer said. "Many people think adding whiskey to something makes it an Irish dish. That's both insulting and stereotyping," he added.
O'Dwyer felt that the traditional Irish Soda Bread he grew up with was disappearing under gobs of green icing and sugar. So in 2003 he launched the SPISB.
On the Society's website, O'Dwyer writes emphatically,
"If your soda bread has raisins, it's not soda bread! It's called Spotted Dog or Railway Cake! If it contains raisins, eggs, baking powder, sugar or shortening, it's called cake, not bread. All are tasty, but not traditional Irish Soda Bread!"
My daughter and I have been doing it right, after all!
"one of those Societies where there are no dues, no meetings, and the only requirement for joining is to bake traditional Irish Soda Bread from time to time and teach a child about soda bread and how to make it."
Good news for me; I've been a member for 13 years and didn't even know it.
Home swap has enriched my family's life; it can do the same for yours. If you want to learn more about home swap have a peek my blog at Home Exchange Expert or follow along on Facebook.