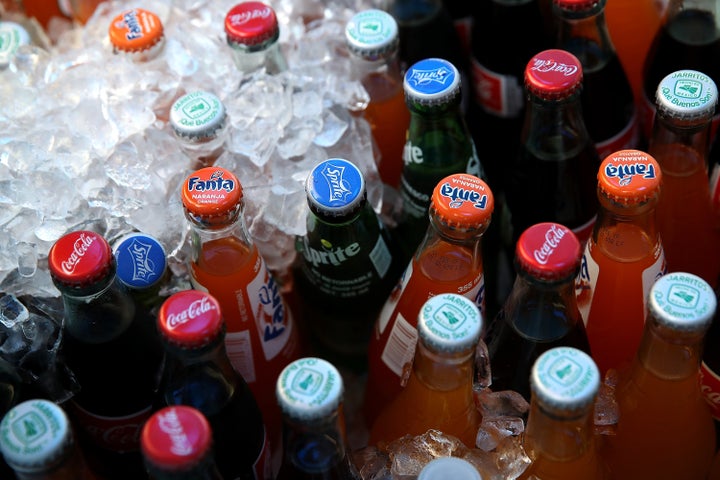 One of America's most dishonest ballot initiative campaigns is playing out in Washington and Oregon.
If approved by voters, Washington's Initiative 1634 and Oregon's Measure 103 would bar cities from passing any new taxes on "grocery items." No city in Washington or Oregon has ever proposed such a tax. Some cities have, however, proposed levying taxes on sugary beverages in recent years, with Seattle passing a 1.75 cent per ounce charge in 2017 and Portland's Multnomah County considering a similar measure. The grocery tax initiatives are designed to prohibit localities in those two states from doing so in the future.
Soda companies are the primary donors to both campaigns. More than 98 percent of the $20 million raised so far in Washington has come from Coca-Cola, PepsiCo, Keurig Dr Pepper and Red Bull North America. In Oregon the American Beverage Association is the largest single donor to the campaign's $4.2 million raised so far, with Safeway coming in second.
Few of these facts, though, are reflected in campaign advertisements and messaging. In Washington the Yes on 1634 campaign is running TV ads with one woman testifying, "We need to eat to survive. And if we have to cut back on what we eat, that's not going to be good, especially for the elderly." The campaign's website characterizes cities' ability to pass local taxes as a "loophole" and declares that "the Seattle City Council exploited this loophole in 2017 to pass a tax on beverages" — without specifying that the tax applies only to sodas. 
Similarly, in Oregon ads feature family farmers ("Measure 103 keeps the politicians from putting a tax on our groceries, including our cucumbers") and hardworking moms ("Grocery shopping — it can be stressful. There's only so much money in my family's budget"). An op-ed in Oregon's Statesman Journal by the co-chairs for the "Yes on 103" campaign describes five recent legislative efforts as "attempts to tax your groceries," but all those were broad taxes on corporations that had little to do with groceries. It also states, "Opponents of Measure 103 are the same powerful special interests that have been trying to tax your groceries for years."
The campaigns for both measures imply that politicians are relentlessly seeking to raise taxes on groceries and target the poor. Both measures begin with a statement that "access to food is a basic human need." In Washington's voter guide, the argument in favor of the initiative reads, "The rising cost of living makes it harder for families to afford the basics" and "higher grocery prices don't hurt the wealthy elites but crush the middle class and those on fixed incomes." Without evidence or specifics, it states, "Special interest groups across the country, and here in Washington, are proposing taxes on groceries like meats, dairy and juices."
In Oregon's voter guide, supporters of the ban say, "A sales tax on groceries would make it even more difficult for struggling families to put food on their tables." The state currently has no sales tax, and none has ever been proposed for groceries. The word "soda" does not appear in any of the arguments for the measure.
These strategies for passing corporate-backed ballot initiatives have a long history. Tobacco companies have used similar state-level pre-emption policies to avoid local regulations since the 1990s. Forty-nine states pre-emptively bar cities (with some exceptions) from regulating transportation network companies after yearslong lobbying efforts by Uber and Lyft. Beverage companies have persuaded Arizona, Michigan and California to pass laws banning soda taxes. According to a report by the National Employment Law Project and the Partnership for Working Families, 41 states have passed some form of regulation prohibiting localities from regulating corporations.
Calling all HuffPost superfans!
Sign up for membership to become a founding member and help shape HuffPost's next chapter