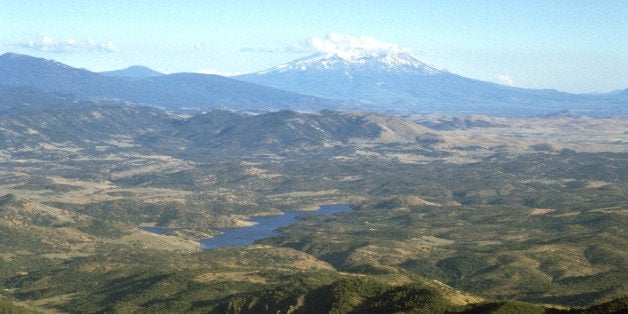 I want to tell you about a special place in the California desert where bighorn sheep move with customary grace among mountain peaks and thread ancient pathways across the land. Nearby, a fragile desert spring surprises visitors with rare fish darting in its light and shadow. Golden eagles wing overhead while desert tortoises cruise the desert floor.
With climate disruption pushing temperatures up and bringing hard changes to old patterns of life, we know we must act to reduce carbon pollution by changing the way we create energy, including new wind and solar projects.
And that has made this special place, Soda Mountain, contested ground. On the edge of the Mojave National Preserve and next to a proposed wilderness area, this expanse of living desert has been targeted for a 4,179 acre solar power plant. The Department of the Interior will decide within weeks whether the power plant should go forward.
The U.S. has made tremendous progress in developing clean energy and combating climate change in recent years. Activists and businesses alike have been encouraged as wind and solar power have tripled over the last six years, and the U.S economy has experienced a protracted period of growth without an accompanying rise in carbon emissions for the first time ever.
But we also have learned some painful lessons. Many of the projects on public land have caused unintended damage to lands and wildlife. Habitat has been lost, migration corridors cut off, and wildlife harmed. Soda Mountain is a place where our wisdom is needed and our ability to learn from these harms is being tested. In our climate crisis, we must act quickly, yet we must act with wisdom.
Recently, Interior Secretary Sally Jewell said:
Not only should we actively avoid damaging special or sensitive places, but we should also permanently protect some areas for their conservation value. Future generations of Americans deserve to enjoy those incredible places, just like we do.
And, indeed, that is the choice that the Department of the Interior faces with Soda Mountain. This is where wisdom must guide our decisions. Is a solar project the best and highest use of Soda Mountain? What will become of the Tui chub, among the rarest desert fish in North America, or the bighorn sheep, who move across the region on their migration routes? What effects will be felt on the nearby Mojave National Preserve?
Here, the answer should be clear. This project has been dogged by controversy and opposed by the Bureau of Land Management's own Desert Advisory Council. It also contradicts the Department of the Interior's own policy of planning to protect migration paths for animals like the bighorn sheep. The damages to wildlife could reverberate through the Mojave National Preserve.
Interior Secretary Jewell has also said:
Our nation's public lands are vast and varied. We need to take a close look at these resources to determine where it makes sense to develop renewable energy and -- just as importantly -- where it does not.
We are confident that we can do better. Millions of acres of low-conservation-value lands better suited to development have been identified by state agencies, federal agencies, and NGOs. The Department of the Interior has an opportunity in the next few weeks to act with wisdom by rejecting this project and preserving Soda Mountain's desert wonders for generations to come.
Support HuffPost
The Stakes Have Never Been Higher
Related
Popular in the Community