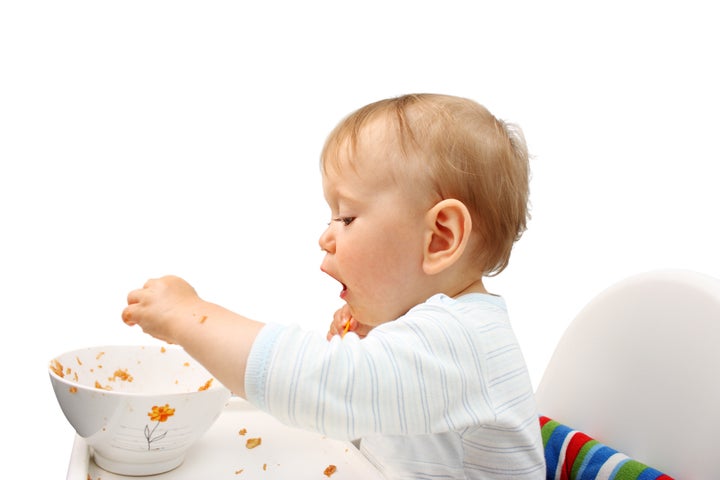 More than 70 percent of the packaged foods parents feed their kids have too much salt in them, according to the first major study to look at the sodium content in baby and toddler foods sold in the United States.
"We know that children are consuming too much sodium," said Joyce Maalouf, the study's lead author. "This is a problem because too much sodium in a child's diet can lead to high blood pressure, a leading risk factor for heart disease and stroke."
Hypertension was once considered a condition that affected only middle-age or older adults, but estimates suggest that 1 out of every 20 children has higher-than-normal blood pressure (fewer than 1 in 100 has medically significant hypertension). High blood pressure is closely tied to obesity, which now affects 17 percent of children in the U.S. -- three times the rate of the last generation.
The American Heart Association recommends that children consume less than 1,500 mg per day of sodium. But some of the toddler meals researchers analyzed had 630 mg per serving -- almost half of that daily recommendation. And more than 70 percent of the toddler meals and snacks exceeded 210 mg of sodium per serving, which is the benchmark researchers used to label something high in sodium or not. The findings were presented at an American Heart Association conference in New Orleans Thursday.
News about baby food was better. Almost all commercial foods for 4- to 12-month-olds were relatively low in sodium. In general, vegetable and meat baby foods tended to be less salty than pasta options, which Kristi King, a registered dietitian nutritionist who did not work on the new study said is not particularly surprising.
"The pastas were higher in sodium because they're carbohydrates and they're a wheat-based product -- sodium is needed to make that pasta," she said. "Compared to the veggies, they're a little bit higher, but not significantly."
For the study, packaged foods, such as macaroni and cheese, pasta, pizza, chicken or turkey and rice, targeting children age 1 and up were considered "toddler meals." The researchers also analyzed the sodium content of savory snacks, including flavored crackers, puffs and rice cakes, as well as fruit snacks, cereal bars, sweets, dairy products and juices.
Overall, the categories with the highest sodium content were meals and savory snacks. That's consistent with a recent CDC report that found the top 10 sources of sodium in Americans between 2 and 19 are pizza, breads and rolls, poultry, cold cuts and cured meats, sandwiches, savory snacks, soups, cheese, mixed pasta dishes, and frankfurters and sausage.
But, Maalouf stressed that even within specific categories or brands of toddler meals, sodium content can range. "Therefore, it is important for parent and caregivers to read nutrition facts and labels and choose products with the lowest amount of sodium," she said.
King said an easy way for parents to assess sodium in a food is to zero in on the percent daily value listed on the nutrition level. Any food with 25 percent or more is too high, she said. Babies and toddlers need some sodium for growth and development, but parents should focus on providing whole foods for meals and snacks, like nuts and seeds, fruit and vegetables, whole cheese and yogurt, she recommended.
"The fewer hands and machines that touch our food, the better they are for our bodies," King said. "It's the same for kids at it is for adults."