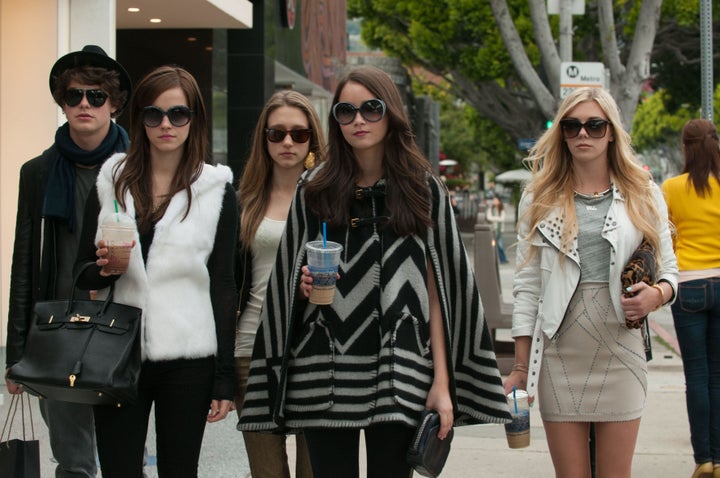 Sofia Coppola movies can be measured in flashy soundtrack choices. Since her 1999 debut, "The Virgin Suicides," and through the anachronistic anthems of "Marie Antoinette" and the hip-hop excess of "The Bling Ring," Coppola has become known for the evocative songs accentuating her characters' sun-kissed reveries.
Music has always been integral to Coppola's life. She grew up worshiping Elvis Costello, The Clash, New Order and Generation X ― and later directed music videos for their heirs (The Flaming Lips, Kevin Shields, The White Stripes, Phoenix). As a teenager, she thought Madonna's style was the essence of cool ― and later starred in the "Deeper in Deeper" video. ("She's smart and funny, as you would imagine," Coppola said of Madonna.) Coppola's commercials, including a Dior ad starring Natalie Portman that's scored by a remixed "La Vie en Rose," are as much fashion advertisements as they are melodic escapades.
Coppola's affinity for stirring soundtracks is partly what makes her latest movie, "The Beguiled," so jarring: It's the first time she hasn't incorporated any pop numbers. Her husband's band, Phoenix, provided ambient notes that emphasize the Southern Gothic tone here and there, but most of the score comes from chirping crickets and distant cannon booms surrounding the central Civil War-era plantation.
Ahead of the release of "The Beguiled," I sat down with Coppola in New York to discuss her career. During our final few minutes together, I asked the director to reflect on a handful of musical highlights from her catalog.
"The Virgin Suicides" -- Heart, "Magic Man"
"Lost in Translation" -- The Jesus and Mary Chain, "Just Like Honey"
"Marie Antoinette" -- The Strokes, "What Ever Happened?"
"Somewhere" -- The Strokes, "I'll Try Anything Once"
"The Bling Ring" -- Kanye West, "Power"
"A Very Murray Christmas" -- Miley Cyrus, "Silent Night"
"The Beguiled" is now open in limited release. It expands nationwide June 30.
Popular in the Community