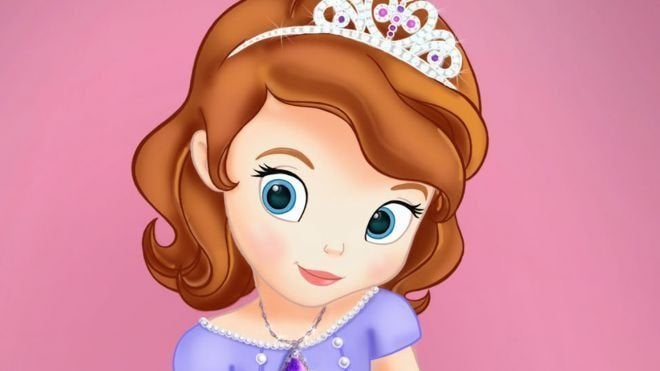 When it came to finding out if there actually was an audience out there for Sofia the First, Disney Junior decided to go by the book. Literally.
"When you're developing a new animated series, you typically do a pilot," explained Nancy Kanter, the senior vice president of Original programming and General Manager at Disney Junior Worldwide. "But in this case, given that we were doing a show which was set in the storybook world, we decided to do something different. Find a unique and fun way to introduce the character of Sofia to the world."
So Nancy had 200 Sofia the First picture storybooks printed and bound. She then had these hardcovers distributed to mothers all over Southern California with some very specific instructions.
"We told them 'Read this book to your child as you would any other picture storybook,' " Kanter continued. "We then asked those Moms to get back to us about what their kids had said about Sofia the First. Whether they actually liked this new storybook world which we'd created and all of the characters who lived there."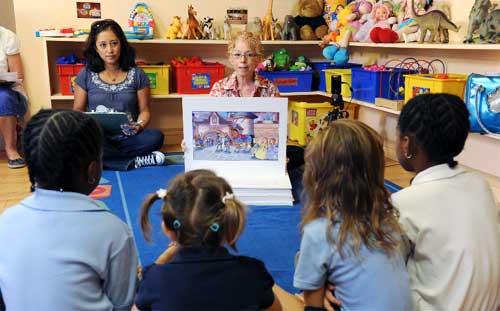 Mind you, Nancy took an active role during the testing of this proposed television series. Even going so far as to slap on a tiara and then getting down on the carpet with the kids at ABC Little School in Van Nuys, Calif. Just so Kanter could personally introduce Disney's newest princess to these preschoolers.
"And what was great about all of these picture storybook tests is that -- time and again -- we got to hear the kids say that they genuinely connected with the character of Sofia. That -- while Sofia may be a princess -- she's also a real little girl," Nancy said.
And what it is exactly that makes Sofia the First so relatable to kids in the real world? Kanter is quick to credit Craig Gerber, the co-executive producer of this new Disney Junior animated series, with coming up with the key creative concept that drives this show.
"Think about it: There are thousands of blended families out there nowadays. So you've got all of these kids who are trying to figure out how they should interact with their new siblings, how they should deal with their new mom or dad. Not to mention the stress of going to a new school or moving to a new town," Nancy stated. "So what Craig did was take Sofia, this average little girl, and then drop her into the storybook world equivalent of this modern-day situation."
To give you a bit of the backstory on this new Disney Junior series: Sofia the First is supposedly set in the kingdom of Enchancia, where Sofia and her mother Miranda have been happily living as commoners. But then one day King Roland II drops by Miranda's cobblers shop to buy a pair of slippers. Roland and Miranda fall in love. And the next thing Sofia knows, her mother has married the king and she is now being whisked off to go live in the castle. Where Sofia is then introduced to her new step-siblings, Amber and James. What's more, to help this once-a-commoner-now-a-royal learn the ins and outs of being a princess, Queen Miranda and King Roland II immediately sign Sofia up for classes at Royal Prep Academy. Where she then studies under Flora, Fauna and Merryweather (i.e. the three fairies from Walt Disney Animation Studio's 1959 classic, Sleeping Beauty).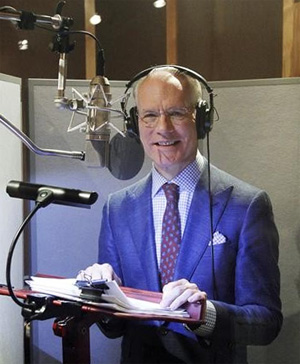 That sounds like a very kid-friendly premise, don't you think? But since mom and dad have been known to sit down on the couch and watch Disney Junior shows right alongside their kids, Gerber, Kanter and the rest of the Sofia the First team made an effort to make this new animated series entertaining for adults as well. Take -- for example -- Baileywick, the royal steward at the castle. If this character looks and sounds just like that guy from Lifetime's Project Runway, that's because Baileywick is actually being voiced by Tim Gunn.
"Baileywick is someone we deliberately added to Sofia the First to help entertain the parents who are out there in our viewing audience," Nancy said. "And Tim totally gets what we're trying to do with this show. Which is why he's agreed to not only let us make Baileywick in his likeness but also have this character be able to use his Project Runway catchphrase, 'Make it work.' "
And you should expect to hear other celebrity voices popping up on this Disney Junior program from time to time. Take -- for example -- the series premiere of Sofia the First (which debuts on the Disney Channel January 11th at 9:30 a.m. ET/PT). Which pairs Ariel Winter (i.e. the voice of Sofia) with her Modern Family co-star, Emmy Award-winner Eric Stonestreet. Who voices Minimus, a fearful flying horse.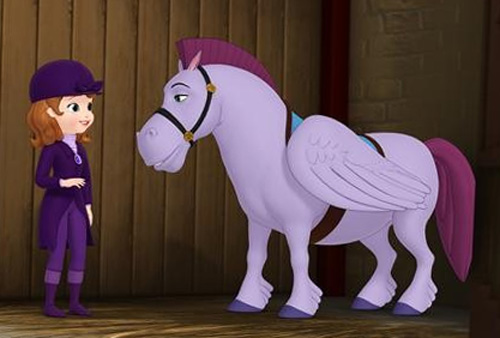 And in the weeks and months ahead, you should look for some real old-school Disney stars to make appearances on this new animated series. For -- just as Cinderella magically turned up to help Sofia in "Once Upon a Princess," the November 2012 TV movie that officially launched this series -- there are plans to have other Disney princesses periodically pop up to help this former commoner deal with her royal mistakes.
"But that's not going to be an every-week kind of thing," Kanter cautioned. "You're only going to see the classic Disney Princesses appear in an episode of Sofia the First if it's logical emotionally to have Aurora, Belle or Jasmine show up. We also want to make sure -- from a story point of view -- that this is the perfect moment for that particular Disney Princess to appear. More importantly, that her appearance doesn't then overshadow the rest of the show."
And given that The Walt Disney Company has so heavily merchandised the other Disney Princesses, would it really surprise you to learn -- earlier this week -- the Disney Store debuted its Sofia the First product line? Or that -- among the costumes, dolls, plush and tiaras that are now available for sale -- there is now an official Sofia the First picture storybook?
"Don't get me wrong. When you work as long as we do to actually get a show like Sofia the First or Jake and the Never Land Pirates on the air, it's very exciting when you see a character that you worked so hard on developing then get turned into a doll or a walk-around character for the parks," Nancy said. "But that's never where we start out."
"The notion that you can just put a show on television and then create this toy based on a character from that show and consumers will flock to it is -- I think -- where many people in the business make their mistake," Kanter continued. "You can't have a good toy or a great retail program if you don't have the content to back it up. If we're lucky, Sofia will be like that. But to be honest, that's not for us to decide. It's the audience who gets to have the final say as to whether these characters have a life outside of the show."
That said, given the high ratings that Sofia the First: Once Upon a Princess got back in November (This new TV movie wound up being the No. 1 cable telecast of all time among Kids 2-5. Not to mention being No. 1 preschool cable TV telecast among Women 18-49), it's looking increasingly likely that "First" is going to be the type of show that lasts. Particularly when it comes to the preschoolers and their parents who watch Disney Junior.
Jim Hill is an award-winning entertainment writer who lives in New Boston, NH. Over the past 30 years, he has interviewed hundreds of veterans of the animation and themed entertainment industry and written extensively about The Walt Disney Company.
Jim is currently working on a behind-the-scene history of the development and construction of Disneyland. For his more immediate musings on movies, TV shows, books and theme parks, please check out his blog, jimhillmedia.com.
Popular in the Community