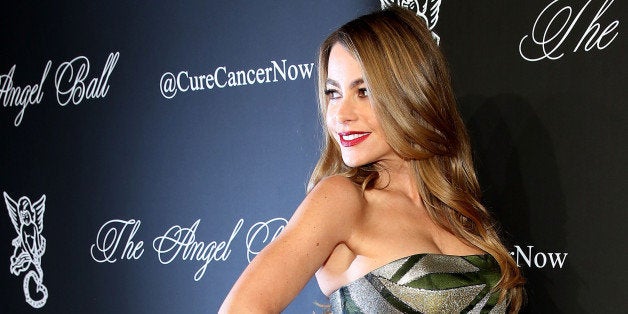 Recently the actress spoke to Time Magazine as part of the Follow The Script campaign, which raises awareness about hypothyroidism, and discussed the kinds of cultural mishaps she initially experienced on set and the state of Latino representation in Hollywood.
In the interview published Wednesday, Vergara reiterated that when playing Gloria she is inspired by her mother and aunt.
"I play her the way I see my mother and my aunt behave as Latin women," the actress told Time Magazine. "And now the writers know more about the Latin culture than when I started doing the show, and they know me better, too. So at this point, I pretty much follow the script.
The Barranquilla-born star added that in the beginning the show's writers were a bit lost when it came to how to portray Colombians.
"One time we were at a party with Colombians [in a scene], and the Colombians were dressed like Mexicans," Vergara said. "So I went to the writers and was like, 'Colombians don't dress like that.' Little things like that, but now they're really good about it."
On the topic of Latino underrepresentation in the entertainment industry, the "Modern Family" star said she feels things have improved since the beginning of her career with "more scripts" but that she doesn't necessarily think the writers are at fault.
"I cannot blame the writers because when you're a writer, you write about what you know," Vergara told Time Magazine. "So you cannot tell an American writer to just write about some other culture and think it will be as natural as writing about an American person."
The star did say, however, that she'd like to see more Latin writers in the industry.
"I think that would be ideal, because there are plenty of Latin actors out there," Vergara added. "We just need a little bit more material."
"No, I don't worry about that at all," Vergara told host Marc Lamont. "I don't know what they mean by a stereotype because I'm not trying to invent anything from it... I read a scene and I think: 'ok, how would my mom and my aunt play this?' And that's how I've created Gloria. I guess they could say my mom and my aunt are the stereotypes [but] that's who they are. They're voluptuous, they're funny, they're full of energy, passionate and that's Gloria. I mean, I want to be like Gloria."
"Sofia created an updated version of Charo, the 'cuchi-cuchi' 60s and 70s sexy and ditzy Latina persona," Sanchez told The Huffington Post in 2012. "While we applaud her creating a comedic brand that works for her, unfortunately Hollywood looks at Sofia and tries to find replicas of her, believing that Valkerian Latinas are authentic Latinas, not realizing that her act is a shtick and not an example of the U.S Latina actress they should be casting for dramatic television and film roles."
Calling all HuffPost superfans!
Sign up for membership to become a founding member and help shape HuffPost's next chapter
BEFORE YOU GO
PHOTO GALLERY
Stereotypes From Around The World