Barely a day goes by where we don't see a celebrity in the spotlight showing off her assets. And by assets, I mean bare assets. Today the internet is full of photographs of "Modern Family" star Sofia Vergara out in public in a sheer black top over a red, lacy bra. Stars in transparent clothing is nothing new: Cher has been titillating the public for years in sheer styles, Rose McGowan showed up at the 1998 VMAs wearing nothing but chain mail and Madonna just took the stage in Istanbul where she flashed her skimpy lacy bra (and it was clearly a very chilly evening). Beyoncé, Kate Hudson and Doutzen Kroes have even hit red carpet events in dresses that have us wondering if they're wearing underpants (they probably aren't). It's evident that stars work hard for toned, taut bodies, and they are always on display, promoting this film or that project. But, why, when you know you are stepping into a flurry of flashbulbs, would you dare to bare?
Of course there are celebrities who aren't aware that their dress will become transparent under the glare of the lights. Who could forget gorgeous Gwyneth Paltrow in black Alexander McQueen at the 2002 Oscars, whose dark dress showed off what was underneath as soon as the lightbulbs started poppin'. In the same vein was Jennifer Lopez, who, clad in Chanel Haute Couture, made headlines when she (accidentally) put her nipples on display at the 2001 Academy Awards. The dress was so demure and elegant that we can't imagine she did it on purpose, however ... this is the same woman who showed up at the 2000 Grammys wearing a navel-grazing sheer Versace gown that put her on the map, so maybe the overexposure was accidentally-on-purpose?
Fashion designers often parade outfits down the catwalk with nipples blazing. There are reasons for the lack of modesty: Often the models are less-than-busty and don't need bras, or the design is prohibitive of an over-the-shoulder-boulder-holder. Quick changes between jaunts down the runway make wearing a bra difficult, and the fashion crowd is supposedly so intent on the structure and aesthetics of the designs that a little nipple here or there barely warrants the batting of an eyelash. But for the press, it's another matter: Nipples are attention-grabbing.
The female form is something to be admired, absolutely. Artists have been demonstrating their love for women's bodies for centuries, the Venus de Milo being one of the most famous examples. But when stepping out in sheer clothing for mundane daily activities becomes the norm, we have to wonder: When did our bodies become common currency for fame and fortune? Or has that always been the case and it's now more glaringly obvious than ever (pun intended)?
Fashion month just wrapped up with a flurry of outrageously gorgeous and over-the-top shows in Paris. One of our favorite collections was Valentino, where designers Maria Grazia Chiuri and Pier Paolo Piccioli added studs to everything from shoes to bags to -- wait for it -- a transparent trench coat. It is with a baited breath that we wonder which celebrity will don it first ... with nothing but their birthday suit underneath. Stay tuned, and check out our slideshow of celebrities who have worn sheer styles. You will be surprised to see some of the earlier examples (Jennifer Aniston!).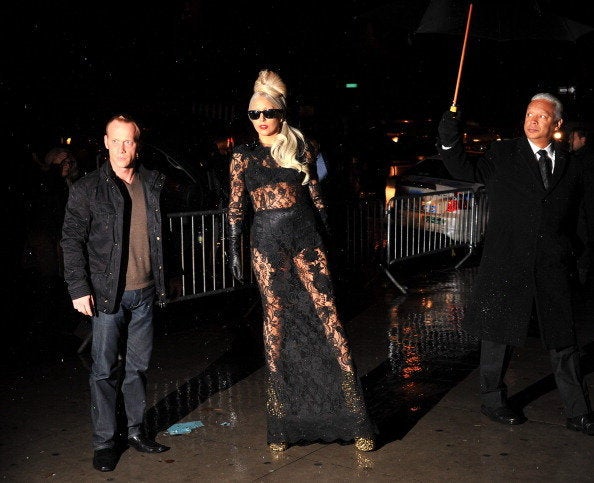 Celebrities in See-Through Clothes