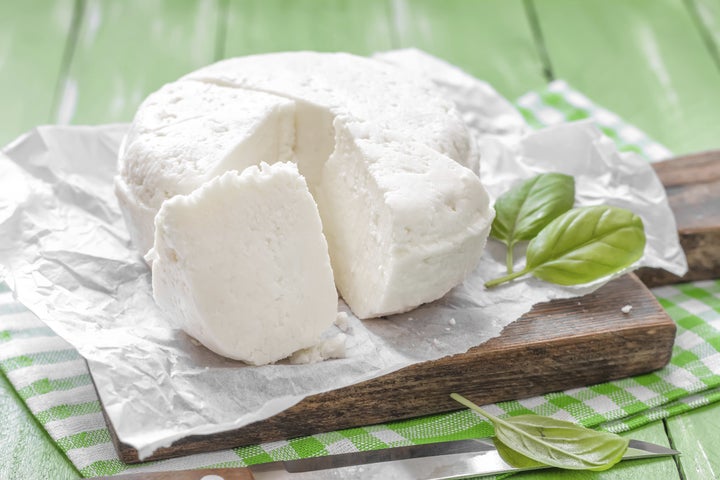 One person is dead and 23 others have been sickened due to an outbreak of listeriosis, a type of food poisoning caused by the bacterium Listeria monocytogenes. Twenty-one of those sickened had to be hospitalized, and five of them were pregnant at the time. One person's listeriosis resulted in a loss of the pregnancy.
The Centers for Disease Control and Prevention hasn't finished investigating the cause of the outbreak, but most people affected by the illness said they ate a soft cheese in the month before their symptoms began.
Karoun Dairies, Inc., based in San Fernando, California, is the only brand of cheese that was repeatedly named by the patients. While none of the company's products have tested positive for the bacterium, Karoun issued a voluntary recall Wednesday for their brands Karoun, Arz, Gopi, Queso del Valle, Central Valley Creamery and Yanni.
Using whole genome sequencing of the Listeria cultures from patients, investigators were able to link the illnesses to each other genetically, including one illness that took place back in August of 2010.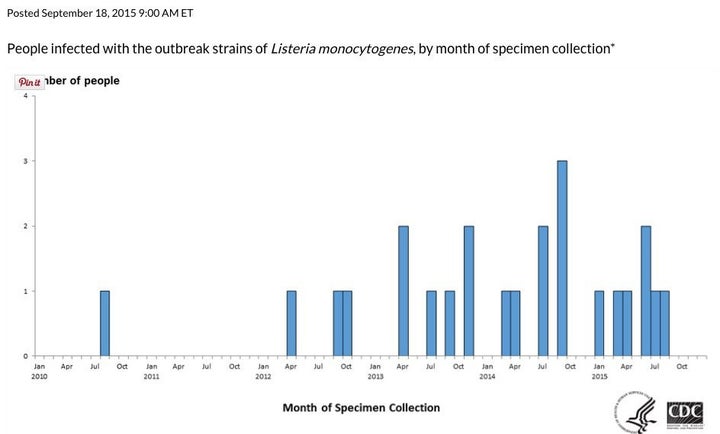 The biggest cluster of illnesses took place in August 2015, with cases that span nine states. Fourteen of the illnesses occurred in California.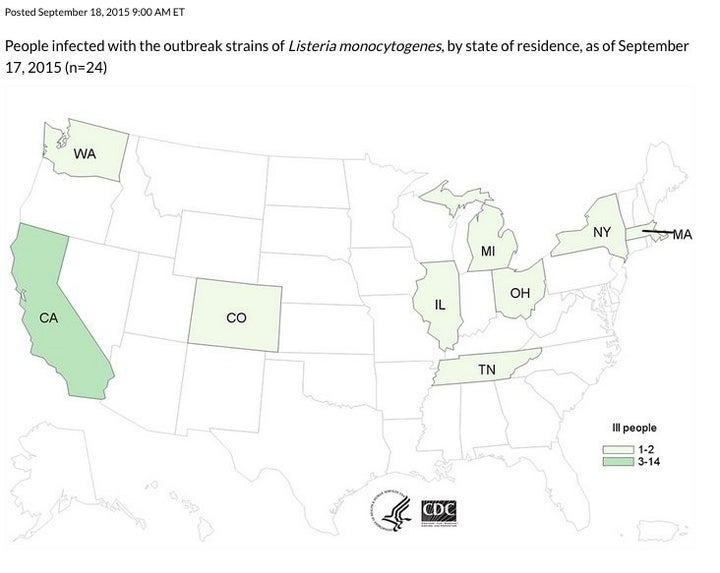 A statement from the company lists the different types of recalled cheese, as well as their UPC codes and use-by dates, to help consumers determine if they purchased the cheese. They include feta cheese, mozzarella, string cheese, paneer and cotija cheese. For a list of the UPC codes, review the report.
If you find any of these cheeses in your home, throw them away in a closed plastic bag and sealed trash can to prevent animals from accessing the food. You should also wash the fridge drawer where you stored the cheese with hot, soapy water, as well as any cutting boards, utensils and plates you used to serve it.
"This advice is particularly important for consumers at higher risk for listeriosis, including pregnant women, adults 65 and older, and people with weakened immune systems," warns the CDC.
A spokesman for Karoun Dairies, Inc. told HuffPost that all their products are made with pasteurized milk, a process that is supposed to kill Listeria.
Listeriosis symptoms include fever, fatigue, muscle aches, stiff neck, convulsions and a loss of balance. If you suspect that you've eaten one of the recalled cheeses but don't have any symptoms, tests and treatment aren't generally needed, notes the CDC. But if you do develop symptoms of listeriosis and you have had these cheeses, be sure to tell your health care provider that you have eaten recalled products in the past, as it can take up to two months for symptoms to appear.