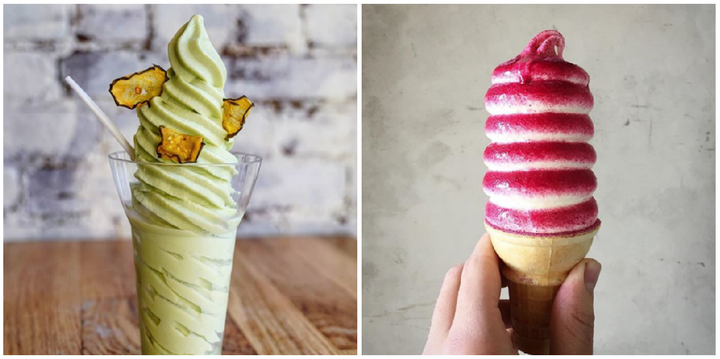 Soft serve ice cream is a summer standby. There's something so nostalgic about that perfect swirl.
You can get soft serve relatively easily all year round in most parts of the country (assuming the McDonald's ice cream machine is working), but soft serve is at its best in the summer, when creative ice cream makers are inspired to whip out the crazy flavors.
We're here to help you explore new soft-serve horizons with 10 wacky flavors from all over the globe. Here are some of the most out-of-the-box soft-serve flavors to try.
1. Pickle At Lucky Pickle Dumpling Co., New York
This viral flavor has been all over social media this summer, and it definitely deserves a taste. Lucky Pickle Dumpling Co. is (unsurprisingly) a dumpling shop with a fast-casual menu of noodles, pickle-inspired vegetable side dishes and, of course, dumplings. Finish the meal with its famous pickle soft serve ice cream, which Refinery29 reports as having just a hint of pickle. The main flavor is fresh-pressed cucumber, so it's a refreshing way to cleanse your palate. Not sold? Don't worry, Lucky Pickle sells Matcha and Chocolate Dip soft serve too.
2. Black Truffle At Dalloyau Le Café,
Hong Kong
Dalloyau bills itself as a French "house of gastronomy," and its Hong Kong cafe offers a cult favorite truffle ice cream. It's reportedly available in three options: original, chocolate and twist, all of which cost $50 HKD, which equates to about $6 USD.
3. Hot As Hell At Drill'd, Fountain Valley, California
You can find this spicy and sweet soft serve at Drill'd in Orange County. You'll get vanilla ice cream swirled with crushed Xxtra Flamin' Hot Cheetos, then topped with even more of the cheesy snack, making for a prime Instagram photo.
4. Beet-Dusted At Cheese & Crack, Portland, Oregon
Eating veggies has never been this fun. According to Oregon's Cheese & Crack, the earthiness of the beet dust cuts the sweetness of the ice cream for a tart combo. Plus, how pretty is this cone? If you're craving something more mainstream, try the matcha or espresso dust.
5.
Melon With Chamoy At
Drips & Swirls, Los Angeles
Melon soft serve sounds pretty ordinary, but when it's topped with chamoy, a Mexican hot sauce that's made with pickled fruit, you're in for a sweet and spicy surprise. The flavors at Drips & Swirls rotate, so call ahead to find out whether it's twirling purple sweet potato or Thai iced tea soft serve. Get yours in a charcoal cone for maximum flavor impact.
6. Croissant Butter At
Supermoon Bakehouse, New York
Croissants? Good. Butter? Good. Soft serve? Very good. All together? Mind blowing. This NYC bakery is known for inventive croissants and is related to the famous Mr. Holmes Bakehouse in San Francisco. According to Supermoon's website, its brand-new soft serve is a "sweet, salty, buttery, icy cold dream." It comes topped with extra crunchy croissant crumbs and a slice of twice-baked signature croissant. Plus, the soft serve comes in a color-changing cup that changes with the temperature.
7. Squid Ink At
Mario Doll Or Hokkaido Farm, Hakodate, Japan
Japan is famous for brimming with unique soft serve flavor combinations. (Caviar, anyone? How about wasabi?) This squid ink ice cream looks like the trendy charcoal and black sesame flavors that are more readily available in the U.S., but it definitely won't taste like either of those. Try a cone from Mario Doll or Hokkaido Farm, an ice cream parlor at the Hakodate morning market.
8. Ube At
Soft Swerve, New York
You've probably seen these purple cones all over Instagram, and you can get one for yourself at Soft Swerve in New York. This soft serve is flavored with ube, a purple yam from the Philippines. Perfect for an ice cream photo op.
9.
Black Sesame With Kouign Amann At
Patisserie Chanson, New York
Black sesame ice cream has become a bit more mainstream over the past year, but this over-the-top cone from Patisserie Chanson is too amazing not to feature. Ultrarich soft serve is topped with yogurt Pop Rocks and small pieces of kouign amann, a flaky layered pastry.
10. Unicorn Tears And Fresa Con Crema At Little Damage, Los Angeles
Pastel perfection. This cone at Little Damage features "unicorn tears" (birthday cake flavor) and fresas con crema (strawberries and cream) swirled for a sweet treat that tastes like strawberry birthday cake. Add a little edge with a charcoal cone.
CORRECTION: A previous version of this story incorrectly stated the price of the black truffle ice cream, which costs approximately 50 Hong Kong dollars, or $6.
Popular in the Community