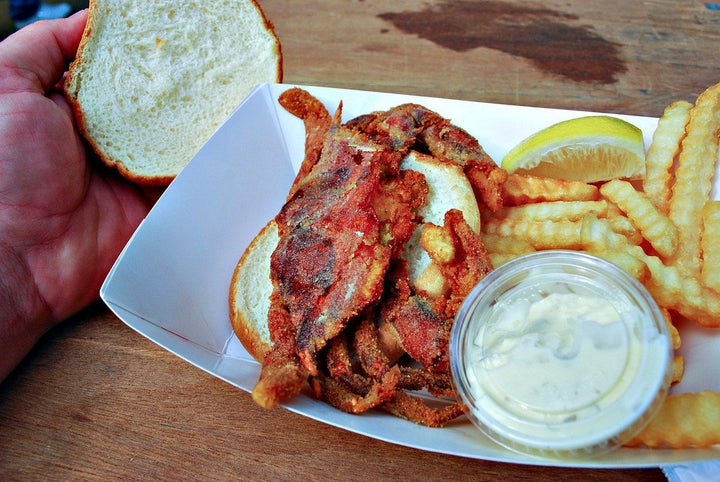 Aside from juicy red tomatoes and cool mint cocktails, the summer months are a true gift thanks to the appearance of the soft shell crab. If you've had them before, you know that they hold all the flavor of your everyday crab without any of the hassle of prying meat from its sharp, thick shell. From Japanese restaurants to road-side seafood stops, these leggy crabs are a reason to get hungry. But, you may be wondering, what are they?
Soft shell crabs are not their own species, despite what many people may think. They're just a regular crab (in the U.S. they're often blue crabs) that have gotten too big for their shells. In order to keep on growing, they have to shed their shell to grow a new, bigger one. This typically happens after the first full moon in May and continues to occur until October.
To shed their shell, they form a new "coat" underneath, and then puff themselves up to break their current shell. Once they release themselves, the crab's coat will harden in just a couple of hours into a new shell. It's a very short window for fishermen to catch the crabs during this transition, so instead they're caught a couple of days before molting and kept in a tank until they remove their shell.
Soft shell crabs are best eaten golden and crisp. (If you try to boil them as you would a normal crab, they would fall apart.) It's best battered and fried, grilled or broiled. And it's a good idea to get your fill, because the season, although plentiful, is short.
How do you make your soft shell crab? Leave a comment!
WATCH: How To Make Soft Shell Crab