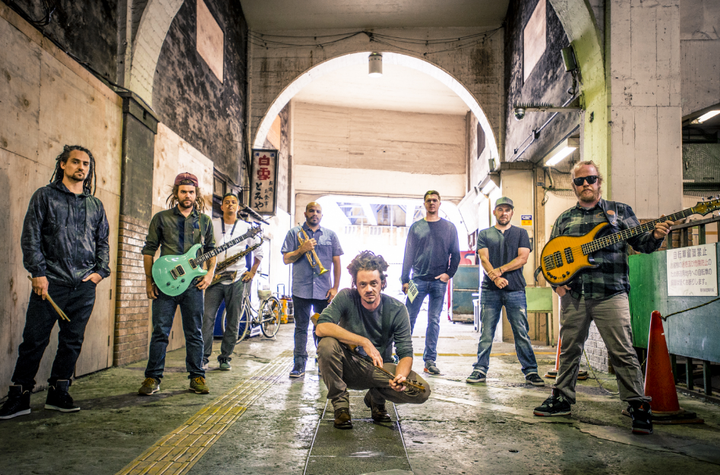 Life has a funny way of throwing things at you, it's just a matter of knowing how to deal with the curve balls that we're dealt with. This is something that is shown in SOJA's new single "Fire In The Sky", it's the kind of song that makes you question things in life and think beyond yourself - besides having an addictive melody and lyrics that speak to you on a deeper level that you can explain.
SOJA's story goes well into nearly two decades ago where they started as high school friends and grew into something extraordinary and learning how to play roots reggae music. With this grand achievement, they're celebrating their 20th anniversary by going back to their roots in their new single, "Fire In The Sky", which is a melting pot of amazing sounds like Latin music, DC Hardcore, rock, hip-hop and blending all of these into their signature reggae sound.
SOJA went back to their roots by recording their new album at Dave Matthews Band's studio in Charlottesville, VA - listening to "Fire In the Sky" - there's a sense of self awareness and depth with a lively melody that captures the very essence that they are about.
Frontman Jacob Hemphill states, "I wrote "Fire In The Sky" outside the airport in Argentina after a band member lost a family member. I was reflecting on his loss as well as my own personal close relationship with the family member. The song is about how beautiful it is to be alive even though all of us at times question our purpose in being here and can be terrified by the fact that we all must leave at some point. The verses are the storyteller asking questions and being confused about our purpose on earth by slipping into the specific detail of each minute and second on earth and losing sight of the bigger picture and the larger beauty and motion of this world. The chorus is then the storyteller stepping way back out of the specific detail of an individual's life and looking at Earth as a whole from space - "the black" - and realizing how we're all connected, and there is a plan much bigger than any one of us. We're all this beautiful "poetry in motion." We're all "the fire in the sky."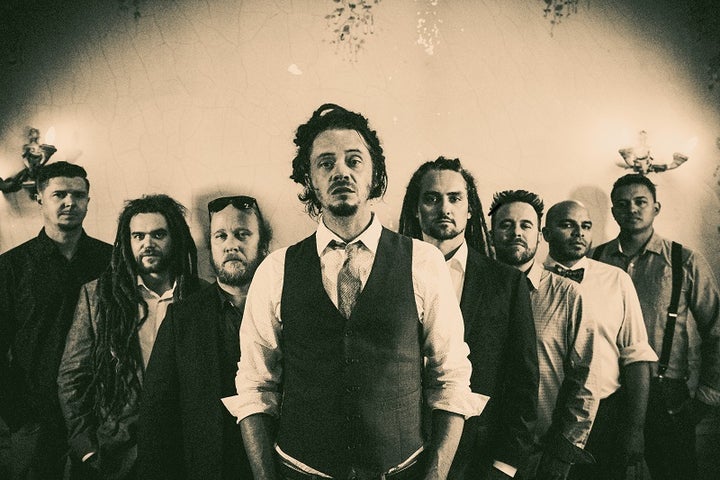 Sky's truly the limit for SOJA as they've made quite a name for themselves besides the fact that they have about 4.5M followers - no big deal. They've played literally every major festival you can possibly think of - including Bonnaroo, sold out Red Rocks, toured with DMB, Incubus, 311 + more, have over 300M Youtube views, and been nominated for two Grammys.
See dates below to catch SOJA live!
Oct 21 - Jefferson Theater (Benefit Show for Heal Charlottesville Fune) - Charlottesville, VA
Oct 26 - Bowery Ballroom - New York, NY
Nov 1 - Espaco Das Americas - Sao Paulo, Brasil
Nov 3 - Fundicao Progresso - Rio de Janeiro, Brasil
Nov 4 - Music Park - Balneario Camboriu, Brasil
Nov 5 - Live Hall-Curitiba - Curitiba, Brasil
Nov 8 - Pepsi On State - Porto Alegre, Brasil
Nov 11 - Personal Festival - Buenos Aires, Argentina
Dec 9 - Festival Catrina - Cholula, Mexico
Dec 12 - El Plaza Condesa - Mexico City, Mexico
Dec 13 - Closer To The Sun Festival - Ecatepec De Morelos, Mexico
Dec 29 - Anthem - Washington, DC
Mar 1 – Capitol Theatre – Port Chester, NY
Mar 2 – State Theatre – Portland, ME
Mar 3 – The Strand – Providence, RI
Mar 4 – Higher Ground Ballroom – South Burlington, VT
Mar 6 – College Street Music Hall – New Haven, CT
Mar 8 - L'Astral – Montreal, QC
Mar 9 – The Mod Club – Toronto, ON
Mat 10 - St. Andrew's Hall – Detroit, MI
Mar 11 – House of Blues – Cleveland, OH
Mar 14 – Music Farm – Charleston, SC
Mar 15 – Music Farm – Charleston, SC
Mar 16 – the Orange Peel – Asheville, NC
Don't forget to see what SOJA is up to below as well!
Popular in the Community