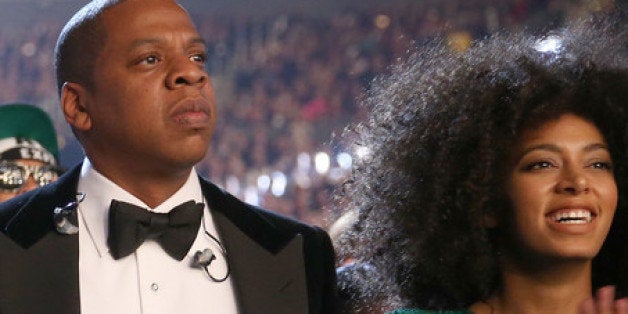 On Monday, May 12, the very fabric of the universe began to tear as TMZ released a video of Solange Knowles allegedly attacking Jay Z in an elevator after the Met Gala. The Internet scrambled in search of reason, desperate to determine #WhatJayZSaidToSolange, and literally everyone made that "100 Problems" joke, but no solutions were found. While we can offer to sell our organs in exchange for a Beyoncé tell-all (or even just audio to accompany the video), we'll probably never really get answers. So, to help you grapple with this life-changing event, we bring you eight possible Solange-gate explainers.
3. There was a rift over Solange's Illuminati initiation.
The entire scene itself was just bursting with Illuminati symbolism, like the fact that the elevator was stopped at the 13th floor or that it even was an elevator, which goes up and down, just like the Illuminati's doctrine of "As Above, So Below." Obviously, Solange kicked Jay Z either as part of her Illuminati initiation or because he refused her initiation.
4. The whole thing is another Jimmy Kimmel prank.
In that scenario, Kimmel is disguised as Beyoncé.
8. Jay Z said that Elsa's powers make absolutely no sense in "Frozen."
In response to which Solange began kicking him, while screaming, "Regardless of logical inconsistencies, 'Frozen' is a delightful film!"
REAL LIFE. REAL NEWS. REAL VOICES.
Help us tell more of the stories that matter from voices that too often remain unheard.
BEFORE YOU GO
PHOTO GALLERY
Beyonce & Jay Z