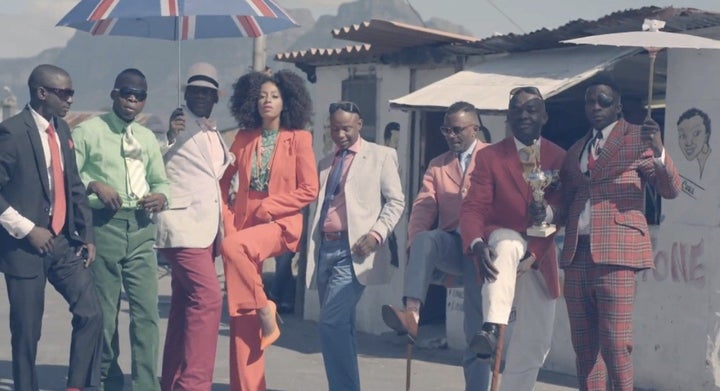 Those men strolling through the video, twirling parasols and smoking pipes, are known as sapeurs, members of a Congolese "fashion cult" that Solange became interested in after coming across photographer Daniele Tamagni's book "Gentlemen Of Bacongo." In the interview, Solange says the video was supposed to be shot in the Congolese capital of Brazzaville, where Tamagni set his book. Logistical problems nixed a planned trip, and, it seemed, "Losing You," until Solange landed up (feeling "really bummed") for an unrelated photo shoot in Cape Town. Surprise! She was "super-super-stoked to discover that there was a Sapeurs culture in Cape Town, too."
So just who are these mysterious men, whose advocates don't even know their whereabouts?
Fader Magazine locates the origin of sapeur culture to three crucial moments in time: Congolese students of the 1950s returning home from studying abroad in Paris, dressed in stylish black clothes; post-1960s free Congo, when President Mobutu Sese Seko made things a little less free by mandating all men wear only a tieless, tight-fitting suit called an abacost; and finally, the political rebellion of a young Rumba singer, Papa Wemba, who created a "fantasy village," complete with a dress code inspired by his parents' 1960s Sunday attire.
The abacost was not welcome here. For those inside SAPE, Wemba's "Society of Atmosphere-setters and Persons of Elegance" (a rough translation from the French), aspirational fashion was not a luxury, but a necessity. The Fader article describes standoffs that sound like the "walk-off" scene in Zoolander: "Any music gig or bar scene became an opportunity for these youths to challenge each other by stomping their thousand-franc shoes, running their fingers through closely cropped haircuts or naming labels and prices."
And yet, reality intrudes. Last November, CNN published a fascinating interview with Papa Griffes, a shoemaker in Kinshasa, who describes himself as "supreme commander of Les Sapeurs." Griffes is something of an illusionist. He keeps his "saps" looking richer than they are by constantly darning up tears. He also facilitates clothing swaps, so each sap appears to own more clothes than he actually does. Griffes and his crew step out in these makeshift outfits once a week, peacocking down what CNN calls the "sewage-lined streets" of Kinshasa.
Their goal is not to find a mate, but to tease audiences with the unattainable, a motive the best entertainers share. Is it any wonder Solange, savvy Knowles girl that she is, recognized potential collaborators?
REAL LIFE. REAL NEWS. REAL VOICES.
Help us tell more of the stories that matter from voices that too often remain unheard.