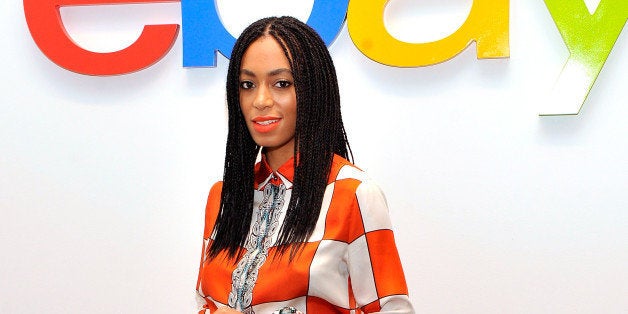 When we got an email from eBay inviting us to experience the "future of shopping" at a media event this week, we were intrigued. And when we found out that Solange Knowles was involved in the project, we just had to see what eBay had up its fancy digital sleeve.
On Tuesday the global e-commerce site revealed an initiative to simplify the shopping experience for its consumers by showcasing collections (Pinterest board style) curated by some of our favorite tastemakers. That's where Solange comes in. But the songstress is also joined by the likes of Pharrell Williams, fashion designer Chris Benz, jewelry designer Eddie Borgo, V Magazine co-founder Cecilia Dean and media maven Kelly Oxford, just to name a few.
With over 500 million listings and products offered on the website, we'd say these handpicked collections are a great move. And beyond getting a peek at the Solange-approved goodies (tons of super cool music studio equipment) at the event, we also took the opportunity to chat with the singer/model about other pressing issues like how she manages to pull together her print-tastic ensembles, exuding the right type of sex appeal, dressing her adorable son Julez and what new projects she's got in the works.
On one of her favorite items from her eBay collection
I found these mic covers that I'm about to have a total moment with. They have them in every single color. Being able to perform and match my mic to my outfit feels very Spice Girls to me, but I'm totally into it.
On shopping for clothes online
I actually have not ventured out into buying my clothes on eBay, however for my electronics its been my go-to spot forever. I buy the same camera from eBay twice a year -- an old Nikon FG-- and all my studio equipment. Being able to find those rare music production items is really why I love eBay. I'll have to get a little bit more adventurous with buying clothes on the site. But in general, online shopping is my shit! I cannot deal with the stores.
On how she pulls together her multi-printed outfits
There's really no formula. There's just an intuition you get where it just works. But it's also a lot of trial and error. I did not always have it together. There were some mishaps. But that's kind of the fun in it too -- being able to experiment and try some things out to see what's a fail and what works for you.
On expanding her wardrobe beyond bold prints
More recently I've been a little bit more interested in incorporating basics into my style. I looked at my closet one day and realized that I had none. Everything was a statement situation. So after the last couple of years I've been learning how to ass those classics and basics.
On her unique sex appeal
Although I do wear a lot of prints and colors, I tend to always gravitate towards classic silhouettes -- like blazers, nice dress pants and blouses. I'm not as adventurous with silhouettes because I'm actually pretty busty. But people don't realize it because I hide it really well. I don't hide it, hide it -- but I certainly don't wear many outfits that push them up and make them a thing. I feel like my sexiness is expressed in different ways. I like to show leg and I don't believe that more skin equates to sexiness. It's the way you move and your energy. I try to tune into that.
On how living (part-time) in New Orleans has influenced her style
I think the main thing is that it's not as seasonal. So we're in October and I'm still literally wearing sundresses, which is kind of a dream come true for me. I have a little bit of an issue transitioning my style to cold weather. It's a big issue for me finding coats and sweaters that ring true to my aesthetics. But, J.Crew does a really good job offering all of those heavy must-haves in just amazing color palettes.
On how her son inspires her looks
I let him pick my shoes every once in a while -- along with my boyfriend. If I'm going to an event, picking my shoes is always my problem. I'll put one on one foot and another style on the other and I'll let them vote. They're guys, so naturally they always go for the more boring, basic one.
On Julez's personal style
Julez has a very interesting style. You obviously, as a parent, have to let them grow, evolve and express themselves even when you might not agree. He went through this heavy duty soccer phase where all he wanted to wear was athletic stuff. I was just like "Julez, you cannot wear a jersey everyday." And now he's wearing the jersey with nice pants and a dress shoe. He's vibin' it out, so I love it. He has little to no interest in clothes. If it's clean and if it's at the top the shelf, that's what he's going for. But he comes up with some pretty awesome outfits.
On what music she's working on
I'm putting out my first release on Saint Records today, which is super exciting! It's called "Saint Heron" and it's a compilation of 12 genre-defying R&B artists. We just released the first single, which is by an artist named Kelela. The full compilation is coming out in 3 weeks -- on November 12th. And it's such an awesome lineup that I'm proud of -- Sampha, Jhené Aiko, Cassie and a lot of newcomers.
On what we can expect from Saint Records beyond music
The Saint Records website also launches today. It's a full on music and culture website. I'm really really excited about that. The coverage for the website is so broad and there are so many amazing, talented -- predominately women -- who are writing for us and really tackling great social, cultural and political issues outside of music. I'm a strong believer in sourcing the things you don't feel are out there. Content wise there were bits and pieces that I loved about certain websites but I wanted to create a hub for like-minded people in my community.
Before You Go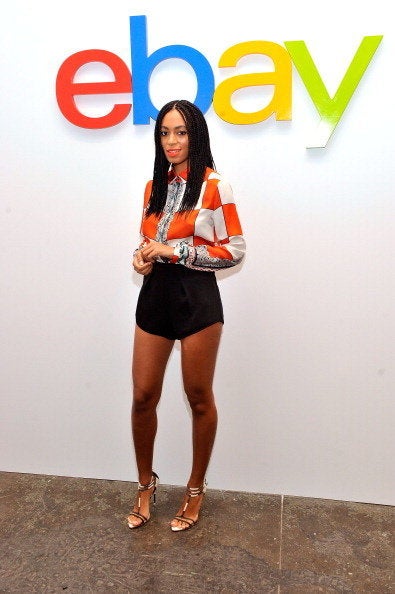 eBay's "Future Of Shopping" Launch