Solange Knowles wedded her long time love Alan Ferguson over the weekend. Of course, this cool chick didn't give us traditional blushing bride. The 28-year-old singer went for a modern and chic white gown with a cape. Her wedding portraits were also unconventional -- no cheesy, staged, tight group photo. It's very American Horror Story: The Knowles. While many appreciated Solange's hip wedding day style, her bridal hairdo was either largely criticized or disturbingly defended.
Major fashion websites, like Harper's Bazaar for instance, posted images of the newlywed on Facebook with the caption "Gorgeous." I clicked the comment section and found a full-on debate over why Solange decided to rock an afro for her big day. See my screen caps below.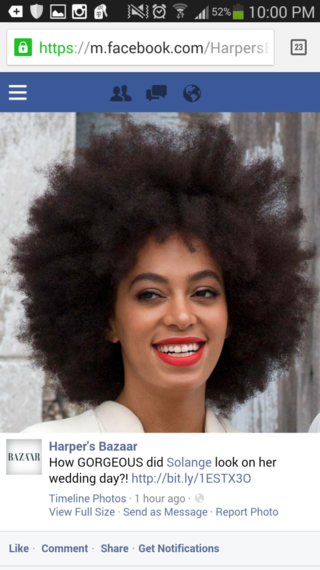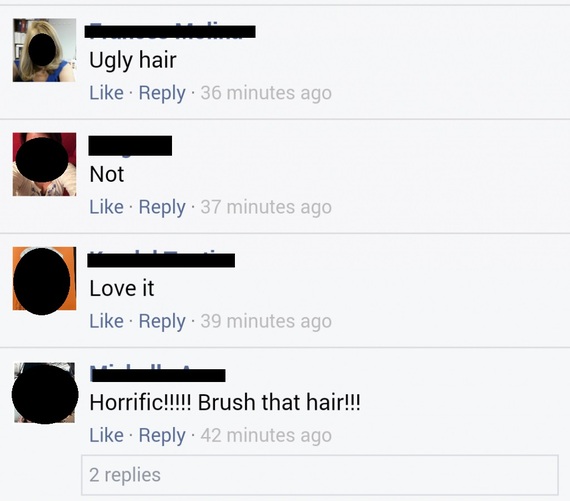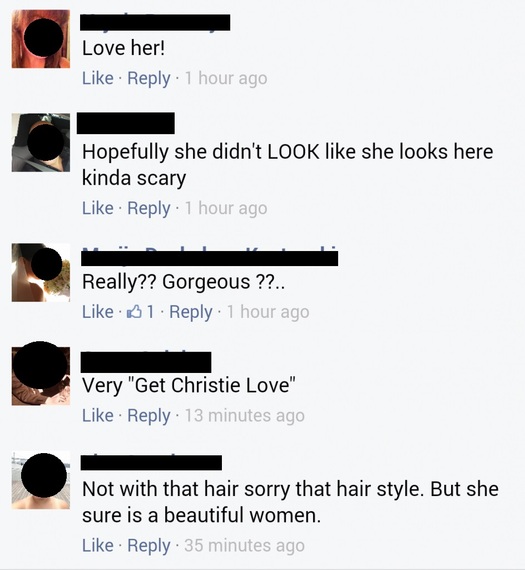 Earlier I said that her hairdo was also "disturbingly defended." I call the defense disturbing because it is unsettling that we have to constantly go to great lengths to explain, support and justify the hair that naturally grows out of our head. I'm am over people calling natural hair "edgy" and "different." I'm abstract because I don't grow straight hair? I know natural hair is beautiful but I hate how much we have to stress how beautiful it is just to convince the world that we are secure with ourselves.
The commenter that suggested Solange to "brush her hair" is a result of challenged beauty standards. We've been forced to achieve European beauty goals for so long that it is basically a threat to achieve anything other. Another commenter, a white woman whose profile picture was her own bridal photo in which she dons a sleek updo, commented "Really?? Gorgeous??.." What she really meant to say is: How dare a black woman find strength, power and beauty without my culture's influence?
Those offended by black hair felt a sense of purpose after posting their hateful comments, no doubt. "Ugly" was a favorite word of choice among the haters, but nothing was uglier than the comments about 2-year-old, Blue Ivy.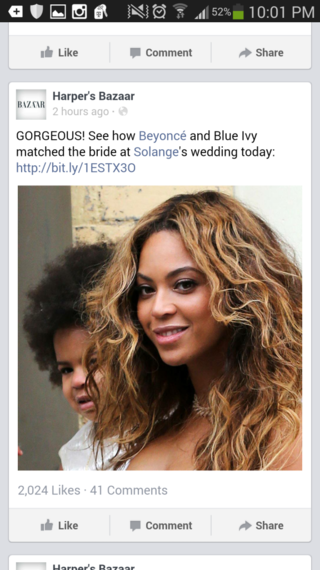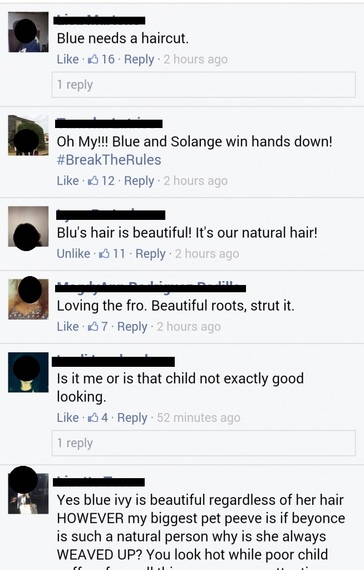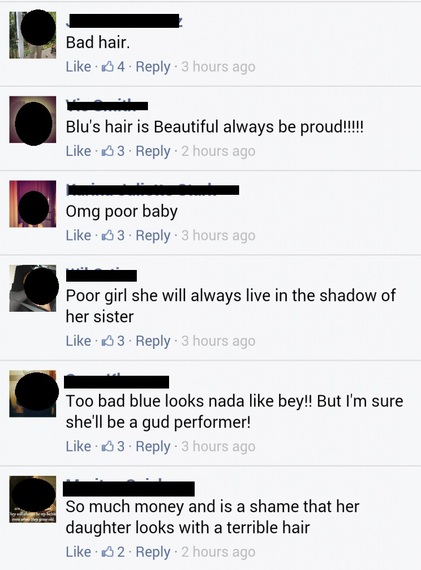 You already know how this argument goes. There's a layered disturbance with this issue -- child bashing, prejudice, racism, self-hate and many other unfortunate elements. From adults suggesting that the child cut her hair (as if she grooms herself) to shaming Beyonce for wearing "beautiful weaves" while having her child look "mangled," it is a clear sign of what America's vision of beauty is. How dare anyone tell a person of color with thick coily hair to cut it down. You are suggesting that she cut down her self-esteem, her confidence, her blackness, her spirit. I have never seen or heard of anyone telling little Suri Cruise that her silky long hair needs trimming. While I don't know Beyonce's parenting style firsthand, I give it to her for never succumbing to this disgusting world of media. I admire her for defying the limited American beauty standard and raising her child to love her naturalness. I love how the more people judge baby Blue Ivy's hair, the bigger her afro gets!
To all the people against puffy, coily, curly, untamed, glorious afros: I'm sorry black hair makes you feel so uncomfortable. I'm sorry our hair defies gravity and stands tall. I'm sorry if you feel threatened and I'm sorry if you feel ashamed. Whether your distaste is a result of ignorance or self-hate, I feel sorry for you.
Solange Knowles hair is whaaaaaaack this isn't the 70's girlfriend get rid of that afro

— jess borders (@jessforyouu) November 17, 2014
Solange looks so ugly with her nappy ass hair I hope she gets a weave

— Yasmin (@hoIybeyonce) November 17, 2014
Circling back to the topic at hand, Solange was a gorgeous bride with her gorgeous lipstick, her gorgeous dress, her gorgeous smile and her gorgeous afro. Whether or not Vogue, Marie Claire or Brides Magazine decide to list this type of glamour on their style list, doesn't matter. Get used to it America, women of color are finally embracing our own beauty. The fro won't go.