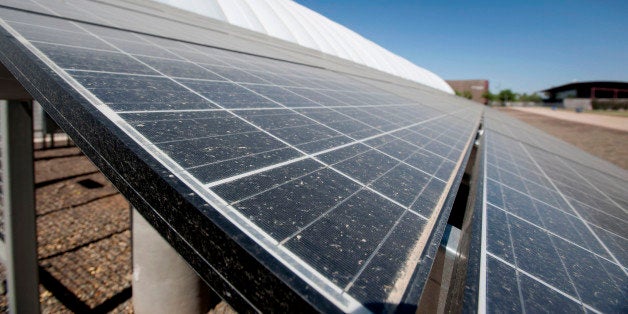 WASHINGTON -- Arizona's largest utility admitted this week that it had paid a national conservative group to run anti-solar ads, after denying earlier in the year that it was funding the campaign.
The Arizona Public Service has been pushing the state's public utility commission to change a state policy that currently allows homes and businesses with their own solar power systems to sell the excess energy they generate back to the grid. The policy, known as net metering, has been in place in Arizona since 2009, and according to solar advocates in the state, it has helped create a boom in the demand for rooftop solar. APS is trying to change the policy by increasing prices for solar customers, based on the argument that those users aren't paying their fair share for use of the grid and other infrastructure. Solar proponents say the proposed changes to net metering could essentially "kill rooftop solar in Arizona."
The debate over the policy has split along some interesting political lines, with the son of Republican icon Barry Goldwater defending net metering against attacks from a national conservative organization. The 60 Plus Association, which presents itself as a more conservative alternative to the AARP, has been running ads in the state, along with a website, bashing the solar net-metering policy as "corporate welfare."
But this week, the Arizona Republic revealed that APS did in fact contribute to the 60 Plus effort, as well as to ads by free market advocacy group Prosper, and potentially others. "It goes through our consultant," McDonald told The Huffington Post on Friday, "but APS money does ultimately fund 60 Plus and Prosper."
"I know what I told you earlier," McDonald said. "That was my understanding at the time." He said he doesn't know how much APS money went toward those campaigns and dismissed the issue as "a phony controversy fueled by opponents who are eager to distract attention from the real substance from the issue."
"We're in the middle of a bitter political fight," he said in defense of funding the ads. "This is not a battle that we want to fight, but we cannot back down."
APS has maintained that it is not anti-solar, it just wants to change the net metering policy. "We've been painted as anti-solar," McDonald said. "That's just absolutely untrue."
But the ads and website from 60 Plus have been much more openly hostile to solar energy than APS has been in its public statements.
60 Plus is backed by the Koch brothers, and the Arizona Republic confirmed that the work against net metering in Arizona is being coordinated by conservative operative Sean Noble, who has been described as "the wizard behind the screen" in the Kochs' donor network.
The revelations about APS' funding of the anti-solar campaign have sparked further debate. Solar proponents, including the Alliance for Solar Choice and the Arizona Solar Energy Industries Association, are now calling on the state attorney general and utility regulators at the Arizona Corporation Commission to look into whether APS illegally used rate-payer funds as part of those efforts.
"APS knows how popular solar is," said Bryan Miller, president of the Alliance for Solar Choice and vice president of public policy at the solar energy company Sunrun. "Rather than owning up to their attacks, they set up shady organizations and worked behind them, and lied to the public and regulators for months and months. They owe the public an explanation."
McDonald told HuffPost that ratepayer money was not used to pay for the campaigns, but that the funds came from shareholders in APS' parent company, Pinnacle West Capital Corp., which is publicly traded.
The net metering fight has even boiled over into Arizona's electoral politics.
Last week Wil Cardon, a Republican candidate in the 2014 primary race for secretary of state, accused one of his opponents, Justin Pierce -- son of ACC commissioner Gary Pierce -- of soliciting campaign support in exchange for his father's influence on utility regulation. Cardon's campaign identified two individuals on the host committee for a Justin Pierce fundraiser as employees of firms that have done work for APS at one time. But both of those lobbyists told The Huffington Post that they do not currently and have never lobbied on behalf of APS.
In response to the criticism, Pierce announced that his campaign will be publicly funded.
The Huffington Post learned on Friday that APS' chief lobbyist, Jessica Pacheco, reserved a room at the Phoenix Country Club for a campaign event for Justin Pierce on Oct. 16. McDonald said that Pacheco, a club member, booked the room for Pierce because she is friends with Pierce spokesman Alan Heywood and because the campaign could not reserve the room directly.
"Jessica simply provided access to a venue at the request of a friend," McDonald said. "Jessica did not invite anyone from APS. She did not help organize the event." He said that any costs incurred for the event would by law have to be paid for by the campaign.
Reached for comment on Friday evening, Heywood said he was not aware of Pacheco's role in booking a room for that event. "I don't know anything about that," Heywood said. "How you get a room for an event there, I have no idea." Heywood did confirm that he is friends with Pacheco, but was unsure whether she or any other APS staff attended the event because he arrived late. He did confirm that the campaign paid for the event.
The Cardon campaign has also implied in public statements that a company like APS or a political operative like Noble or Adams could make outside expenditures in support of Pierce's campaign. Heywood told HuffPost that it would be illegal for the campaign to "coordinate on anything like that."
"He's not doing that and won't do it," said Heywood.
APS spokesman McDonald also brushed aside the suggestion. "APS is a company that has a reputation for dealing with everybody in a very upfront and open way. We have a reputation in this community that has been built over a hundred years," he said. "We're not going to do anything to jeopardize that reputation."
But the revelations about the previously undisclosed funding to 60 Plus and Prosper aren't helping that reputation. And renewables proponents are growing increasingly worried about where the senior Pierce might come down on the net metering question. They pointed to several recent letters from Commissioner Gary Pierce that they think indicate he might support APS' efforts to change the net metering policy.
Pierce has denied suggestions that he's taken any position on net metering at this point. "I am still considering all of the arguments, which is why I am actively seeking more input," Pierce said in a written response to questions from HuffPost. "My goal is to get this issue right for all ratepayers, and to have a sound policy that will work for years to come, not only for APS, but for the solar industry as well."
He also accused renewable advocates of "using the Justin Pierce Campaign to intimidate me on this important issue." "All parties are better served by continuing to meet with Commissioners to work out a solution which is fair for all APS customers," he wrote. "My door has always been open to all parties and they know it!"
The ACC is expected to begin hearings on proposals to revise the net metering policy in November.
Before You Go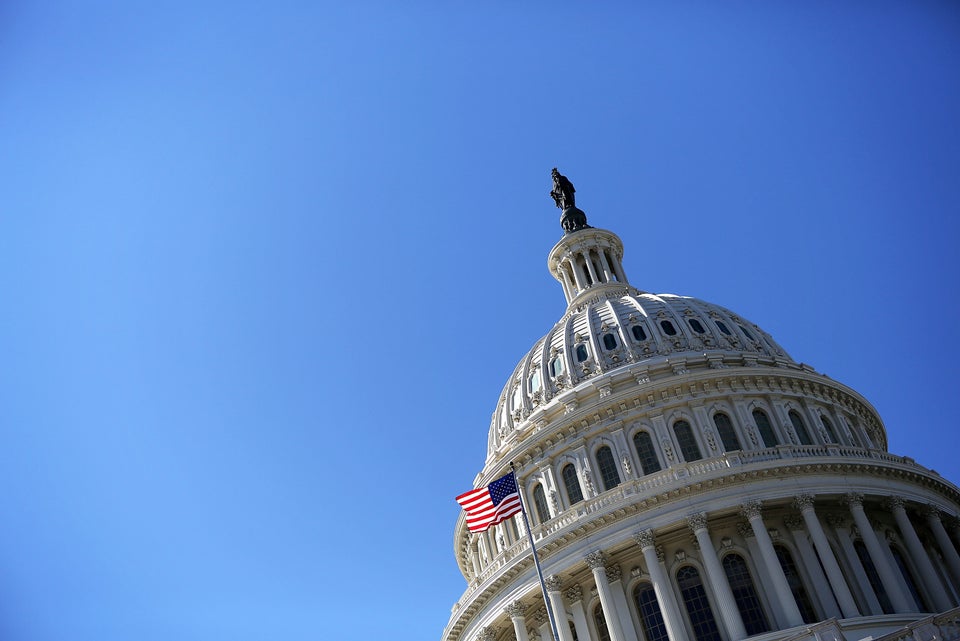 Least Environmental Senators
Popular in the Community