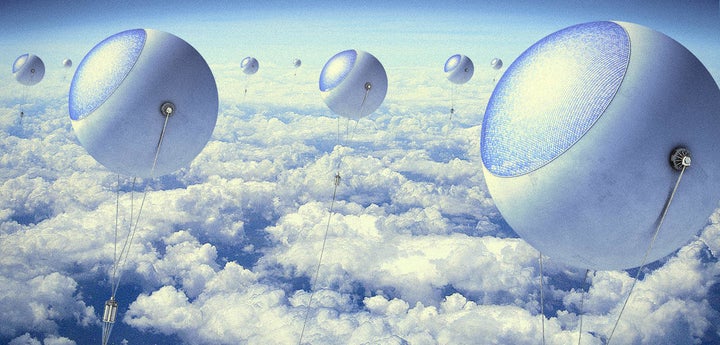 When it comes to solar energy, we've long known that solar panels must be placed in areas with as much access to sunlight as possible for optimal power output. But even then, clouds or bad weather can interrupt energy production.
"You get much more light up there," Jean-Francois Guillemoles, co-director of the NextPV lab, told The Huffington Post. "There is a potential that generated electricity from this technology, when mature, could be made at costs much lower than that of coal."
The researchers are investigating how to use mostly lightweight polymers to make giant solar panel balloons equipped with generators. The balloons would be tethered to the ground, and their cables would transmit the electric power down to Earth. The diagram below explains the idea.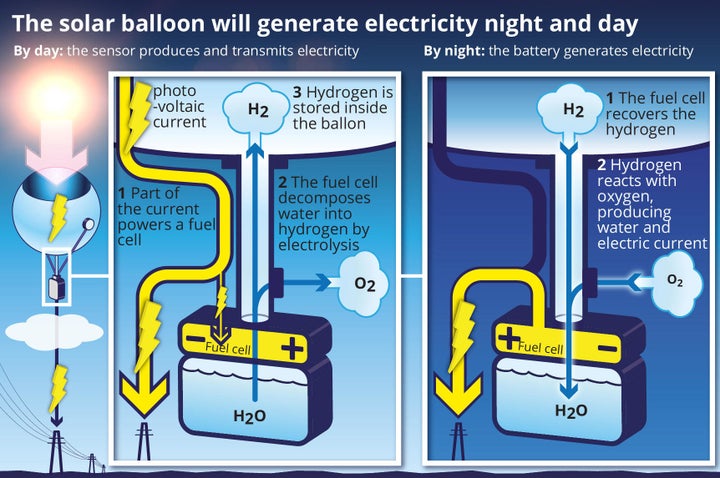 The researchers plan to float the generators just above the clouds, about 6 kilometers (roughly 3.7 miles) high and below airplane routes, Guillemoles said. But a possible long-term option would be for the balloons themselves to float even higher, at around 20 kilometers (about 12.4 miles) high.
"It has the potential to make solar energy more sustainable and faster to deploy at large scale," Guillemoles said.
"As far as I know, there is no real demonstration of any sort, and that is what is needed at this stage," he said. "We should explore paths that have potential for solving our more pressing issues: sustainable development for all, security and safety of energy supply, and large-scale deployment."
When it comes to the future of energy, what other ideas are out there? Watch the "Talk Nerdy To Me" episode below for four promising sources of energy that just may power our future.
Related
Popular in the Community