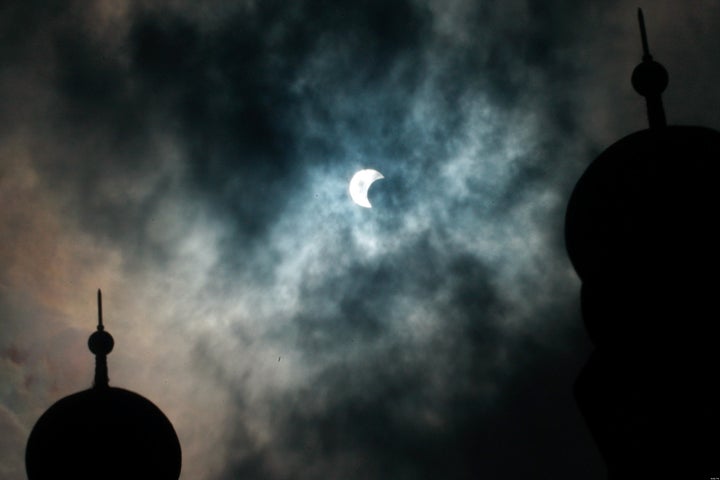 According to NASA, four partial solar and two total lunar eclipses will take place in 2011. This combination is extremely rare, having happened only six times in the 21st century. It is also very rare that so many partial solar eclipses take place in one year. There haven't been this many since 1982, and there won't be this many again until 2029.
A total solar eclipse occurs when the moon lines up between the sun and the earth, thus casting a lunar shadow on the earth's surface and obscuring the sun. During a partial solar eclipse, only a portion of the sun is blotted out.
This year's first partial solar eclipse will occur on January 4. It will begin at 6:40:11 UT and end at 11:00:54 UT. The greatest eclipse, at which point the distance between the moon's shadow axis and the earth's center is at its minimum, will take place at 8:50:35 UT, in Sweden. According to AP, at this point, 85 percent of the sun will be blocked.
The eclipse will be visible near sunrise over most of Europe and northeastern Asia. It will end at sunset over western Asia. A minor partial eclipse can also be glimpsed by North Africa and the Arabian Peninsula.
If you won't happen to be in Asia, Europe or North Africa on the 4th, the next eclipse will take place on June 1, 2011. It will be visible in East Asia, the northern region of North America, and some islands in the North Atlantic.
If you do get to catch a glimpse of the eclipse, don't forget to wear a pair solar filters. The sun can do great damage to your eyes without them!
Calling all HuffPost superfans!
Sign up for membership to become a founding member and help shape HuffPost's next chapter