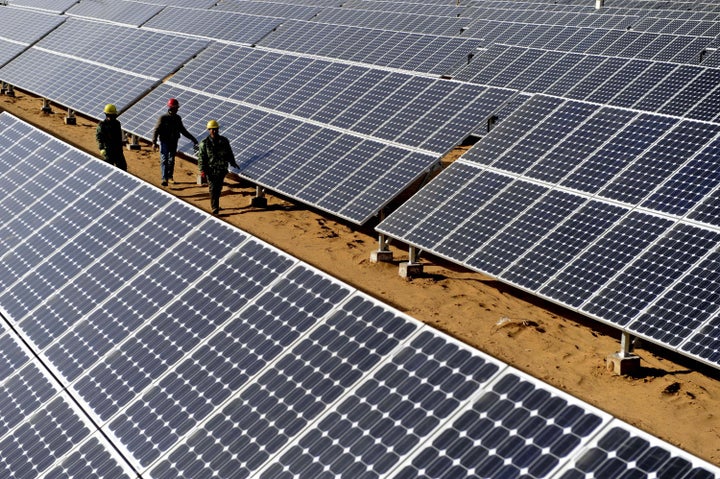 Let's face it: Solyndra wasn't a winner. But it was the company's inability to keep up with rapidly declining solar panel costs -- not its focus on clean energy technology -- that led to its demise.
Nevertheless, the associated job losses and pique of political scandal have overshadowed the real story of the U.S. solar industry. The larger picture shows that solar businesses are growing -- and creating boatloads of jobs. That claim is backed up by preliminary data from The Solar Foundation's National Solar Jobs Census 2011.
As of August 2011, 100,237 solar workers are employed in the United States. Solar is employing workers in all 50 states and across a vast supply chain. To put that in perspective: the solar industry has grown 6.8 percent over the previous year, adding 6,736 new workers in 12 months.
During that same time span, overall national employment grew by only 0.7 percent. The fossil fuel electric generation industry fared even worse, losing 2 percent of its workforce. These are not insignificant numbers -- and all policy makers would be wise to study them carefully.
Unlike the negative conjecture by pundits about the state of the U.S. solar industry, The Solar Foundation's stats are a real snapshot of the industry. (And they're backed by social science researchers at Cornell.) They're also backed up by countless industry success stories. Take solar installation firm SolarCity, which currently employs more than 1,200 people in 11 states. It will create jobs in an additional 22 states thanks to an agreement with the Department of Defense to install 160,000 rooftop solar installations on military housing complexes at 124 military bases across 34 states. The company hopes to fill many of those jobs with veterans and military family members.
Of course we can't forget Sungevity, which just inked a deal to double its workforce. Sungevity founder Danny Kennedy told me recently that all these reports about the death of the solar industry are greatly exaggerated, especially in light of the Solar Foundation's new numbers: "What other industry in America with over 100,000 employees grew at nearly 7 percent year-on-year, while the rest of our economy was doing a dead-cat bounce? The solar industry is one of a few bright spots in America's employment landscape."
Rooftop solar installations are just the beginning. Utility-scale solar provider BrightSource is constructing a solar power plant in the Mojave Desert, a move that will create demand for skilled construction workers. These types of development create jobs along the supply chain, reinvigorating manufacturing companies that had previously supplied parts to older, declining industries.
Meanwhile, the American solar manufacturing industry is holding its own in a competitive global market. America continues to be a net exporter of solar technology -- to the tune of $1.9 billion in 2010. Across the country, solar manufacturing centers are emerging. In the Southwest, SCHOTT employs more than 500 at its flagship factory in Albuquerque, N.M., while Suntech Power employs more than 100 at its factory in Arizona. Other firms -- Hemlock Semiconductor in Michigan, and Wacker Chemie in Tennessee -- prove that solar jobs are growing across the country.
So, yes: Solyndra wasn't a winner. It's disappointing when any American business doesn't make it and jobs are lost. But one isolated case just can't paint an accurate picture of an entire industry. Let's tone down the rhetoric and focus on the data -- and the success stories -- that are abundant in the U.S. solar industry. These should be what guide policy makers and the American public.
Brian Keane is the President of SmartPower, a non-profit marketing organization funded by private foundations to help build the clean energy marketplace by helping the American public become smarter about their energy use.