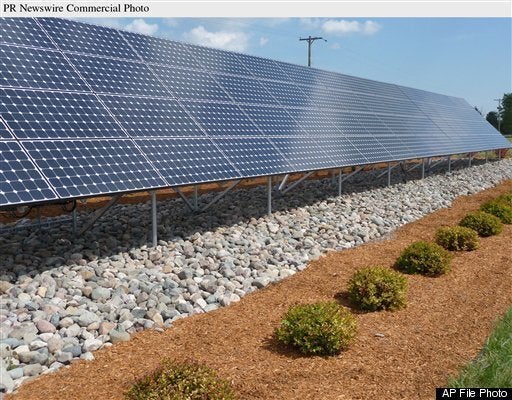 With more than 25 years of combined experience in professional sports
between us, we know a thing or two about competition. Right now our
state and our nation are deep in the throes of one of the most
important competitions of our generation: the race to lead the new
renewable energy economy. And without action from New York's
lawmakers, the Empire State will see its chance at a solar
championship slip away.
The stakes are high in this game. Winners will become home to vibrant
hubs of new economic opportunity, local investment and job creation.
America's solar power industry is already experiencing record-breaking
growth. The Solar Energy Industries Association reports that U.S.
solar market value expanded 67 percent to $6 billion and supported 100,000
jobs last year. Those are high quality U.S. jobs all across the
solar supply chain from manufacturing and design to construction and
operation.
And that's just the beginning of how solar means good business. Solar
keeps energy dollars in-state by harnessing the power of the sun, a
fuel source that is reliable, local and free. It delivers reliable
electricity when and where we need it most without requiring expensive
grid upgrades. It provides a predictable hedge against the volatile
prices of natural gas and other fossil-based resources. It offsets the
most polluting and pricey portion of New York's electricity mix, the
peak generation used to power our air-conditioners running on these
hot summer days. That mid-day solar power production reduces brownouts
and offers welcome relief to business-as-usual energy spending that
has given us some of the highest electricity rates in the country.
But it takes the right policies to build a strong local solar economy
and reap those many benefits. Without leadership from our state
capital, New York is going to see that opportunity for leadership slip
through our grasp -- like a touchdown pass getting intercepted or a
glove-grazing puck hitting the net.
Once one of the nation's top solar power markets, New York is already
falling behind. Our neighbors in New Jersey added nearly seven times
as much solar as New York did last year. The sun doesn't shine any
brighter in the Garden State. Their workforce is not any more
qualified for solar jobs. Their energy consumers aren't significantly
more environmentally-inclined. It's state energy policy that has made
all the difference. New Jersey made a clear, long-term policy
commitment to solar power, letting the global renewable energy
industry know that the state is open for business. And as a result, we
are losing solar jobs and other benefits over our borders.
It's not too late for a comeback. Lawmakers in Albany are currently
considering a new policy that would get New York back in the game. The
bi-partisan New York Solar Jobs Act would develop enough safe,
reliable solar to power 500,000 homes. Analysis from the non-profit
grassroots group Vote Solar shows that it would support tens of
thousands of new jobs and billions of dollars that could be reinvested
in the Empire State's economy. It's a playbook for delivering
economic, environmental and public health benefits tomorrow and for
generations to come.
Lawmakers have just over a week left until the legislative session
ends and they go home until 2012. New York cannot afford another year
of sitting on the sidelines of our nation's growing solar economy. We
are urging lawmakers to pass the New York Solar Jobs Act before the
clock runs out.
Mike Richter is the all-time winningest goaltender for the New York
Rangers, the team he played with for all 15 years of his National
Hockey League career.
National Football League veteran Sage Rosenfels is a quarterback for
the New York Giants.
Calling all HuffPost superfans!
Sign up for membership to become a founding member and help shape HuffPost's next chapter