By: Tariq Malik
Published: 03/07/2012 07:31 AM EST on SPACE.com
The sun unleashed a cosmic double whammy Tuesday (March 6), erupting with two major flares to cap a busy day of powerful solar storms. One of the flares is the most powerful solar eruption of the year, so far.
Both of the huge flares ranked as X-class storms, the strongest type of solar flares the sun can have. They followed several weaker, but still powerful, sun storms on Tuesday and came just days after another major solar flare on Sunday night.
The first big solar storm was also the most powerful one, ranking as an X5.4-class flare after erupting at 7:02 p.m. EST (0002 March 7 GMT), according to an alert from the Space Weather Prediction Center operated by the National Weather Service. It is the strongest solar flare yet for 2012.
The second event occurred just over an hour later, reaching a maximum strength of X1.3.
Several space-based observatories witnessed the solar flares, including NASA's Solar Dynamics Observatory and the agency's Stereo-B spacecraft. The sun-watching observatories spotted huge clouds of charged particles — called coronal mass ejections, or CMEs — erupting from the solar flares.
"First-look data from Stereo-B are not sufficient to determine if the cloud is heading for Earth," astronomer Tony Phillips wrote on his website Spaceweather.com, which monitors space weather events. "Our best guess is 'probably, yes, but not directly toward Earth.' A glancing blow to our planet's magnetosphere is possible on March 8th or 9th." [Worst Solar Storms in History]
According to Phillips, the big X5.4 solar flare erupted from the giant active sunspot AR1429, which was also responsible for the major sun storm on Sunday.
When aimed directly at Earth, X-class solar flares can endanger astronauts and satellites in orbit, interfere with satellite communications and damage power grids on Earth. They can also amplify the Earth's display of northern and southern lights, also known as auroras. Charged particles from the solar storms can interact with Earth's upper atmosphere, resulting in a glow that is typically visible to observers at high northern or southern latitudes.
Astronomers rank solar flares by strength using five categories: A, B, C, M and X. The A-class flares are the weakest sun storms, while the X-class events are the most powerful solar flares.
This ranking system was designed by the National Oceanic and Atmospheric Administration and resembles the Richter scale used for earthquakes in that each category is 10 times stronger than the one before it, NASA officials have said. So a B-class solar flare is 10 times stronger than an A-class event, while a C-class solar storm releases 10 times more energy than B-class flare (or 100 times more energy than an A-class event).
The categories are also broken down into subsets, from 1 to 9, to pinpoint a solar flare's strength. Only X-class solar flares have subcategories that go higher than 9. The most powerful solar flare on record occurred in 2003 and was estimated to be an X28 on the solar flare scale, NASA officials said.
Tuesday's X-class solar flares followed a string of other eruptions that included M-class and C-class events, space weather officials said. Both of the day's X-class sun storms were stronger than the X1.1 solar flare of March 5.
Prior to this week, the only huge solar flare of 2012 occurred on Jan. 27, when the sun unleashed an X1.7-class eruption.
The sun is currently going through an active phase of its 11-year weather cycle. The current cycle is known as Solar Cycle 24 and is expected to reach its peak level of activity in 2013, NASA officials have said.
You can follow SPACE.com Managing Editor Tariq Malik on Twitter @tariqjmalik. Follow SPACE.com for the latest in space science and exploration news on Twitter @Spacedotcom and on Facebook.
Copyright 2012 SPACE.com, a TechMediaNetwork company. All rights reserved. This material may not be published, broadcast, rewritten or redistributed.
Support HuffPost
The Stakes Have Never Been Higher
Related
Before You Go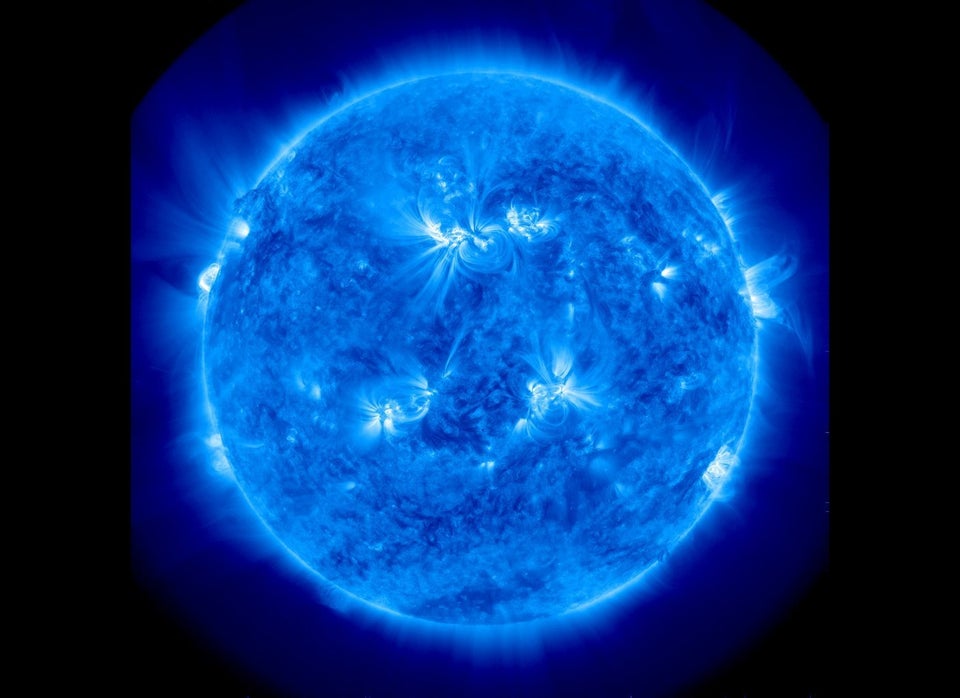 The Many Faces Of The Sun
Popular in the Community