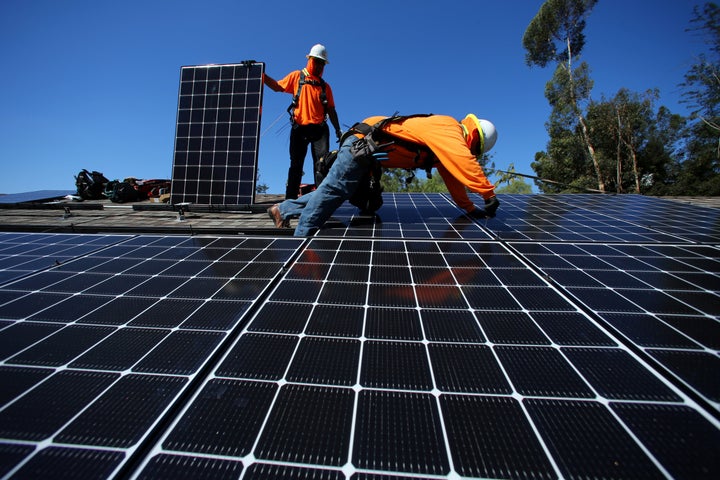 President Donald Trump promised to spur a hiring renaissance after he won election last year by bulldozing regulations he says stymie economic growth.
Yet he has vowed to strip tax incentives from an industry that, according to figures released Tuesday, created one out of every 50 new jobs in the United States last year, up from 1 in 83 a year earlier.
The solar industry, by all accounts, is booming, according to the new National Solar Jobs Census, an annual report released by the nonpartisan Solar Foundation. Solar energy companies employed 260,077 workers in 2016, an increase of more than 51,000 jobs. That's slightly more than the natural gas industry, and more than double the coal business.
The industry grew 17 times faster than the overall U.S. economy, with hiring spurts in 44 of 50 states. Payrolls doubled in 21 of those states. California created by far most new solar jobs, totaling more than 100,000 followed by Massachusetts with nearly 15,000.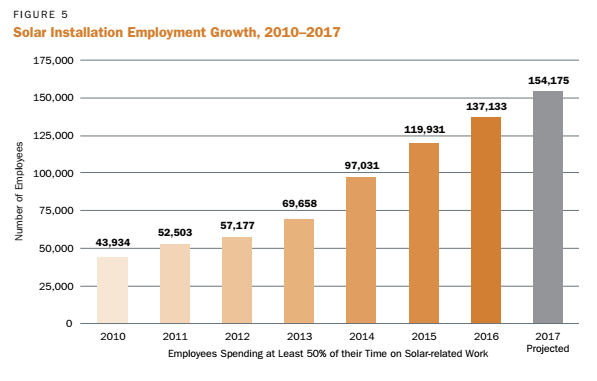 The industry is banking on continued support from those states if Trump makes good on pledges to eliminate subsidies to solar and wind energy firms provided as federal credits through tax-equity financing. Tax-equity investments in clean energy were on pace to set a record of $14.8 billion last year, the data firm Bloomberg New Energy Finance estimated.
"There's a lot of action taking place at state level," Andrea Luecke, president and executive director of the Solar Foundation, told The Huffington Post by phone on Monday. "If the feds do roll back the investment tax credit, there will be a big opportunity for state and localities to play a role in continuing to cut red tape and bring solar power to communities."
Solar power shouldn't be a hard sell to even the most skeptical allies of Trump, who has given preference to fossil fuels and repeatedly called climate change "a hoax." Two-thirds of Americans support the development of zero-emissions energy sources, though Republicans still prioritize expanding fossil fuels, according to a Pew Research Center poll released last month.
Still, employment in the solar industry grew in every state that voted for Trump, with the exception of Tennessee. The manufacturing sector, which Trump vowed to revive, employed 38,121 full-time solar workers last year, an increase of 26 percent since November 2015. (The vast majority of new solar jobs, however, are in installation).
"Solar jobs pay well, they're very helpful to making American great again, and providing relief to struggling families and communities," Luecke said.
Another figure that provides an easy selling point to Republicans: Veterans made up 9 percent of solar workers last year, compared to 7 percent in the overall U.S. workforce. And unions hold little sway. In 2015, union labor made up about 5.5 percent of the overall solar workforce. In 2016, 3.5 percent of workers in the photovoltaic sector ― the portion of the industry that generates electricity from solar panels ― were unionized, as were 4 percent employed in concentrated solar power, which produces thermal power from heat created by sunlight reflected off mirrors. The Solar Foundation, which received a big funding boost from the Department of Energy last year, changed the methodology in its latest report, making it difficult to compare annual differences. But union labor appears to be declining in the industry, falling from 6.2 percent in 2014 to 3.8 percent last year, the combined estimate for both subsets of the solar industry.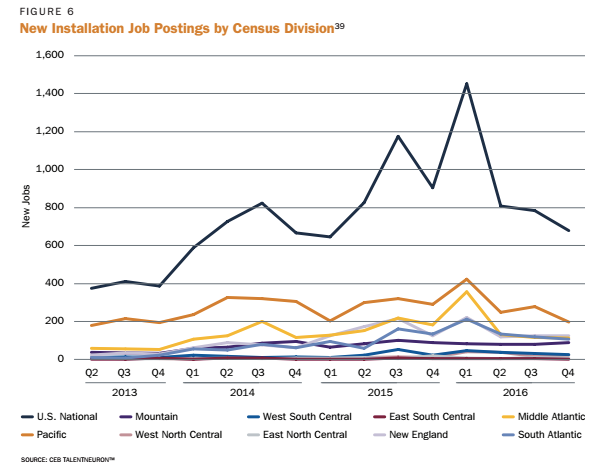 "Solar companies are very dynamic, move very quickly and not that organized, which is in part a reflection of a need to keep costs down," Luecke said. "I assume that, ultimately, it will move toward organization, as most maturing industries do. It's still pretty nascent."
Elon Musk, the billionaire chieftain of electric car and solar energy giant Tesla who serves as the industry's poster boy, could urge Trump to spare solar incentives. The South Africa native refused last week to bow to growing pressure to quit Trump's advisory board. The New York Times described his relationship with the embattled new president as a "budding bromance."
Perhaps less important to a president who scoffed at political correctness, the industry saw gains in diversity overall. The percentage of women increased to 28 percent from 24 percent a year earlier. For black workers, that number rose to 7 percent from 5 percent. Latino employment in the industry surged to 17 percent from 11 percent a year earlier.
The Energy Department gave the Solar Foundation $15 million last year to build out its operations, giving the Washington, D.C.,-based nonprofit funding to grow research and development work without soliciting mone from the industry it supports. Trump's Energy Secretary pick Rick Perry vowed during his Senate confirmation hearing last month to defend against cuts the department he once said he would abolish completely.
But the White House plans "major reductions in funding" for the department, The Hill reported. The solar investment tax credit, despite winning a six-year extension in 2015 "could very well be on the chopping block," according to a report from research firm Roth Capital Partners, cited by the solar trade publication PV Tech.
"You can't just take an axe to it," Luecke said, noting that her home state of Wisconsin, which helped secure Trump's victory in November, saw a fivefold increase in solar jobs last year. "The solar industry is an American success story. If the new administration believes in promoting technologies that make America more competitive and economies stronger, solar does just that."
Before You Go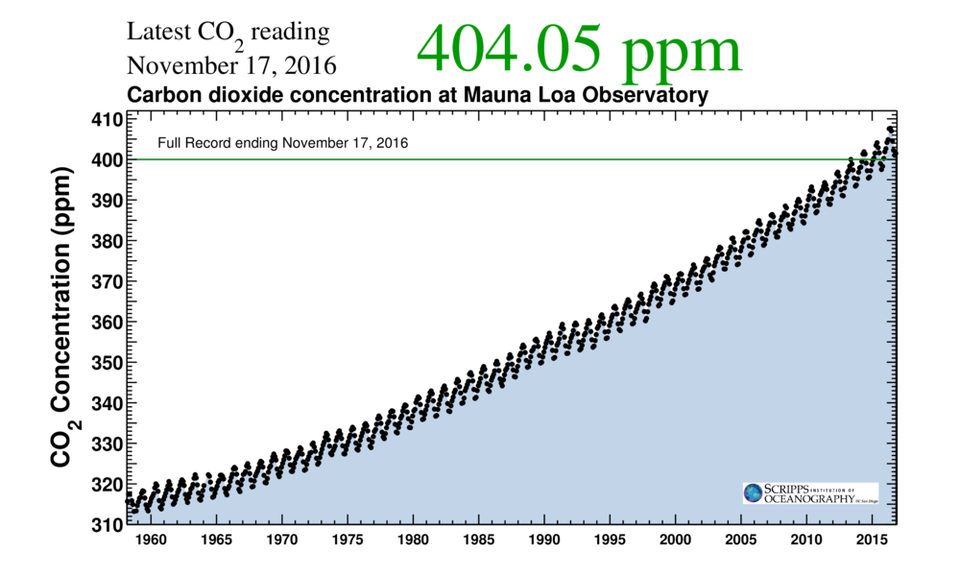 Climate Visuals For The Climate Change Denier In Your Life
Popular in the Community