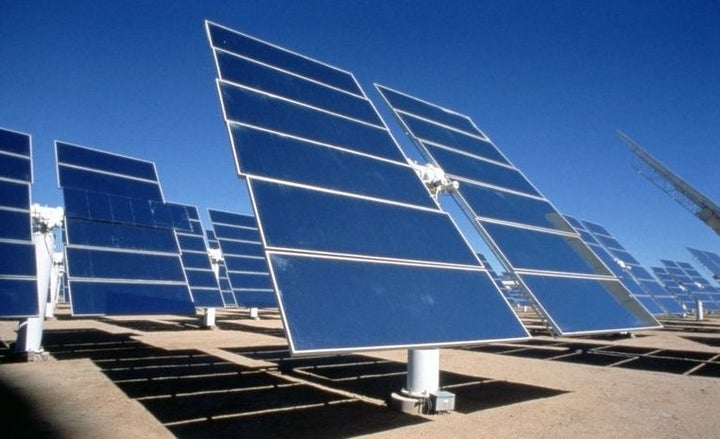 In January, I was in a group that presented ideas to members of Los Angeles Mayor Antonio Villaraigosa's sustainability team for how to support the city's many green initiatives.
As one of the ideas I brought to the table, I suggested we put solar paneling on the world famous Hollywood Sign.
Not politically viable, they said. Councilman Tom LaBonge, on whose 4th District turf the Sign sits, controls what happens with the Sign via the Hollywood Sign Trust, they explained. The neighborhood around the Sign will object, they predicted.
I asked the people from the Mayor's Office if I could make it happen myself as a 'private citizen.' They said yes, and added that if I got Councilman LaBonge to go for it, Mayor Villaraigosa would very likely get on board, because he and the City need to do everything possible to meet their promise of reducing the City's yearly carbon emissions by 80,000 tons by 2012. They are, I am told by my friends who know these things, behind in the effort to meet that objective.
'Solaring The Sign' struck me as such a beautiful, artful, symbolically powerful idea -- what I call in my line of work a 'productive game' -- that I could not quit thinking about it. Why not follow this dream? After all, isn't that what the Hollywood Sign represents? Dreams? What more worthwhile dream these days than solar energy? And what better place for solar paneling than on one of the most recognized icons in the world?
I could see it playing out like the kind of feel-good movie that built Hollywood during the Great Depression:
The Sun would 'go out there a nobody, and come back a Star.'
Solar Power would get a star on Hollywood Boulevard, right next to Tyrone Power.
And nobody would ever be able to look at the Hollywood Sign again without thinking about solar energy.
I couldn't get it out of my mind. That evening, I started a group on Facebook called 'Solar The Sign.' I labeled the group 'A community of people who believe it's a good idea make the most visible symbol of the world's entertainment capital into its most visible symbol of solar energy.'
I saw right away that this was going to be a very popular concept. Within a few hours, hundreds of people had joined. Today, we have over a thousand members of the group, and people from around the world offer their support and advice.
Last week, on Wednesday, April 22, (Earth Day, by pure coincidence) five of us from the 'STS' group met with the ten members of the Hollywood Sign Trust, most of whom are longtime players in the community, to discuss how the Sign could be 'solar paneled.' What we proposed was not a specific plan, but rather, a process by which complex realities (the cosmetic limitations of current solar tech, the various L.A. City Agencies involved, neighborhood politics, etc.) can be addressed, problems solved, and consensus built each step of the way.
The next day, on Thursday, Councilman LaBonge called me on the phone, and he was one pissed-off politician.
"You do NOT have my support in this," he bellowed. "I support solar energy but I do NOT support what you're doing, you have misrepresented this project to me, you said this would NOT affect the appearance of the Sign.." etc. etc. etc.
The object of his anger was that some of our renderings depicted solar arrays on the hillside beneath the Sign (thus "altering its appearance" he claimed, even though one would not see those arrays from the streets below).
I would like to have explained to him that in agile development, one of the objectives is to surface as many 'mistakes' and 'unproductive paths' as early in the process as possible. This generates a lot of learning, and makes the productive paths more visible.
LaBonge had to hang up for a few minutes to pick up his daughter from school. He called me back, and with his daughter in the car, he was mellower. Even though he was still a little harrumphy about it, he said he would meet with us in a month to discuss our ideas further. That is fine. We are happy with that. A lot can and will happen in the next 30 days.
We have momentum and in 30 days we'll have even more. We made mistakes with the Trust and Councilman LaBonge, and we have learned a lot from them. I believe that in the end, we will find common ground, sort through our differences, and move forward together as allies in the sustainability movement, along with other allies of every political stripe.
For one thing, we learned that this is going to be a political game of quid pro quo. And I'm not just talking about our little 'Solar The Sign' project, I'm talking about the game that will move Big Oil and the Status Quo offstage and get Solar and Wind and other Green Energies in the spotlight that is their due.
It's going to take a partnership between the public and private sectors that has no precedent--except maybe in the movies. All the more reason we should install solar paneling on the Hollywood Sign.
If we build it, it will be the beginning of a beautiful friendship.
Mike Bonifer, the creator of the 'Solar The Sign' group, is co-founder and CEO of the business learning company, GameChangers www.gamechangers.com.