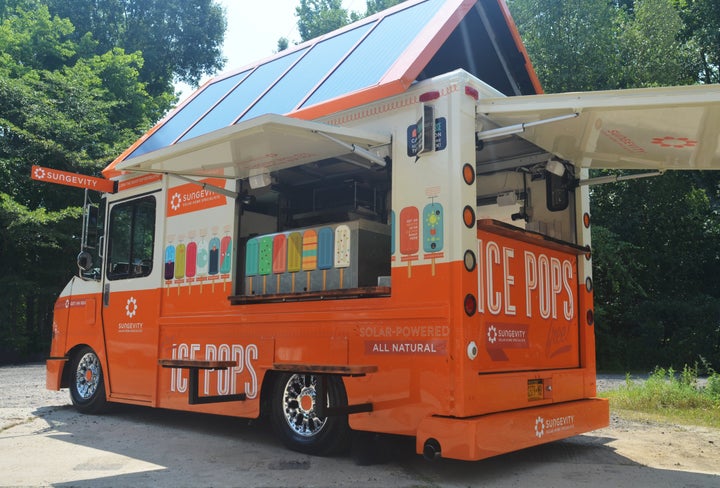 "We've got to make solar feel simpler than people see it today," says Patrick Crane, the chief marketing officer for the California-based solar leasing outfit Sungevity.
Is the solution a free popsicle?
Like SunRun and SolarCity, its main (and much larger) competitors in the solar-leasing game, Sungevity has begun making an aggressive push into the Northeastern market, where the high cost of electricity and, in some states, generous consumer incentives are driving substantial growth.
On Tuesday, the company will descend on New York City -- and over the course of the next six weeks, on neighborhood festivals, farmer's markets and other local venues in New York, New Jersey, Maryland, Massachusetts and Delaware -- in a bright orange, solar- and biodiesel-powered truck. They'll be peddling solar awareness, Crane said, and free, branded popsicles in a variety of flavors, including strawberry, mango and hibiscus mint.
"There are families arguing about having the air conditioning on because it costs so much," Crane said. "So we said, let's go cool people down with free ice pops." The truck will also be festooned with electronic kiosks that will allow homeowners to register for a free quote on what a solar panel lease deal might save them.
Solar installations arising from power-purchase agreements or leases, in which the solar company assumes most or all of the upfront costs for installing a solar array and maintains ownership over the course of a contract, are booming. Details vary, of course, but for customers who reckon they couldn't afford to drop $15,000 or $30,000 on a solar system, firms in this sector can offer a way in, while often -- though not always -- reducing monthly electricity costs overall.
Sungevity has installed nearly 2,000 systems since launching in 2008, and while it does sell systems outright, the vast majority of customers choose leasing contracts, according to company spokesman John Ordona. About 60 percent of customers save money, or at least break even, from day one, Ordona said.
The rest, he added, will see savings over the long term.
"Nearly everyone except for the most extreme energy efficient homeowner saves against future electricity prices," Ordona said in an email, "because the price of electricity continues to rise."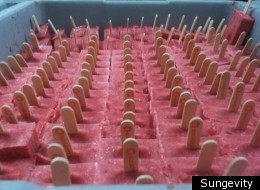 Jay Holman, a research manager at IDC Energy Insights, a market research firm, said precise numbers on the share of the market being driven by leases and power-purchase contracts was hard to come by -- though he said it was almost certainly substantial.
"The solar leasing model and the residential/commercial PPA model are having a significant impact on the marketplace in the US," he said in an email. "Those approaches reduce the hurdles to installing solar PV and they widen the pool of homeowners and businesses that can afford solar, which makes them important drivers of growth for the industry."
Just how effective Sungevity's ice-pop campaign will be is an open question, but the stakes on the East Coast are high -- and rising.
While California accounted for nearly 70 percent of solar photovoltaic installations just five years ago, it accounted for just a third of new installations last year, according to data compiled by the Solar Energy Industries Association, a trade group. Meanwhile, the share of new solar installations in Northeastern states has grown from 24 percent to 31 percent over the same period.
Of the top 10 states for new installations in the first quarter of 2011, four are in the Northeast: New Jersey, Pennsylvania, New York and Massachusetts. And annual installations in New England and the Mid-Atlantic are expected to double by the middle of this decade, SEIA reported, to over 800 megawatts in 2015.
Lynn Jurich, a co-founder of SunRun, said that electricity rates are a key factor. States in the Pacific Northwest, for example, have access to ample hydropower, while in the Southeast, cheap coal keeps electricity rates down, Jurich noted. But outside Hawaii, where average residential electricity rates were running at nearly 33 cents a kilowatt-hour in April, according to the federal Energy Information Administration, states in the Northeast pay the highest electricity rates in the country, averaging about 16 cents per kilowatt-hour.
Washington and Oregon were at 8 cents and 9 cents, respectively, in April. Idaho came in at under 8 cents.
"It's more of a driver than sunlight," Jurich said, adding that strong subsidy and other incentive programs in states like New Jersey and Massachusetts are driving growth as well.
And that has California-based companies marching eastward en masse.
In a phone call on Monday to discuss the company's Northeast ice-pop strategy, Sungevity's chief executive, Andrew Birch, said there was plenty of elbow room for solar leasing companies on the East Coast.
"Less than 1 percent of home energy comes from solar, so there's lots of space for companies to grow," Birch said. "The challenge is how are we going to persuade the other 99 percent? Our competition is really consumer awareness."
Support HuffPost
The Stakes Have Never Been Higher
Related
Popular in the Community