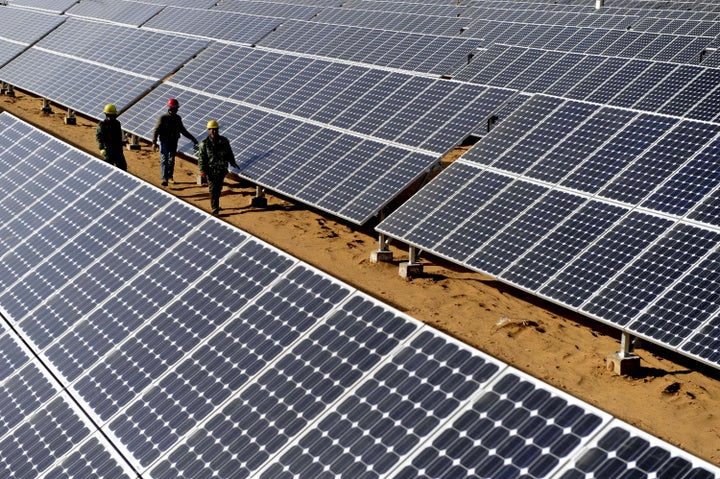 It's a warm early summer night in Brooklyn, and the walls of VII Agency are covered with Peter DiCampo's Life without Lights exhibit -- dark faces illuminated by the glow of candles, flashlights and fires. DiCampo has worked to portray energy poverty for the last five years, highlighting both the darkness, DIY creativity and survivalism that characterize the lives of the 1.6 billion people who live without lights.
Speaking about DiCampo's exhibit recently, where she was also a speaker on an energy poverty panel hosted by VII, Katherine Lucey wrote, "Dark is not opposite of light. It is just the absence of light. Similarly, a problem is the absence of an idea. Not absence of a solution."
Katherine Lucey is the founder of Solar Sister, a social enterprise devoted to equipping women in Africa to solve the epidemic of energy poverty through a community based model of entrepreneurship. Beginning with a seed investment in an individual entrepreneur, the women are given training, marketing materials and a solar lamp inventory. As they sell solar lamps, they earn a commission to increase their inventory and their sales capacity, while better able to support their family's nutrition, educational and housing needs.
With a background in investment banking and project finance in the energy sector, Lucey decided that she wanted to create a market based social enterprise venture to ensure Solar Sister's market viability and sustainability.
The business model is comprised of tiers of coordinators and leaders -- a program coordinator with a strong ICT background to track data, logistics and inventory, a regional coordinator with local knowledge of villages served, and team leaders who work with ten entrepreneurs to facilitate delivery of inventory and marketing. The interdisciplinary mix of expertise and a constant connection at the grassroots level is integral to Solar Sister's philosophy. "Management often gets so disconnected from customers because they apply solutions without integrating a feedback loop of local consumer knowledge -- building in listening to the business model is really important."
Following a distribution, rather than a product-centric business model, has granted the flexibility necessary to serve a diverse and highly localized solar lamp market. It has also given the women entrepreneurs the room and responsiveness to become trusted providers of solar lights to their sisters, friends and communities through the compelling strength of word of mouth marketing. The women earn commission on each sale, which provides much-needed income opportunity, but as Lucey explains, "Money does not motivate in isolation," noting how it is the intricate social ties that are the foundation of the successful model.
Solar lamps contribute to a 30 percent reduction in household expenses when used in place of expensive kerosene, also eliminating the health effects of dirty sources of energy that disproportionately affect women and children. Additionally, lamps afford three hours more study time for children every day when their families replace kerosene with solar light -- most of the benefit flowing to girls who work to finish family chores before nightfall.
The ingenuity of the women -- entrepreneurs and consumers alike -- is particularly remarkable. Lucey explains how women are often excluded from aid projects like solar installations -- as these projects occur during day hours when women are completing their household work. Without the time to talk to NGOs and technicians, women are disenfranchised from the necessary infrastructure maintenance -- which notoriously falls into disrepair and neglect once new installations have "lost their cool."
"Women must be comfortable with technology. When technology is given away, and women -- who naturally maintain their homes and communities -- are not a part of the process, then there is a gap" Lucey said.
Lucey shares the story of one entrepreneur, Rebecca, who bought three lights for her four-room house. She put one outside the front door, one in the main room where she does the cooking, and one in the chicken room. Knowing that chickens only eat when they can see (she moved the light that her husband had originally installed in the family room), Rebecca extended the light of the day, the chickens ate more, and eventually laid more eggs that she could sell for extra income. "She took one light and invested it into chickens, then a goat, then a cow and vegetables. Now she has a school, where she teaches an evening literacy course for rural women, and the chicken room is a dorm room -- lit by the same solar light."
With 107 entrepreneurs and growing, Solar Sister highlights the avant-garde of economic development as a model based on intricate social ties and local knowledge. As the homemakers, and the natural connectors, women are in a unique position to gather insights into the health of their families, the schooling of their children and the prosperity of their communities. The problem of energy poverty does not equate to the absence of a solution, but rather has begun to showcase the ingenuity and creativity of a network of women equipped with solar lanterns, an entrepreneurial spirit and the ability to quickly adapt to the changing needs of their consumers and communities.
Describing the problems and the opportunities that women face, Solar Sister entrepreneur Eva recently explained:
"I used to think that it was a Uganda problem, or an African problem. But now I know that it is a problem for women all over the world. We need to have opportunity and hope. This is why I am a Solar Sister, to help the women in my village, and to give them hope."

Calling all HuffPost superfans!
Sign up for membership to become a founding member and help shape HuffPost's next chapter