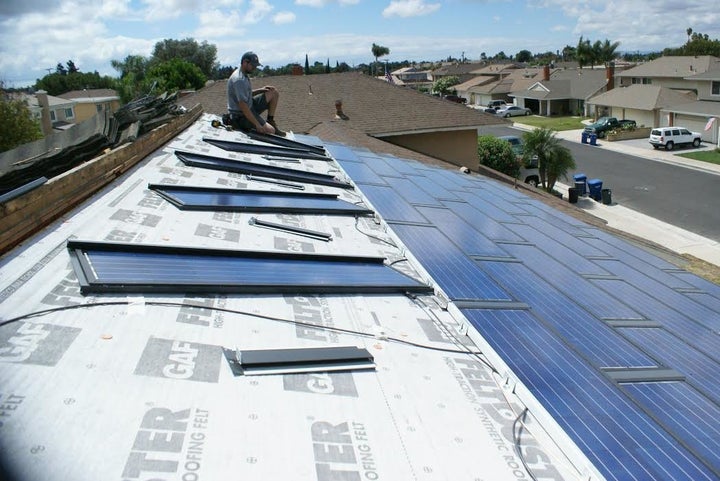 Elon Musk is expected to unveil a new solar roofing product for his energy company, SolarCity, this week. Based on what Musk has already said about the product, his solar roofing would put the photovoltaic cells used to generate electricity from the sun in the shingles themselves, instead of in a system of solar panels on a roof.
When the billionaire tech titan teased the product in August, he vowed it would be all but unrivaled ― "a different ballgame."
On that claim, Robert Allen is calling Musk out.
Allen is the president of Luma Resources, a solar roofing startup based in southern Michigan. He has been installing these systems for the better part of a decade.
"Before he launches whatever he's going to launch on the 28th, I'd like to have the record clear," Allen, 62, told The Huffington Post in a recent phone interview. "We've been here, we've been doing this. We've been doing it for a long time, and we've got lots of recognition."
Luma first developed its solar shingling in 2007. The product is made by adhering a sheet of silicon containing photovoltaic cells to metal shingles, which are customized to fit the shape and contours of a customer's roof. Luma was slow to get the product off the ground at first, but got approval from UL, the safety consultant and certification giant, in November 2010.
That certification came just in time, as industrial behemoth Dow Chemical Company began touting its own solar shingle that month. Dow, whose headquarters are not far from Luma's home base in suburban Detroit, set ambitious goals, projecting $1 billion in revenue from the shingles and an overall market worth at least $5 billion. French industrial giant Saint-Gobain also launched its own solar roofing product several months later.
"We had two behemoths that could have easily done the same thing we already did, but we were ahead," Allen said. "We were the first out."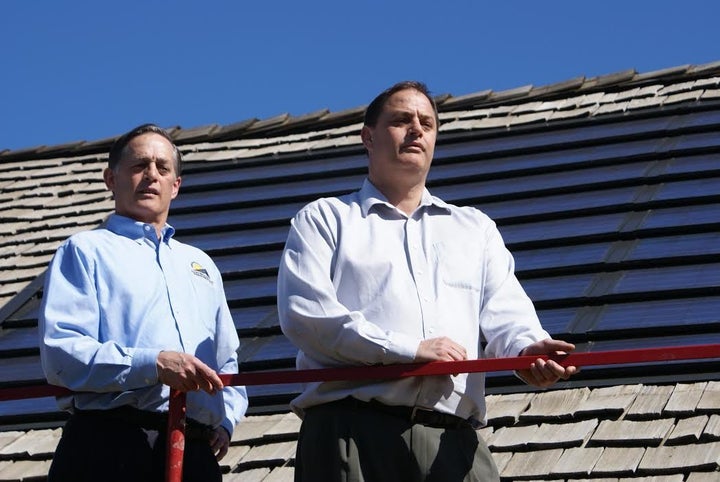 But solar shingles ― "building-integrated photovoltaics," or BIPVs, in industry jargon ― have proved a challenging business. Though Saint-Gobain is still selling its Apollo system, Dow discontinued its product in June 2016. At least a dozen other companies producing solar shingles or similar products have closed down or gone bankrupt in the last few years.
Eric Wesoff, editor at large for the website Greentech Media, said the problem may be that while solar shingles sound cool, people don't always trust novel devices to provide something as fundamental to a building as its roof.
"You're looking to drive a completely new type of product through the very conservative roofing channel ― and that's a daunting marketing challenge," Wesoff wrote in an open letter to Musk in August. "Traditional solar modules on racks may be less than aesthetically perfect, but they have a distribution channel and technical expertise."
And yet Luma has been able to hang on, even as others failed. Allen says this is because they have a competitive advantage ― they are roofers, first and foremost. His father founded Allen Brothers Roofing 67 years ago. Robert and his brother, Gary, 55, took over the business in 1986, and they were among the contractors hired to help rebuild the Pentagon after the Sept. 11 attacks. Their move into solar roofing was an attempt to reinvent the company in the midst of the Great Recession, and they did so with a loan from the American Recovery and Reinvestment Act.
President Barack Obama touted the brothers as model of American innovation in his 2011 State of the Union address: "That's what Americans have done for over 200 years: reinvented ourselves. And to spur on more success stories like the Allen brothers, we've begun to reinvent our energy policy."
Robert Allen says their success in the space is due to their long history in the industry. "Because we are roofers, we approached it totally from a roofing perspective," Allen said. "People think roofs are dummy simple, but they're not. They're complicated. A roof can't fail. It can't leak."
Luma, technically an independent company that functions like a subsidiary of Allen Brothers, has faced challenges. The company has sold about 750,000 watts of the solar shingles, or between roughly 150 and 200 individual homes in the U.S., Canada and Jamaica. For now, the price is steep. The average 5.5 kilowatt system ― typically enough to offset more than 80 percent of a homeowner's electricity bill ― costs about $33,000 to install, not counting the cost of getting an electrician to complete the process. It's difficult to train roofers to install the solar shingles, and as a result, Luma has had to send its in-house crew of about six staffers to complete projects around the country.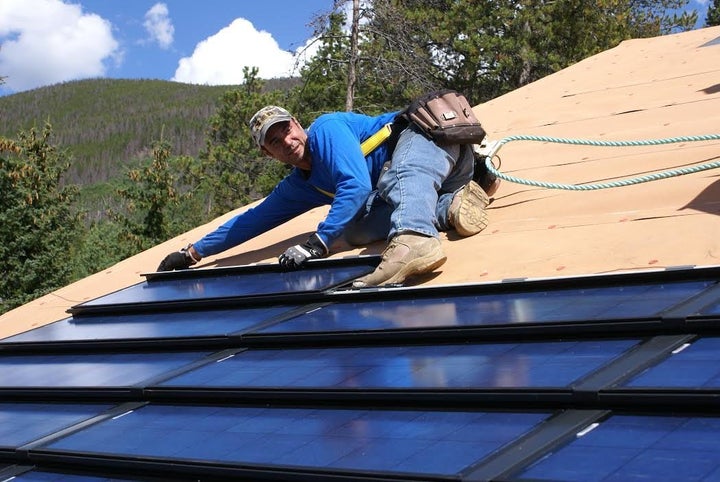 While Luma has hung on, SolarCity's roofing product could become a serious contender. The company is building a factory in Buffalo, New York, that could mass-produce its roofing, potentially making it cheaper than Luma. And the product will likely pair with the lithium-ion battery units that Musk's automotive company, Tesla, already sells that can store excess energy solar panels produce for use at night. Tesla made a bid to buy SolarCity in June, and has marketed the merger to investors as a marriage of battery storage with solar technology. Shareholders are slated to vote on the deal on Nov. 17.
"It's your typical David versus Goliath story," Allen said. "Whether it's Musk or Dow or Saint-Gobain ― we've hunkered down, did it right and got a product out there that's been operational for almost 10 years."
SolarCity declined to comment for this story.
Allen isn't the only solar industry player peeved about SolarCity's roofing play. Last month, the San Jose, California-based solar panel maker SunPower Corp. sued SolarCity for allegedly ripping off their shingle design. In the complaint, SunPower said it had shared confidential blueprints with a module maker SolarCity later acquired.
Musk is also facing four other lawsuits accusing him of breaching his fiduciary duty to shareholders in attempting to buy SolarCity. Many investors fear the deal would be a bailout for financially troubled SolarCity, and would distract Tesla from delivering on the Model 3, an affordably priced electric car that is supposed to be the company's path to profitability. There's a nearly 400,000-long waitlist for the Model 3, and its anticipated delivery date has slipped from 2017 to "mid-2018 or later" for new preorders.
Musk also last month revealed his plans to send human colonists to Mars via his privately held spaceship startup, SpaceX. So he has a lot on his plate.
Allen says the solar roofing business might be harder than Musk thinks.
"It may not compare to populating outer space," Allen said, "but Musk is in for a much, much, much bigger challenge to create a solar roof than what he thinks he's in for."
CORRECTION: An earlier version of this story incorrectly stated the delivery date for new Model 3 preorders.
Related