Not too long ago, U.S. Sen. Lindsey Graham (R-South Carolina) -- a soon-to-be Republican presidential candidate -- sent tongues wagging when he challenged his own party on climate change.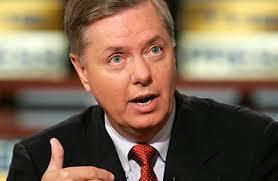 "Before we can be bipartisan, we gotta figure out where we are as a party. What is the environmental platform of the Republican Party? I don't know either," said Graham. "I'd like to come up with one, I'd like to have a debate within the party. 'Can you say that climate change is a scientifically sound phenomenon, but can you reject the idea you have to destroy the economy to solve the problem?' is sort of where I'll be taking this debate."
Forgoing for the moment the argument that one must choose between saving the environment and saving the economy, this is a pretty significant step for Sen. Graham and the Republican Party as a whole.
Indeed, Sen. Graham must be seeing what's already happening in his own state of South Carolina as it takes steps toward spurring a homegrown clean-energy economy. First the state legislature and the governor implemented new pro-solar policies. And now the local utility has come together with nonprofits, community leaders and private businesses to launch an innovative residential solar program aimed at tripling the amount of solar panels installed in the state.
Solar for the masses is now growing in South Carolina! And it's working, bringing jobs, investment and energy independence to the state.
The program, "Solarize South Carolina," is designed to use the power of the marketplace -- along with an on-the-ground organizing effort -- to literally transform the residential solar landscape of South Carolina.
"Solarize" works with local solar installers to create a "group buy" residential solar program. We know from our experience that it's easier to buy solar when your friends, neighbors, colleagues and even fellow parishioners are also buying solar. So we work through local organizations showing people how easy it is to get solar -- and what a smart investment it is.
In addition, solar companies are making it easier and more economical than ever to go solar. Homeowners now have the option to buy solar for zero money down and as little as $100 a month. Think of that. Through the participation of San Francisco-based Dividend Solar, a national solar-financing company, people all over South Carolina can now get solar without putting any money down. And more excitingly, their purchase of solar power will be "cash-positive" within the first year. The result? Whatever they are spending on their solar system over the course of the year through this innovative loan program will be less than what they would be paying for "regular" power.
Finally, we're seeing that the solar industry is figuring out what the car industry learned years ago. After all, when was the last time you saw an ad that said, "We can put you in this Toyota Camry for as little as $35,000"? Not ever, I suspect. More likely you've seen ads that say, "Drive this car for zero down and as little as $150 a month." It doesn't take a Don Draper-like wiz kid from Sterling-Cooper to know which one of these approaches is going to be more attractive to the buying public -- whether it be a car or a solar PV system.
The proliferation of solar-financing options has revolutionized the solar industry not just in South Carolina but all over the nation. As Forbes pointed out in the February issue, the U.S. solar industry would not be possible without financing -- and the U.S. is moving away from manufacturing solar panels and more toward financing solar.
Similar to a car, residential solar power is one of the major purchases a homeowner will make. Unlike a car, however, it's a better investment by far. It doesn't depreciate as soon as it's on the roof; rather, it immediately begins working to save you money and increases the value of your house.
With these financing options and our community approach, the result is that solar now becomes incredibly affordable for South Carolina homeowners. It's a win-win-win. The homeowner wins, the solar installer wins, and the community wins -- because the Palmetto State is on its way to becoming a solar leader!
It's a perfect demonstration of what Sen. Graham and the Republicans might look at closely: a way to address climate change without harming the economy. In fact, through Solarize South Carolina we are proving you can make smart energy choices that not only help address climate change but help grow local jobs and even save money.
So let's show Sen. Graham what the clean-energy movement is made of. Let's solarize!
Brian Keane is the president of SmartPower, a nonprofit marketing organization funded by private foundations to help build the clean-energy marketplace by helping the American public become smarter about their energy use.
Calling all HuffPost superfans!
Sign up for membership to become a founding member and help shape HuffPost's next chapter